September 20, 2012 -
National Football Post
Week Four NFL Prospect Match-up
CONNECTICUT VS. WESTERN MICHIGAN
Western Michigan QB Alex Carder (6016 V, 224 V & 4.85 E) vs. Connecticut CB's Blidi Wreh-Wilson (6003 V, 189 V and 4.43 V) & Dwayne Gratz (5110 V, 194 V & 4.51 V).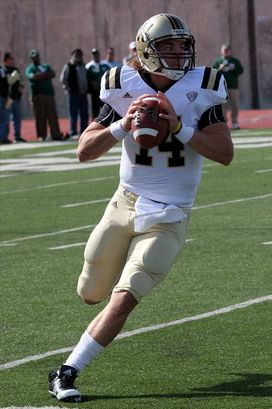 ICONQB Alex Carder about to make throw on the run.
Carder came into the 2012 season viewed as a potential "sleeper" quarterback prospect based on his physical talent and level of play in 2011. However, he did not played at a high level against Illinois and Minnesota. This week's game vs. Connecticut gives him another chance to prove himself against a team with more all-around talent and two senior cornerbacks who are NFL prospects. While not very tall at less than 6'2, Carder looks the part of an NFL quarterback "on the hoof" and has the arm strength to make every NFL throw, although he rarely is asked to in Western Michigan's wide open passing attack. Despite playing primarily out of the shotgun at Western Michigan, Carder has proven he has the foot and delivery/release quickness to get rid of the ball fast and accurately on quick hitting passes. Although cornerback Blidi Wreh-Wilson may not play in this game after missing Connecticut's last game against Maryland due to a hamstring injury, Carder will definitely get to challenge Dwayne Gratz who lines up opposite Wreh-Wilson. When healthy, Wreh-Wilson has rare foot quickness, explosiveness and top end playing speed for a 6'0 cornerback and has flashed talent to be a productive NFL starter. Unlike Wreh-Wilson, Gratz lacks premier speed, but he has been a durable starter who has not missed time due to injury. He is a well-built cornerback with good technique and excellent instincts, which help him to be effective in all types of coverage. Overall, this game is very important for Carder to step up and play well after struggling earlier in season if he wants to be in the discussion to be a fourth / fifth round pick.
CENTRAL MICHIGAN VS. IOWA
Central Michigan OT Eric Fisher (6071 V, 297 V & 5.40 E).
While most games in NFP's matchup section feature an individual player against player matchup, this is more of a look at one of the best lesser known offensive tackles in the country against a top opponent. A tall, linear tackle, Fisher has the feet to slide out to protect the corner from explosive, edge rushers. However, he needs to play with better knee bend / base more consistently in order to prove he can re-direct and slide quickly to adjust to fast secondary pass rush moves. Additionally, NFL scouts want to see Fisher run block with better leverage in order to be a more effective in-line run blocker. A number of NFL scouts have told us that they feel Fisher could really make a move up draft boards if he plays well in 2012 because of his height, long arms, competitiveness and smarts. This game will provide Fisher with a big challenge because Iowa has more talent on its defensive line than the MAC teams on Central Michigan's remaining schedule.
ELON VS. GEORGIA SOUTHERN
Elon WR Aaron Mellette (6026 V, 212 V and 4.55 E) & Georgia Southern DT Brent Russell (6014 V, 298 V and 5.05 E)
There is little doubt that a receiver and a defensive tackle will not be matched up one on one in a game, but Mellette and Russell are two very good small school prospects that NFL scouts are keeping a close eye on. With great receiver size and good playing speed Mellette has been a dominant receiver at this level catching 214 passes for over 2,900 yards and 27 TD's since becoming a starter in 2010. Now he just has to prove to NFL teams that he has the talent to make the huge jump up in level of competition. He has excellent hands plucking the ball away from body and has shown the ability to adjust to make tough catches seem routine. However, NFL teams are trying to get a true feel for his burst out of cuts and overall playing speed to determine if he can translate his college production to the NFL. When Elon has the ball, they will need to find a way to keep Georgia Southern defensive tackle Brent Russell from blowing up the play in the backfield if they are going to get the ball to Mellette. While Russell lacks the ideal size to over-power NFL offensive linemen, he has dominated with his strength at this lower level of football and needs to prove to NFL teams that he can play strong at the next level despite weighing less than 300 pounds. He plays with great intensity on every snap and scouts at this game will be interested to evaluate whether Russell's initial quickness is good enough for him to be a consistently disruptive gap shooting force in the NFL as he often has been at Georgia Southern. Neither Mellette or Russell are likely to be high draft picks, but strong play the rest of 2012 could put them in position to be fourth / fifth round picks.
Email Russ at Russelllande@yahoo.com and follow Russ on Twitter @RUSSLANDE