September 24, 2012 -
National Football Post
Week Four Risers & Fallers
During a weekend with many outstanding match-ups, a number of prospects continued their climb up draft boards with strong performances. On the other side of the spectrum are two prospects that came into the season with high expectations and the potential to be first round picks, but at this point their play has not met those lofty expectations. Here is a quick break down of five prospects whose draft stock is on the move after four weeks. The measureables listed are either verified, which means taken by an NFL scout, or estimated.
Rising Players
Cobi Hamilton Wide Receiver Arkansas Senior 6017 (Verified) 197 (Verified) 4.53 (Verified) Potential 2nd Round Pick With excellent size at nearly 6'2, scouts told us they were excited to see how Hamilton played as a senior because he flashed the big play ability in 2011 to warrant being a high draft pick. The return of quarterback Tyler Wilson allowed Hamilton to show the improvements he has made since last season that scouts have been telling us they saw throughout Arkansas' fall camp. Being faster tucking the ball away has helped Hamilton to be quicker getting started up the field after the catch and combined with his size and strength he has been able to easily run through contact to make big plays running after the catch. In addition, Hamilton has shown better acceleration getting to full speed and playing speed than he did in 2011. This has helped him to get separation out of his cuts and grabbed the attention of NFL scouts who think he could end up as a 1st / 2nd round pick if he continues to play at such a high level.
Geno Smith Quarterback West Virginia Senior 6026 (Verified) 208 (Verified) 4.85 (Estimated) Potential 1st Round Pick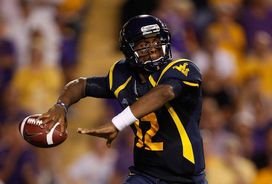 QB Geno Smith about to throw pass.
Although Smith has not received the national attention of some of the other more well-known quarterbacks, his improvement in 2012 has impressed me greatly. Each season Smith has tightened his mechanics and improved as a pocket passer, which has led to improved accuracy. Despite being a little upright in the pocket while going through progressions, he can slide to avoid pressure and is able to re-set feet and get rid of the ball quickly. Combined with the arm strength to make every NFL throw and the athleticism to make big plays with his feet, Smith has the entire physical package that NFL teams get excited about. Although he has rocketed ahead of many other quarterbacks with his play early this season, Smith will need to maintain this high level of play if he hopes to be a first round pick and be one of the first quarterbacks drafted.
Bjoern Werner Defensive End Florida State Junior 6040 (Estimated) 255 (Estimated) 4.75 (Estimated) Potential 1st Round Pick Still learning the nuances of playing American football after only playing two years of high school football, Werner has been an impact player for Florida State since becoming a starter as a true sophomore in 2011. A quick twitch athlete, Werner has shown the ability to get off the ball in a flash and can beat the pass blocker around the corner, back inside or go through him. His ability to bend knees and play with base allows him to consistently win the leverage battle and play strong at the point of attack. He can anchor, shed and make tackles on running plays to his side of the field and has shocking speed chasing down plays along the line in pursuit. While Werner is still somewhat raw, his ability to produce at such a high level so far in 2012 has us, along with NFL scouts, believing he could end up being a first round pick.
Falling Players
Montee Ball Running Back Wisconsin Senior 5110 (Verified) 210 (Verified) 4.55 (Estimated) Potential 3rd Round Pick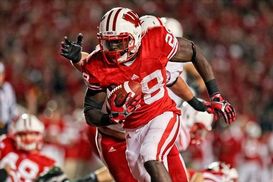 RB Montee Ball running with ball.</p>
When Ball surprised many by deciding to return to Madison for his senior season there were a number of reasons to question that decision. Unfortunately, Ball's season so far already has his draft stock falling. Wisconsin's offensive line has struggled greatly and without quarterback Russell Wilson teams are "loading the box," which has led to Ball being less productive than he was in 2011. Entering the 2012 season NFL teams had concerns about Ball because he had nearly 600 career carries and was viewed a little bit as a "straight line back" that lacked the wiggle to make tacklers miss consistently. However, concerns about durability became reality when Ball suffered a "head injury" in the Badgers' win over UTEP. Do not be shocked to see Ball slide out of the first two rounds if he does not come back quickly from this injury and dominate the rest of the 2012 season.
Landry Jones Quarterback Oklahoma Senior 6040 (Estimated) 230 (Estimated) 4.90 (Estimated) Potential 3rd Round Pick Having received hype as a definite first round pick had he come out early for the 2012 NFL Draft, the reality is that Landry is not viewed in that lofty light by NFL teams. His performance so far this season has not helped him alleviate concerns. A tall, well-built quarterback with a cannon arm who has shown the ability to make all the NFL throws, Jones still has a lot of work to do to warrant being a high draft pick. Not a quick or agile athlete, Jones cannot avoid pressure easily. He has a bad habit of getting upright in the pocket and keeps his front leg straight when throwing, which leads to accuracy issues. Overall, after a disappointing performance against Kansas State where he threw an interception and had a fumble that led directly to a defensive touchdown, Jones will need to move better within the pocket, get rid of the ball fast and improve his accuracy to avoid being disappointed on draft day.
Email Russ at Russelllande@yahoo.com and Follow him on Twitter @RUSSLANDE