April 23, 2012 -
National Football Post
Week Long Mock: Round Five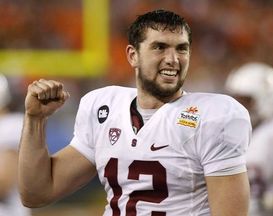 ICONLuck went first overall in the NFP's mock draft.
1st round

2nd Round

3rd Round

4th Round

The Fifth Round...

136. Indianapolis: Brandon Lindsey OLB, Pittsburgh
A good athlete with a compact frame who knows how to get after the quarterback in a number of ways, but isn't dynamic in any area. Doesn't look like a playmaking type pass rusher, but his lateral quickness will give him a shot as a rush backer.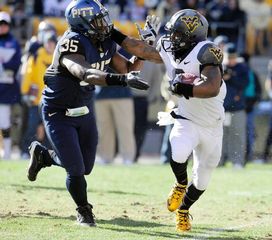 ICONLindsey can make plays off his frame.
137. Denver: Keenan Robinson OLB, Texas
An explosive kid with some natural burst to his game. Isn't overly instinctive and doesn't take on blocks overly well, but is a good fit in more of a run and hit scheme because he possesses very good natural range. A potential starter in the NFL .

138. Minnesota: DaJohn Harris DT, Southern California
Improved his pad level, balance and hand usage as a senior and looks like one of the better senior DT prospects. Looks like an intriguing rotational guy with some long term upside.

139. Cleveland: A.J. Jenkins WR, Illinois
Has a nice feel for the game, plucks the football well and has the speed to run away from defenders. Is a developing route runner who looks a bit limited in that area, but in the right offense he should be able to create as a reserve down the field.

140. Tampa Bay: Brandon Mosley OT, Auburn
A tough kid who plays hard, likes to finish and understands angles in the pass game. Has some upside down the line coming from a JUCO program in 2010, but as of now looks like a roster guy in year one who could fight for playing time down the line.

141. Washington: Kelvin Beachum OG, Southern Methodist
Possesses the size/power to win as an in-line guy and the athleticism to pull in power situations and get out into the second level as well. He's a coordinated pass protector on the edge and has the skill set to make the move to guard at the next level.

142. Jacksonville: Taylor Thompson DE/TE.Southern Methodist
A good-looking DE/TE prospect. Should get a chance as a 34 five technique because he knows how to use his length and two gap, but also has some real upside at tight end as well.

143. Carolina: Levy Adcock OT, Oklahoma State
Needs to clean up his footwork in pass protection, but he's coordinated, can bend and should improve with time. Looks like a guy who is ideally suited to play right tackle, but I could see him being effective as a guard. At best a low end starter who looks more like a reserve to me.

144. Buffalo: Michael Egnew TE, Missouri
Has a long frame and the skill set to learn to play with his hand on the ground, but is going to need time. Isn't the type of dynamic athlete either to simply out run NFL defenders and looks limited in the type of routes he's going to be able to separate in. More of a vertical threat guy who needs to adjust to the ball in order to make plays.

145. Miami: Christian Thompson FS, South Carolina State
He's a good athlete who has some talent. Needs to do a better job finding the football, but can change directions and has some speed to his game as well when tracking the football.

146. Kansas City: Aaron Henry FS, Wisconsin
A good-sized kid with some natural cover skills and range, but is still learning the mental nuances of the game. Still developing at the position, but skill set says potential starter.

147. Buffalo: Derek Dennis OG, Temple
Is worth a pick because he moves so well for a 325-pound lineman. Needs to learn to play lower though if he ever hopes to be anything more than a reserve. However, his fluidity on the move says he has a chance to mature into a starter.

148. Oakland: Marcus Forston DT, Miami
The talent is most definitely there. There are some technique flaws that need to be addressed, as he has to play lower through contact in order to play up to his physical skill set. However, he's an explosive kid who can bend, has a good first step, natural power and is sudden enough to shed blocks in both the run and pass game.

149. San Diego: DeQuan Menzie CB, Alabama
A physical kid who can bully receivers when he gets his hands on them, will tackle and get early jumps on the football. But is a tighter athlete who lacks the straight-line speed needed to hold up at the next level.

150. Chicago: Mike Daniels DT, Iowa
A typical overachieving Iowa DT who is going to make a lot of plays inside this year as a senior. He works hard, plays low and is violent to shed. Has a chance if he adds some weight and keeps his athleticism to make a roster in the right system and work his way into a rotation.

151. Arizona: Jeremy Lane CB, Northwestern State
Has the size and talent to get drafted. Needs to get a bit stronger and clean up his footwork, but has the skill set to play both inside and out in the NFL.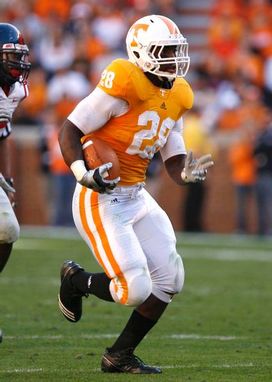 ICONPoole is a great value in round five.
152. Dallas: Tauren Poole RB, Tennessee
A thick, strong back who runs hard and displays natural one-cut ability. Runs a bit high and isn't overly fluid making defenders miss. But can break tackles, play on third down and looks like a solid contributing NFL back.

1 53. Philadelphia: Chase Ford TE, Miami
Had a good showing at this year's East-West Shine game and for a guy at his size with his body control looks like a option you can draft late and try to mature into an every down type option. Has the frame to add weight and get much bigger.

154. NY Jets: Vick Ballard RB, Mississippi State
Possesses some natural running skills and is a strong kid who always falls forward. However, isn't going to break nearly as many tackles in NFL as he did in college and will struggle averaging over 4.0 yards per carry. A reserve only.

155. Tennessee: Terrance Ganaway RB, Baylor
Possesses good size, some natural lean and power. Exhibits the footwork to pick his way through tighter creases inside, but runs through some big leans and isn't overly shifty in the open field. A reserve power guy at best, but doesn't play up to his size/strength numbers consistently.

156. Cincinnati: Evan Rodriguez FB, Temple
Rodriguez isn't a guy who's going to get drafted high. However, he's got the potential to fill a number of roles on an NFL offense in both the run and pass game, can create some mismatches as a pass catcher and develop into a core special teams guy early on.

157. Atlanta: Keith Tandy CB, West Virginia
A solid athlete with a strong frame, good ball skills and natural turn-and-run ability. At times, he will struggle to find the football in man and is raw with his footwork, but he has the talent to warrant a later round pick as a potential inside zone cover man.

158. Detroit: Joe Looney OG, Wake Forest
Exhibits good short area quickness and balance for his size in pass protection. He has the ability to mature into a good run blocker as well and warrants a pick as a potential starting guard down the line.

159. Pittsburgh: Tom Compton OT, South Dakota
Possesses an NFL caliber frame and some bend and athleticism, but looks tighter hipped. Has a long way to go with his technique, but the snap he generates off the ball in the run game is intriguing as a potential right tackle.

160. Cleveland: Ron Brooks CB, Louisiana State
A late riser who now looks like a prospect who should warrant a mid-round pick.

161. Houston: Kelcie McCray SS, Arkansas State
He does have some natural coverage ability for his size and should run well for the position. There are some questions about desire as a tackler and instincts in the deep half. However, a guy at his size with his athleticism at worst deserves a shot late.

162. New Orleans: Olivier Vernon DE, Miami
Had the makings of becoming a draftable prospect as a sophomore. However, wasted a year in 2011 and now despite having some natural talent, he's still raw and looks more like a talented free agent with limited production.

163. Green Bay: Eric Page WR, Toledo
Showcases good short area quickness and the ability to set up routes. Would like to see him do a better job separating in tight areas and catching the ball in traffic. But, has been extremely productive and at worst looks like a sub package NFL option inside.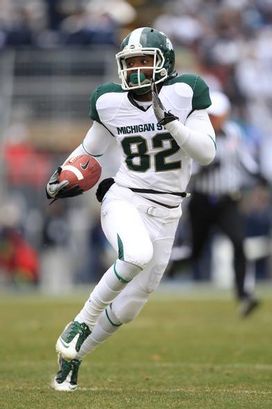 Martin can help out in the kick return game.
164. Baltimore: Keshawn Martin WR, Michigan State
His ability to create with the ball in his hands gives him a chance and makes him an attractive later round/free agent type wide out. Needs to get a little stronger, but he's explosive, balanced and fluid when asked to break defenders down. Just needs to learn to become a more polished receiver because the tools are there.

165. San Francisco: Trevor Guyton DE, California
A guy who can fill a number of roles on a defense, but he's a naturally powerful kid who can anchor and overwhelm vs. the run game. Needs to improve hands and awareness, but the upside to make a roster.

166. Cincinnati: Antonio Allen SS, South Carolina
A physical in the box type player who doesn't key overly well. Isn't an NFL caliber pass defender either and looks more like a very average old school type strong safety.

167. Cincinnati: Hebron Fangupo DT, BYU
A naturally strong kid with a great attitude and work rate. Needs to improve pad level, but has the kind of natural power and work ethic to make it with some time.
<br /> 168. Oakland: Markus Zusevics OT, Iowa
A "plus" run blocker who more than held his own in the pass game. He quickly gets off the football, generates a snap into contact and improved his pad level into/out of his stance as the year went on. Zusevics looks like a potential starting caliber offensive lineman -either at guard or tackle- in the NFL with a year or two of seasoning, but has limited upside.

169. Baltimore: Ryan Lindley QB, San Diego State
Lindley is certainly worth a draft pick and has the skill set to go somewhere in the mid round range. However, if he doesn't improve his overall footwork/coordination from the pocket, it's going to be tough for him to make plays in the NFL when he doesn't have a clean pocket.

170. Indianapolis: Chris Rainey WR/RB,Florida
He's a narrow framed athlete, but has natural running ability, keeps his pad level down and can consistently make defenders miss. Needs to add girth to give himself a chance. But if he can get up to around 190-pounds and add some strength, he certainly looks like a potential change of pace back/slot guy who can fill a number of roles at the next level.