April 21, 2012 -
National Football Post
Week Long Mock: Round Four
96. St. Louis: Bernard Pierce RB, Temple
Possesses good size, natural feel inside and some good cut back ability. Isn't real powerful though and runs a bit upright. Doesn't look like a great fit for an angle scheme at the next level like they ran at Temple. Is more of a zone guy in the NFL because of his vision and cut back ability. Could fight for a starting job over time, but might be better suited to play the number two role.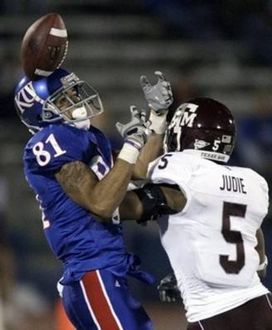 ICONJudie slips because of injury concerns.
97. Indianapolis: Coryell Judie CB, Texas A&M
He's a naturally gifted athlete with good range and great ball skills. Displays enough fluidity and balance to develop as a man-to-man corner, but looks ideally suited for a cover two type role at this stage that allows him to attack the football and create turnovers. An eventual starter in that type of scheme.
98. Minnesota: Audie Cole OLB, North Carolina State
Played outside as a junior and will kick inside as a senior. Looks better suited to play as a 43 OLB to me who has the skill set to start and potentially play three downs for an NFL defense, but can't be forced to cover too much space down the field in his drop.
99. Houston: Kyle Wilber OLB, Wake Forest
An intriguing 34 rush end to me. Has a good first step, can change directions on his pass rush and plays the run with good integrity. Could be posed for a jump up draft boards with a solid year. Reminds me some of Jaguars DE Aaron Morgan.
100. Cleveland: Micah Pellerin CB, Hampton
He's a tall, talented kid who has some rough spots to his game, but has the talent to fight for a starting job.
101. Jacksonville: Justin Bethal CB, Presbyterian
Had a solid week at the East-West Shrine game and has the upside to warrant a pick to develop as an NFL defensive back.
102. Washington: Andrew Datko OT, Florida State
He's a solid athlete who can bend, re-direct and block in space. However, he's had some struggles with power when trying to stay engaged and hasn't been able to stay healthy throughout his career. Nevertheless, in a weak offensive tackle class, he's one of the few prospects that possess the skill set to start in the NFL.
103. Miami: Chris Givens WR, Wake Forest
He's a coordinated route runner who can adjust to the football and has enough speed to go down the field. However, he's not overly quick, powerful or fast. Looks like a low-end starter at best who would likely be better served to play inside in sub package situations.
104. Carolina: Travis Lewis OLB, Oklahoma
He's a bit undersized and doesn't tackle as well as you would like inside the box. However, he's a good run and hit backer who plays the run well and will be able to make plays vs. the pass game in the NFL. Looks like a day one starter to me as a 43 backer, either on the weak side or possibly in the middle.
105. Buffalo: James-Michael Johnson ILB, Nevada
Is a good athlete who can run, close on the football and play with power in the run game. Needs to play a bit lower in coverage, but overall does everything at a pretty solid NFL level. Is a guy who can win a starting job at the next level.
106. Seattle: Senio Kelemete OG, Washington
A gifted athlete with a strong base, strong hands and a passion for the game. Needs to clean up his footwork and his body type makes me think he's more of a guard only prospect.
107. Kansas City: Isaiah Pead RB, Cincinnati
An explosive running back with the initial burst to press space quickly, put his foot in the ground and side step a defender. However, isn't natural inside between the tackles and isn't going to create on his own if there isn't a big hole there. A space runner who will be looked at as more of a zone guy or third down back to most teams.
108. Denver: David Molk C, Michigan
A perfect fit for the Michigan's run first spread offense where he consistently plays to his strengths. However, he's an overachiever who looks like a potential starter in only a zone scheme in my view.
109. Washington: Ryan Broyles WR, Oklahoma
Isn't a legit number one type wide out and isn't a guy who I would even play on the outside in the NFL. However, has the polish and quickness needed to separate underneath and should be a solid contributor early inside for an NFL offense.
110. San Diego: LaMichael James RB, Oregon
A quick footed, fluid scat back who doesn't break many tackles, but has the ability to make NFL defender miss and accelerate quickly toward daylight. Will be limited inside, but as a 3rd down/special teams type option I think he can be a better NFL runner than Falcons 5th round pick Jacquizz Rodgers because of his ability to make defenders miss consistently.
111. Chicago: Marvin McNutt WR, Iowa
A tall, long armed receiver who can win off the line and use his big frame to box and go get the football. A big target who looks capable of fighting for a starting role now at the next level. However, is never going to be a guy who separates a ton in any area of the game.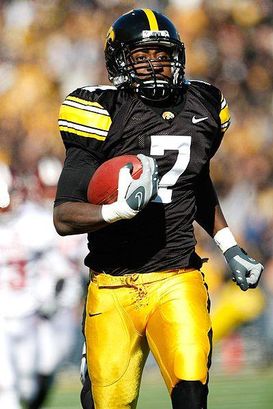 ICONMcNutt can be a threat when asked to go get the football.
112. Arizona: Malik Jackson DE, Tennessee
A great looking athlete. Has some real work to do from a technique standpoint and is playing out of position at Tennessee. However, has a lot of upside as a DE both in a 43 and 34 front in the NFL and looks like a really intriguing developmental defensive lineman at this stage with a good bit up upside long term.
113. Dallas: Brandon Taylor FS, Louisiana State
He can tackle in the box and in space, despite being a bit inconsistent at times. Displays some natural coverage ability and looks capable of maturing into tweener starter/nickel safety at the next level.
114. Philadelphia: Nick Foles QB, Arizona
A big, strong-armed passer who has the tools physically. Made some real strides as a quarterback as a senior without much talent around him. Is going to take some time, but is an potential starting caliber pocket passer.
115. Tennessee: B.J. Cunningham WR, Michigan State
Isn't real dynamic of an athlete and it takes him a bit to build speed. However, he can box out defenders, go get the football and break tackles after the catch.
116. Cincinnati: Jake Bequette DE, Arkansas
Not a special athlete, more of a savvy power player, but works hard rushing the pocket, has a great motor and can play the run. A rotational guy early on who has the ability to earn a starting role, but looks more like a rotational guy.
117. Detroit: Trenton Robinson FS, Michigan State
Is coordinated and can keep his feet under him, but looks tighter when asked to turn and run. Tackles well and looks like at best a low end starter who needs to play in tighter areas to be effective in coverage.
118. Cleveland: Zebrie Sanders OT, Florida State
A natural athlete who can bend and is athletic. However, struggles with power and makes too many lineman look like good pass rushers toward the edge because of it. Needs to get stronger to have a chance.
119. Pittsburgh: Akiem Hicks DT, University of Regina
Has the size, power, first step and length to be an NFL lineman. Needs to work at his trade, but is an ideal mid/late round boom or bust type guy.
120: Denver: Omar Bolden CB, Arizona State
The skill set is there for this guy to be a starter in the NFL. Needs to play a little stronger and has to clean up his footwork in order to stick, but gives you some versatility to play inside and out on a defense.
121. Houston: Demario Davis OLB, Arkansas State
One of the biggest surprises on tape this draft season. Was explosive, instinctive and always making plays on the football. Looks like a starting caliber linebacker either inside or out in a 43 scheme.
122. New Orleans: Tommy Streeter WR, Miami
Despite all his physical attributes he looks more like a reserve in the NFL to me, where I think he will be most effective as a big slot who can work the middle of the field and from time to time create the big play vertically.
123. Green Bay: Tydreke Powell DT, North Carolina
A naturally talented kid, just plays too high and doesn't play up to his skill set. Is worth a flyer in camp as a late round/free agent type upside prospect, but needs to learn to play lower.
124. Buffalo: Shaun Prater CB, Iowa
Is still developing his feel in zone and needs to add more weight. However, he's smooth, fluid and coordinated in his drop and out of his breaks. Has a chance to start in the NFL, more of a zone corner though.
<a href="http://footballpost.wpengine.com/college_big_board_rankings.html&position=og">125. San Francisco: Lucas Nix OG, Pittsburgh<br /> A good athlete for the position who can win in the pass game and seal lanes inside as a run blocker as well. Has some upside as a power play moving lineman off the ball and looks like a capable starter in the NFL.
126. New England: Miles Burris OLB, San Diego State
A nasty, hard working football player who displays good instincts, a great motor and a lot of explosive elements to his game. At worst, Burris is a stud special teams guy with the ability to start at the next level. He can play either inside or out as well.
127. NY Giants: Tony Bergstrom OG, Utah
A big, strong tackle prospect with some short area quickness for his size. But struggles with flexibility in pass protection and looks limited in what he can offer an NFL offense. However, looks more coordinated and plays lower as a guard and looks like that is where his future lies in the NFL.
128. Minnesota: Ladarius Green TE, UL Lafayette
He's a big slot guy who can make plays down the seam and can release off the line. However, he's not an in-line blocker and doesn't play well in tight areas vs. man. He has tools to be productive in the pass game, but there are limitations and you need to be creative to get the most out of him.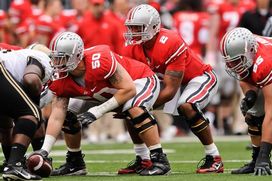 ICONBrewster could surprise in the NFL.
129. Oakland: Juron Criner WR, Arizona
He's a talent, there is no doubt about that. However, the key in determining his draft stock is where he's at mentally and physically. If he checks out in both areas he could develop into a starting caliber wide out. But looks more like a sub-package guy.
130. Baltimore: Michael Brewster C, Ohio State
A seasoned lineman who displays good size, hand placement and bend for the position. Looks like an eventual starter to me in the NFL.
131. NY Giants: Sean Spence OLB, Miami
A gifted sideline-to-sideline athlete who can play in space and make plays off his frame. Size is a concern, but looks like a starter in a cover two scheme who can play three downs in the NFL.
132. Green Bay: Russell Wilson QB, Wisconsin
Wilson is a plus athlete who can spin the football and gives you a nice run/pass threat. However he's undersized, is going to struggle to consistently make plays from the pocket and is still learning how to work his way through defenses. He is worth a pick late, but I don't see the guy as a potential starter in the NFL. Reserve only.
133. Green Bay: Cyrus Gray RB, Texas A&M
An instinctive, well put together back with natural running skills inside. Isn't ever going to be a cowbell back at the next level and isn't overly dynamic in the open field. But can be productive in a two back system in the NFL.
134. Minnesota: Jaye Howard DT, Florida
An athletic kid who can play low, be violent with his hands and disengage in both the run and pass game. Needs to get stronger and improve overall ball awareness, but the skill set is there for this guy to play early in more of a one-gap scheme and eventua lly fight for a starting role down the line.
135. Dallas: DeVier Posey WR, Ohio State
Possesses some natural talent and can make plays down the field and track the football. However, he's raw as a route runner, puts the ball on the ground and will have a tough time vs. press in the NFL. Doesn't look like much more than an occasional big play threat who needs to work inside at the next level.