April 25, 2012 -
National Football Post
Week Long Mock: Round Seven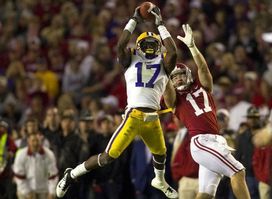 ICONCheck out where Claiborne went in round one...
208. Indianapolis: Adrian Robinson OLB, Temple
A shorter, stout kid who works hard, can bend around the edge and uses his hands well to keep himself clean. However, there are no dynamic qualities to his game that makes me think he will ever be anything more than a reserve only in the NFL.
209. St. Louis: Rishard Matthews WR, Nevada
A strong kid who can pluck, work toward the football and pluck off his frame. However, is going to have a tough time consistently separating vs. man at the next level.
210. Minnesota: Bobby Rainey RB, Western Kentucky
I think he could get some looks as a situational type back who can be used in space effectively at times. However, despite his production, I think at best he's a later round pick who is going to have a find a niche early on where he can make plays and be dynamic if he hopes to stick on an NFL roster. My guess would be either as a return guy, a situational guy in the pass game or even on kick coverage.
211. Cleveland: James Carmon OT, Mississippi State
He's a gifted athlete for his size who at worst is worth a developmental/free agent grade. He's the type of lineman I would love to have/develop on my practice squad for a year and see how much he can develop.
212. Tampa Bay: Jordan White WR, Western Michigan
White gives you a nice-sized body who can work the middle of the field, go get the football and work the middle of the field. He's more of a bigger inside guy only who looks like a poor man's version of Jason Avant.
213. Washington: Jared Green WR, Southern
He's got good size, he can run/separate and has good pedigree, which could end up getting him a look late as a draftbale receiver prospect.
214. Indianapolis: Dustin Waldron OG, Portland State
A fringe draftable prospect who has some natural talent and could end up making an NFL roster long term.
215. Miami: Derek Carrier TE, Beloit
A late riser who tested well and has a shot to go late.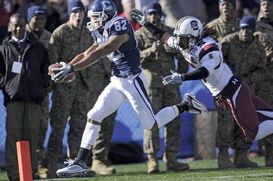 ICONMoore would be an instant help on special teams.
216. Carolina: Kashif Moore WR, Connecticut
An undersized wide out with "plus" speed. Isn't real shifty in tight areas, is developing as a route runner and will struggle to get off press. Nevertheless, he's got the top end seed to be a homerun threat every time he touches the football.
217. Buffalo: Ryan Miller OT, Colorado
The big guy can bend, but leverage is always going to be a struggle for him inside. However, he does have some natural balance/coordination to his game in both the run and pass game and in my mind is better suited to play as a right tackle at the next level in any scheme rather than guard.
218. Kansas City: Donald Stephenson OG, Oklahoma
Displays a good initial burst for his size, but struggles to gain leverage and stick to blocks in the run game.
219. Detroit: Jeff Adams OT, Columbia
Possesses natural range and quickness for his size, but he can't bend, plays too high and lacks the frame to get much stronger. Might get drafted because of athletic qualities, but is going to have a tough time holding up vs. NFL caliber defenders.
220. Chicago: Daryl Richardson RB, Abilene Christian
Looks like a late round/priority free agent type who could quickly earn a spot on a roster as a third running back and return man.
221. Arizona: G.J. Kinne QB, Tulsa
Kinne has a little Jeff Garcia/Bruce Gradkowski to his game. He will fall on draft day because of his size, but is your typical gritty QB prospect who is the son of a coach and in my view will find a way to make a roster and potentially fight for playing time down the line.
222. Dallas: Kellen Moore QB, Boise State
I see him more as a later round type pick/reserve only whose playing career will end up being closer to say a Koy Detmer type quarterback than a Drew Brees.
223. Minnesota: Rishaw Johnson OG, California (PA)
Possesses good size, but technique is a major issue and I don't know how willing he's going to be to work at his trade. Doesn't look real fluid/quick laterally in the pass game as well and in my view isn't a draftable kid.
224. Green Bay: Lamont Bryant TE, Morgan State
Doesn't look natural getting out of a three-point stance and can't run a route, but is an intriguing strider who can go get the football.
225. Seattle: Tim Benford WR, Tennessee Tech
A solid route runner who has a savvy to his game. He can be inconsistent catching the football but knows how to get open out of his breaks and adjust.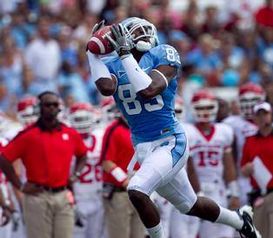 ICONJones has the talent to make a roster.
226. San Diego: Dwight Jones WR, North Carolina
A tall athlete who lacks a real dynamic quality to his game. Can't beat press coverage and looks like an inside receiver only in the NFL.
227. Tennessee: Janzen Jackson FS, McNeese State
A talented kid who can run, track the footba ll and can be a violent striker on contact. However, isn't the most sound of wrap-up guys, is raw with his footwork and has character concerns. Nevertheless, has the talent to play in the NFL and should get a shot because of his ability to run and strike.
228. Jacksonville: Charles Deas DT, Shaw
A guy who could get drafted late in round seven and has a shot to develop into a solid NFL body because of his size.
229. Atlanta: Cory Harkey TE, UCLA
He's a guy who can win for you as a blocker in both the run and pass game. If he's willing to be a down and dirty type tight end, has the ability to stick in the league for a while.
230. Detroit: Edwin Baker RB, Michigan State
A solid between the tackles type runner who should be able to fight for a roster spot in Detroit.
231. Pittsburgh: LaQuinton Evans WR, Southern
A small-school standout with good savvy to his game and looks like a contributing NFL wide out.
232. NY Jets: Brandon Hardin FS, Oregon State
Looks like a player who needs to transition to safety. I don't think he's a starter you can play in the deep half. However, if you're looking for a reserve in the box type safety who can add some talent to your special teams unit, Hardin is your guy.
233. Houston: Nate Stupar OLB, Penn State
An ideal 34 ILB who finds the football and is a better athlete in space than given credit for.
234. New Orleans: Danny Trevathan OLB, Kentucky
Runs well, generates a burst as a tackler and possesses natural athleticism. He is undersized and might be better suited for more of a cover two team, but needs to improve his feel in zone coverage if he hopes to ever be more than a special teams guy/reserve.
235. Green Bay: Bryce Brown RB, Kansas State
Watching him run in Lane Kiffin's zone scheme as a freshman, the guy was an impressive back with a lot of natural talent. He was the number one ranked recruit out of high school, ahead of Trent Richardson in 2009 and no doubt has the skill set to play in the league. The biggest question mark for him going forward is his overall character.
236. Baltimore: Gino Gradkowski OG, Delaware
A tough lineman who understands leverage, runs his legs through contact and will give himself a chance at the next level.
237. San Francisco: Desmond Marrow CB, Toledo
Marrow is the type of big defensive back you are willing to take a chance on late because of his athletic and physical skill set. The guy is raw and is going to need time to clean up his technique, but has the size/speed/fluidity to intrigue.
238. Kansas City: Asa Chapman DT, Liberty
Is an imposing kid, but there isn't a real explosive element to his game either off the ball or through contact. Struggles with pad level and balance, is more of just a size free agent in my mind.
239. NY Giants: Donnie Fletcher CB, Boston College
Possesses good size, ball skills and has a natural feel in coverage. Gets a bit leggy, but can sink his hips and get out of his breaks. Looks like an ideal cover two type corner at the next level with some man-to-man upside.
240. Pittsburgh: Trevin Wade CB, Arizona
A nice sized kid who lacks ideal quickness and initial explosion to his game. Is going to have a tough time holding up in man coverage at the next level.
241. Green Bay: Adrian Hamilton DE, Prairie View
A highly productive small school guy who warrants a free agent grade, but needs to improve his pass-rushing arsenal.
242. NY Jets: Ishmaa'ily Kitchen DT, Kent State
A thick, strong kid with some natural power and can be tough to move. Needs to improve pad level and overall technique when extending arms and fending off blocks. A size free agent who has some tools that will give him a chance to develop on a practice squad.
243. Green Bay: Shawn Loiseau ILB, Merrimack
Displays an explosive element to his game vs. the run game. Has the first step to close vs. the pass, is stiff when trying to turn and run, but has the speed to track the football. Should be able to fight his way onto special teams as a rookie.
244. NY Jets: Matthew Masifilo DE, Stanford
A try hard defensive lineman who fills a role about as well as you can at the college level. Should at least get a shot in a camp with a team looking for a shorter/stouter 5-tehcnqiue. However, he's just too limited athletically for me to think he can make an NFL roster.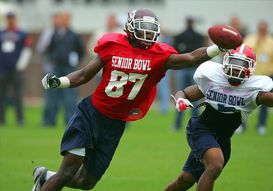 ICONFuller could move to tight end in the NFL.
245. Cleveland: Jeff Fuller WR, Texas A&M
A talented kid who looked like one of the draft's best receiver prospects as a junior, but his game has really fallen off as a senior. A lack of focus, dropped footballs and questionable separation skills will cause him to fall.
246. Pittsburgh: Marc Tyler RB, Southern California
A big back who possesses a good feel inside, can pick his way through tight quarters and finish runs. Isn't dynamic but is worth a later round pick and should be able to make a roster as a number three.
247. Cleveland: Ronald Leary OL, Memphis
A massive prospect with a little snap to his game and natural power through contact.
248. Pittsburgh: Lamar Holmes OT, Southern Mississippi
Looks the part and is a big kid with some athletic ability. Will get upright when trying to mirror and stops moving his feet when trying to engage, but is worth a invite to camp because of his size.
249. Atlanta: DeAngelo Tyson DE, Georgia
Exhibits the ability to at least threaten gaps inside off the ball vs. the pass. Isn't a natural pass rusher, doesn't exhibit much lateral quickness and fails to use his hands to keep himself clean. More of a linear rusher only. However, when asked to loop inside he does extend his arms well to keep himsel f clean and eventually can work himself free. Nevertheless, isn't a guy who can consistently win for you inside as a pass rusher.
250. San Diego: Tony Jerod-Eddie DE, Texas A&M
I see a kid who is worth a starting grade if he can learn to play with a lower pad level inside. He's a better pass rusher than run defender and if he will get looks in a 34 it will be in more of a one-gap scheme.
251. Buffalo: Jerico Nelson SS, Arkansas
A tough, rangy kid who holds up well in coverage and I love him as a football player. But where do you play him in the NFL? Body type says strong safety. Looks like a nickel backer to me who can play special teams from day one.
252. St. Louis: Derrius Brooks CB, Western Kentucky
Displays some natural coverage ability and if he runs as fast as many think at his pro day (sub 4.4) he's going to give himself a chance at getting drafted.
253. Indianapolis: Darius Fleming OLB, Notre Dame
A tweener with experience both from a two and three point stance, he just isn't real dynamic in any area of the game. Possesses a natural burst and pop on contact, but doesn't warrant much more than a late round/free agent grade. Wouldn't be on my draft board.