April 24, 2012 -
National Football Post
Week Long Mock: Round Six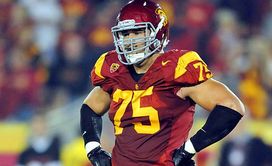 ICONWhere does Kalil fall in round one?
171. St. Louis: Donte Paige-Moss DE, North Carolina
A talented kid who has the skill set, but never put it together as a sophomore and displays a questionable motor as a junior. If the light ever goes on he looks like a potential NFL starter. However, with the knee injury and concerns off the field isn't much more than a later round/free agent boom or bust guy.
172. Philadelphia: Emmanuel Acho ILB, Texas
Isn't a dynamic straight-line athlete, but plays faster because of instincts. Is a good tackler, can shed blocks and plays stronger than his frame would indicate. Has the versatility to play a number of spots in a 4-3 scheme or get some looks inside in a 34. Looks like a potential starter in the NFL either way.
173. Washington: Dominique Hamilton DT, Missouri
Plays the run much stronger than his frame would indicate. He's got a burst off the snap, plays with leverage and extends his long arms. Has the frame to add 15 to 20 pounds and looks like a 3-4 five-technique at the next level who could start in the league.
174. Tampa Bay: Asa Jackson CB, California Poly
An intriguing small-school corner with some natural fluidity, foot quickness and ball skills. Plays bigger than his frame would suggest because of length and at worst looks like a potential slot defender at the next level.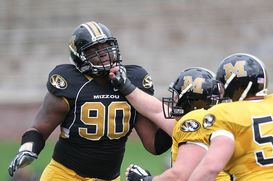 ICONHamilton can play as a five-technique in Washington.
175. Minnesota: Deangelo Peterson TE, Louisiana State
An athletic kid who can run and get down the seam. However, is raw in all areas of the game and doesn't seem to have put much work into his trade, I don't know if he wants to or ever will. Nevertheless, physically the guy is worth a look.
176. Jacksonville: B.J Coleman QB, Tennessee-Chattanooga
He needs to improve his footwork from the gun and from center before he's ready for the NFL game. However, Coleman has a good skill set, can make all the throws and is an intriguing developmental kid with a "plus" upside.
177. Arizona: Phillip Thomas FS, Syracuse
An early entry with some talent, but there are questions about straight-line speed and character.
178. Buffalo: Chigbo Anunoby DT, Morehouse
He's never going to be a "plus" pass rusher in the NFL. However, he's a strong, long kid with a really well proportioned frame who can anchor inside and certainly has the talent to get plenty of looks from both 34 and 43 teams as a developmental big body.
179. New Orleans: Mike Harris CB, Florida State
Looks like a physical slot guy to me who can play in both man and zone concepts, and will tackle the football.
180. Carolina: Jack Crawford DE, Penn State
A big, strong defensive end prospect who still has some upside to his game. But won't be able to take that next step until he learns to play with a more consistent pad level. A size prospect worth developing long term.
181. Seattle: Michael Smith RB, Utah State
An overlooked senior because of a talented runner in front of him, but has an NFL skill set and should make a roster.
182. Kansas City: Coty Sensabaugh CB, Clemson
Possesses a solid NFL skill set with a "plus" feel in the pass game. Looks like a reserve only, but an NFL rosterable guy.
183. San Diego: Aaron Corp QB, Richmond
He has a nice sized frame and throws a pretty football. He's going to need some time, but is worth a draftable grade.
184. Chicago: Nigel Bradham ILB, Florida State
Is a physically built backer who can run and play in pursuit. However, he's tighter in the hips and isn't real instinctive. Needs to play OLB only in the NFL in more of a run and hit scheme as he won't be able to handle much volume. Has the talent to start, but might not ever live up to his skill set because of awareness problems.
185. Arizona: Delano Johnson OLB, Bowie State
A good-looking kid with an intriguing skill set. Is a developing pass rusher, but certainly has the upside to get a look in an NFL camp.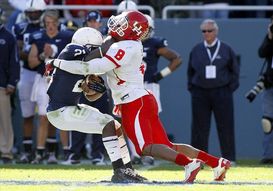 ICONBrown has the talent to go higher.
186. Dallas: Sammy Brown OLB, Houston
A highly productive pass rusher who has come a long way since being a JUCO transfer. Has a feel for getting after the passer, exhibits a good burst and closing speed around the edge and is an intriguing 34-type prospect.
187. NY Jets: Jerrell Harris OLB, Alabama
A throwback linebacker who can be a solid NFL contributor vs. the run game. Looks like a 34 guy only who needs to play in tighter areas, but isn't a real natural pass rusher. Nevertheless, he's a plus run defender with good size and instincts. Can offer some versatility inside as well.
188. Denver: Case Keenum QB, Houston
Is a little more physically gifted than Graham Harrell coming out, but looks maxed out as a prospect physically. Is more of a reserve only at the next level, but is one you should be able to trust.
189. Oakland: James Hanna TE, Oklahoma
Has some talent, isn't dynamic in any area of the game, but has a shot to fight for a reserve job in the NFL.
190. Tennessee: Jacquies Smith DE, Missouri
An intriguing looking DE prospect with some natural athleticism and closing speed, but he struggles out of his stance and does play as dynamic as his athletic skill set says he should.
191. Cincinnati: Julian Miller DE, West Virginia
Is a good looking kid with some NFL quality athletic traits, but needs to learn to play lower as most of the plays he makes come after his initial surge.
192. Atlanta: Jerry Franklin ILB, Arkansas
A coordinated middle linebacker prospect who picks his way through the line of scrimmage, finds the football and can hold his own in coverage. However, would like to see a more explosive element to his game in all areas. A solid MLB prospect, not the top-tier senior backer many are making him out to be in my view.
193. Pittsburgh: Robert Golden CB, Arizona
Might be limited to more of a cover two/click and close type corner, but he does have some developing press coverage skills. Also, has a lot of value as a safety, as he can anticipate in the deep half, drive on throws under him and play over a receiver in nickel situations.
194. Philadelphia: Matt Reynolds OT, BYU
A college left tackle who looks better suited to play right tackle in the NFL. He is a bit older than most prospects as well and looks more like a reserve at best to me.
195. Houston: Damon Harrison DT, William Penn
The kind of physically put together kid who can develop as a nose in either a 34 o4 43 front. In a weaker senior class at DT I would rather roll the dice on this higher upside kid than most of the average senior later guys at bigger schools.
196. Miami: Ronnie Hillman RB, San Diego State
Showcases good lateral agility, but needs to do a better job taking what the defense gives him.
197. Green Bay: Desmond Wynn OG, Rutgers
A big, coordinated guard prospect who holds up well in the pass game and can seal inside vs. the run. If he checks out medically has a shot a fighting for a roster spot.
198. Baltimore: Vontaze Burfict ILB, Arizona State
A talent with natural pop on contact, can hold the point of attack and for his size exhibits "decent" range and fluidity. Isn't a guy who I could trust as a starting 43 mike as he needs to stay in control of his emotions and make the defensive calls. Needs to be put in a good locker room with a vet next to him to help him learn to be a professional.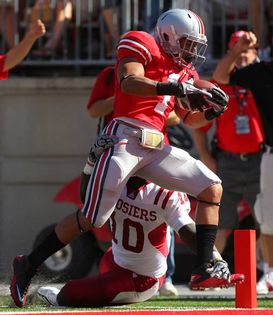 ICONHerron is a nice value in round six.
199. San Francisco: Rhett Ellison TE, Southern California
Isn't an elite straight-line athlete or dominant in-line guy. However, has the ability to be successful in both the run and pass game at the next level. Doesn't look like a starter to me, but may be able to earn playing time early during his NFL career.
200. Philadelphia: Dan Herron RB, Ohio State
Isn't dynamic really in any athletic and/or physical aspect. However, he runs with a strong base, has impressive short area quickness and a natural feel between the tackles. Can certainly contribute early in his NFL career in a rotation and will create for himself if he has to.
201. NY Giants: Brandon Bolden RB, Mississippi
A tough, productive SEC back who runs hard and can be effective when there are lanes to run through. Isn't going to create on his own in the NFL and isn't dynamic in any area of the game. Looks like a number three back at the next level.
202. NY Jets: T.Y. Hilton WR, Florida International
He is limited where he can play in the NFL, however, he has the vertical skill set, play speed and ability after the catch to make his fair share of plays from the slot at the next level.
203. NY Jets: Jonathan Massaquoi DE, Troy
An effective small-school pass rusher because of his length. However, isn't a real flexible kid, lacks a sudden/explosive element to his game and looks more like a reserve only to me.
204: Cleveland: Quenton Saulsberry C, Mississippi State
A solid athlete who does some things well on the move and in pass protection. More of a zone lineman only, but needs to do a better job getting off the snap count on time in order to have a chance of getting drafted.
205. Cleveland: Duke Ihenacho SS, San Jose State
He looks and plays more leggy than his 6-0 frame would indicate. Ihenacho lacks a great burst out of his breaks, isn't a great tackler and looks more like a reserve only/special teams guy at best.
206. Indianapolis: T.J. Graham WR, North Carolina State
Did a better job catching the football this year and has the straight-line speed to get a look as an inside vertical route runner.
207. Carolina: Leonard Johnson CB, Iowa State
A well-built kid lacking ideal height, but plays fast and I like his footwork and balance. Isn't a dynamic athlete, but can play some press and off coverage, and looks capable of getting playing time both on the outside and in the slot at the next level.