April 20, 2012 -
National Football Post
Week Long Mock: Round Three
64. Indianapolis Colts: Brandon Brooks OG, Miami (Ohio)
Is a big, strong kid who has some lateral quickness for his size but needs some technique work. Nevertheless, has some upside and can win consistently in the run game and pass game and looks like an NFL starter in an angle scheme to me.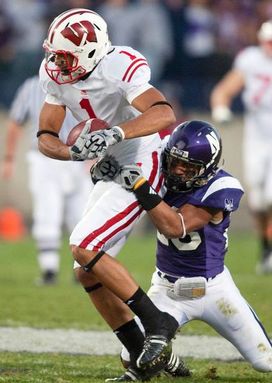 ICON
65. St. Louis Rams: Mitchell Schwartz OT, California
Displays solid athletic ability, but looks better suited to play on the right side in the NFL vs. less speed. A nice mid round type draft pick who could eventually fight for playing time.
66. Minnesota Vikings: Nick Toon WR, Wisconsin
I like his size, short area quickness and ability to adjust to the football. Isn't a guy who is going to create consistently down the field, but knows how to gain enough separation, pluck and create after the catch. Looks like a guy who can play on the outside as a legit number two wide out running the inward breaking routes with some time, but isn't ever going to be a dynamic playmaker.
67. Cleveland Browns: Vinny Curry DE, Marshall
A strong kid with good movement skills and the production to go along with the skill set. Isn't a dynamic athlete but has the ability to keep tackles off balance and be a solid pass rushing force.
68. Tampa Bay Buccaneers: Chris Polk RB, Washington
Is a big kid with a good feel inside, runs hard and will break some tackles. However, pad level, initial burst and lack of great change of direction skills make me think he's potential NFL starter only.
69. Washington Redskins: Jayron Hosley CB, Virginia Tech
An undersized zone corner who lacks ideal size and doesn't run overly well. Exhibits "plus" ball skills and a natural feel in zone, but is raw with his footwork in man coverage and looks more like a cover two guy only who might be best suited to play inside.
70. Jacksonville Jaguars: Brandon Washington OG, Miami
The talent is there for this guy to mature into a guard you can win with consistently inside at the next level. He needs to improve his pad level in the in-line game and tighten up his footwork in all areas. However, with a year of seasoning he certainly should mature into an above-average guard in the NFL with the talent to start at right tackle.
71. Buffalo Bills: Brock Osweiler QB, Arizona State
If everything falls into place for Osweiler, meaning he develops as a quarterback mentally, has time to work at his trade and falls into a perfect fit for him physically (Steelers, Eagles, Raiders) he does have the talent to eventually fight for a starting job in the NFL. However, he rates much closer to a developmental later round pick and reminds me some of Cardinals QB John Skelton.
72. Miami Dolphins: Bruce Irvin OLB, West Virginia
A gifted athlete who has the initial burst to routinely reach the edge. However, lacks ideal size and doesn't have a real sophisticated pass rushing repertoire. Is going to make the move to a 34 OLB at the next level and might need a little time. Reminds me some of the Chris Clemons.
73. Miami Dolphins (through Chicago & Carolina): Kendall Reyes DT, Connecticut
Displays some natural talent and did a better job at Senior Bowl playing with a lower pad level. If he can continue to play lower should be able to fight for a starting role in both a 34 or 43 scheme as a three or five technique.
74. Kansas City Chiefs: Josh Chapman DT, Alabama
Has the making of a starting caliber nose at the next level in either a 3-4 and 4-3 front. Can consistently anchor on contact, is long armed and tough to move off the football. Also, is a better pass rusher than given credit for. Will likely fall because of medical concerns, but could be a real bargain because of it.
75. Seattle Seahawks: Marvin Jones WR, California
Possesses good size, good body control and hand eye coordination, and for his size is a pretty fluid athlete as well. Isn't a dynamic athlete, but should be able to find a way to make and earn playing time on an NFL roster.
76. Houston Texans (through Philadelphia): Tyrone Crawford DE, Boise State
I like his skill set. I think he's going to develop quickly at the next level and he has the ability to be a solid three down lineman with some time. He isn't there yet, but as a prospect Crawford has some real upside and displays the kind of blue-collar pass rushing mentality that I like with a powerful element to his game on contact.
77. New York Jets: Jeff Allen OG, Illinois
He's not an overpowering run blocker, but can bend, gain leverage and seal inside. He's smooth and coordinated in pass protection, can keep his base down and warrants a higher grade because of it. Needs to play inside at the next level, but looks like a guy who can start in the league.
78. San Diego Chargers: Nate Potter OT, Boise State
Potter, in my book, is a poor man's version of former Boston College LT Anthony Castonzo, as he has the talent to earn a starting job in more of a zone scheme, but is going to need a year or two before he's ready physically to mature into the player he's capable of becoming.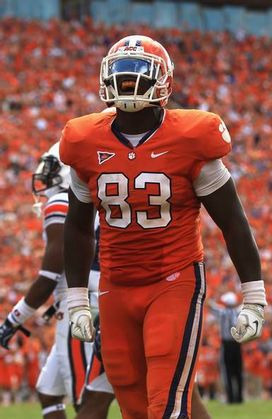 ICONAllen can play on the line and flexed out.
79. Chicago Bears: Dwayne Allen TE, Clemson
Is a solid, strong athlete with good hands and body control when asked to go get the football. Lacks ideal balance/leverage into contact as a blocker and would like to see him be more sudden in tighter areas with defenders who want to be physical. However, he's an NFL talent who can be used in a number of ways on an NFL offense.
80. Arizona Cardinals: Kirk Cousins QB, Michigan State
A solid athlete who isn't overly impressive physically, but he has enough to make i t in the NFL. Needs to take that next step in his understanding of the offense this year and cut down on the mental errors. However, he's a good kid, a hard worker and has some real similar qualities to some of the senior quarterbacks who came off the board this year (Ponder/Dalton). Nevertheless, his struggles with pressure could hold him back from ever becoming an NFL starter.
81. Dallas Cowboys: Alfonzo Dennard CB, Nebraska
He's strong/feisty, can press off the line and turn and run. Needs to clean up some technical flaws both in press and off the line, which hinders his balance. But can be a guy who could start both on the outside and in the slot at the next level.
82. Tennessee Titans: Zach Brown OLB, North Carolina
A run and hit guy with impressive athleticism and range. Possesses solid instincts and is a better read-and-react linebacker than given credit for, but still not elite in that area. Nevertheless, looks like a starting caliber 43 weak side guy who would be ideal in a cover two scheme.
83. Cincinnati Bengals: Markelle Martin FS, Oklahoma State
A gifted athlete with a good burst and range in the deep half. However, wastes motion out of his breaks and isn't a very good open field tackler. Possesses slightly above-average instincts, but will make more plays on the football when he tightens up his footwork. A potential starter only at this stage because of his intriguing athleticism.
84. Atlanta Falcons: Philip Blake C, Baylor
Possesses natural power and if he can play with his base under him a bit better in the NFL the guy will routinely create off the snap in the run game. Needs to play in a power based offense, but with some time has a chance to fight for playing time.
85. Detroit Lions: Devon Wylie WR, Fresno State
Is limited a bit by his size, but is the kind of cat-quick slot guy with great ball skills who can make a living in the NFL. The major positive with him is that he also has very good speed as well.
86. Pittsburgh Steelers: Billy Winn DT, Boise State
Winn is a bit of a tweener who will get looks as a 43 DE, a 34 DE and a 43 one gapping DT. I think he's best suited to play 34 DE as he has the power to anchor on the edge and offers some pass rush ability as well. Either way, the guy looks like a starting caliber defensive lineman in any number of schemes.
87. Denver Broncos: Orson Charles TE, Georgia
A gifted athlete who can create a lot of mismatches in the pass game. Should be able to improve as a route runner as well. Not quite as polished as Aaron Hernandez as an H-back coming out, but could end up playing a similar type role.
88. Philadelphia Eagles (through Houston): Jarius Wright WR, Arkansas
A coordinated athlete who is sharp as a route runner, tough over the middle and knows how to get open vs. man and zone. Will get re-routed vs. press at times and looks more like an inside player at the next level, but has the skill set to make a roster and carve out a big niche early.
89. New Orleans Saints: Bobby Massie OT, Mississippi
Looks like a guy who could play both inside and out at the next level.
90. Green Bay Packers: Derek Wolfe DE, Cincinnati
A high motor, had working kid who finds the football and uses his length to make plays. Doesn't have the anchor to play inside in a 43 front at the next level. However, as a five-technique in a 34 he's got the skill set to fight for playing time in a rotation early and create some negative plays vs. the run.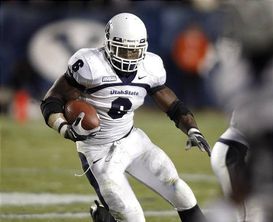 ICONTurbin could be a 3rd round gem.
91. Baltimore Ravens: Brett Roy OLB, Nevada
Has played all over with his hand on the ground, but might be most effective as a 34 linebacker. He's powerful, uses his hands well to shed and could play either inside or outside linebacker spots in a 34 scheme.
92. San Francisco 49ers: Robert Turbin RB, Utah State
Physically, he reminds me some of New York Jets RB Shonn Greene. But as a runner, he looks more natural as a zone guy who he can use his cut back ability to pick his way through traffic, square his shoulders and then attack daylight. Has the skill set to mature into a starter at the next level, but because of his lack of a great burst, he doesn't strike me as a guy who is ever going to have a real gaudy yards per carry average. Nevertheless, he should be able to keep you ahead of the chains.
93. New England Patriots: Mike Martin DT, Michigan
The kind of prospect you don't want to bet against. Is limited and doesn't have the kind of frame to get all that bigger, but I can see him working his way into a rotation as a 43 nose in the NFL and being the kind of guy coaches love
94. New York Giants: Brian Quick WR, Appalachian State
Exhibits natural athleticism, coordination and some burst as a route runner. Has some upside to his game, but reminds me some of a Ramses Barden type prospect. A big guy who can adjust, but is never going to separate much out of his breaks in the NFL.
95. Oakland Raiders: Dwight Bentley CB, UL Lafayette
A thinner corner with some natural range and click and close ability. However, he isn't real physical, isn't a great tackler and needs some work from a technique standpoint.