April 19, 2012 -
National Football Post
Week Long Mock: Round Two
Round Two…
33. St. Louis Rams: Alameda Ta'amu DT, Washington
This is the kind of guy who has the ability to anchor the middle of an NFL defense in either a 3-4 or 4-3 front. Needs to do a better job finding the football, but overall he looks like a starter who you eventually will be able to win with in the NFL.
34. Indianapolis Colts: Coby Fleener TE, Stanford
An impressive pass catcher who can win both down the field and underneath vs. man coverage. Has the frame and flexibility to develop into a solid blocker as well and looks like a future starting caliber NFL TE.
35. Minnesota Vikings: Janoris Jenkins CB, North Alabama
If he can put it all together off the field, he's got the ability to develop into a very good cover man in the NFL and despite his size he's going to be a really tough guy to separate from in just about any scheme he plays in.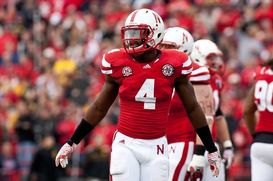 ICONDavid will produce like a first rounder from day one.
36. Tampa Bay Buccaneers: Lavonte David OLB, Nebraska
He's undersized, but is instinctive. Might be limited to more of a cover two type scheme only, but looks like a starting caliber weak side guy to me early in his NFL career.
37. Cleveland Browns: Rueben Randle WR, Louisiana State
Possesses that sneaky strider speed down the field and has some savvy to his game. However, lacks great burst out of his breaks and isn't going to be effective running sharply breaking routes. Looks like a potential NFL starter only.
38. Jacksonville Jaguars: Andre Branch DE, Clemson
Has a lot of untapped talent. And is the kind of athlete you would expect to mature into a solid three down player in the NFL as a 43 DE.
39. St. Louis Rams (from Washington): Josh Robinson CB, Central Florida
Overall, Robinson is a talented corner. He's fluid, can really run and has the vertical speed to make up for a false step at the college level. He's also a guy who will tackle and isn't afraid to mix it up inside.
40. Carolina Panthers: Jerel Worthy DT, Michigan State
A talented kid with a thick frame, "plus" get off burst and snap awareness to his game. However, doesn't shed blocks well when engaged and lacks ideal anchor ability inside. Looks like a one-gap type lineman only who could give solid reps at both nose and three-technique in a 43 front. But is going to need some time before he's ready to start.
41. Buffalo Bills: Mohamed Sanu WR, Rutgers
Physically reminds me some of Hakeem Nicks. Isn't as NFL ready, but can go get the football, breakdown and separate on all levels of the field. Looks like a future NFL starter who might need some time, but the talent is most definitely there.
42. Miami Dolphins: Alshon Jeffery WR, South Carolina
Overall, Jeffery looks like a more dynamic version of Seahawks wide out Mike Williams who will be limited in the routes he can run (fade, slant, post, corner) at the next level. But can still be successful as the "Z" receiver where he will be put in motion and used a lot in two man routes with the tight end running vertical and adjusting to the throw. However, he's never going to be overly productive due to his inability to separate consistently of his breaks.
43. Seattle Seahawks: Bobby Wagner ILB, Utah State
A good athlete with some balance and coordination in all areas of his game. He's a 'plus" tackler who can shed on contact and make plays as a blitzer.
44. Kansas City Chiefs: Amini Silatolu OG, Midwestern State
He has some technique flaws that needs to be fixed and will need to kick inside at the next level. However, he's a wide-bodied athlete with a powerful/explosive frame, good foot quickness and can really pull from the backside. Might need some time, but is one of the top guards in the class with as much upside as any.
45. Dallas Cowboys: Jared Crick DE, Nebraska
Isn't a guy who can hold up vs. the run inside in the NFL and isn't a dynamic pass rusher either. However, as a five-technique DE I can see him finding a home with some versatility on 3rd down.
46. Philadelphia Eagles: Mychal Kendricks ILB, California
Is a thick, shorter compact backer who explodes through contact and is a real violent striker. Finds the ball quickly vs. the run and has the range to make plays in pursuit. Lacks ideal size however to stack and shed and lacks a great feel in zone. However, as a thumper inside with the potential to get into the backfield as a blitzer who should get plenty of looks from 34 teams in need of a versatile, high motor backer.
47. NY Jets: Harrison Smith SS, Notre Dame
Isn't a guy you want to trust to run with receivers down the field. However, because of his solid natural range and instincts, I can see him getting over the top and making plays in a center field type role as an NFL strong safety.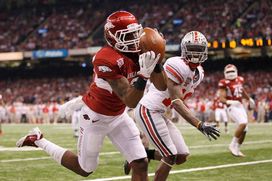 ICONAdams can be behind defenses vertically.
48. New England Patriots (from Oakland): Joe Adams WR, Arkansas
An explosive athlete who can go get the football down the field and has some savvy to his game setting up routes. However, is inconsistent catching the football and as a route runner. Nevertheless, does enough well to make a roster and see early playing time inside and outside. An ideal fit for Philadelphia running the deep crossers.
49. San Diego Chargers: Trumaine Johnson CB, Montana
A talented kid who physically/athletic reminds me a lot of Jimmy Smith (Baltimore Ravens). Now, he's not as experienced as a pressman as Smith was, but has the same type of upside and can be a similar player if he commits himself fully to the game at the next.
50. Chicago Bears: Kevin Zeitler OG, Wisconsin
A tough, strong in-line guy who you can run behind and also has some coordination on the move. Not as effective in the pass game, but can mature into an average NFL pass blocker if he learns to get off the ball more consistently. Looks like a gritty type starter early on in his NFL career to me.
51. Philadelphia Eagles (from Arizona): Jonathan Martin OT, Stanford
He's got the NFL size, length and overall athletic skill set. However, he's not a natural anchor player and doesn't strike me as a guy who is ever going to be real physical at the next level. He can mirror in space, but struggles to stick through contact and isn't real heavy handed. Looks like a finesse tackle who will get over drafted because of athletic talent, but is going to have a hard time keeping the edge clean at the next level.
52. Tennessee Titans: Cam Johnson DE, Virginia
A solid college defensive end who has never been much of a sack artist but there are some tools there. Showcases some fluidity in his drop and in coverage and has the ability to mature into a more sudden pass rusher. Will get looks in both a 34 and 43 front.
53. Cincinnati Bengals: Kelechi Osemele OG, Iowa State
A big, thick kid with natural strength, athleticism and flexibility. Has improved his technique and overall range off the edge, but is better suited to play inside or on the right side at the next level.
54. Detroit Lions: Josh Norman CB, Coastal Carolina
Talent says he's a top-60 pick, but there are some character concerns that could cause him to fall. Either way he has the talent to quickly match-up with NFL receiver at the next level.
55. Atlanta Falcons: Brandon Thompson DT, Clemson
A guy who should be able to come in and be a lineman who can win inside vs. the run game. Looks a bit limited as a pass rusher, but will be able to push the pocket and threaten gaps off the ball. A starting caliber 43 nose inside.
56. Pittsburgh Steelers: Ronnell Lewis OLB, Oklahoma
Possesses an impressive physical/athletic skill set, a "plus" motor and a real passion for the game. I don't think he's ever going to be a top end pass rusher in the NFL. However, as a 6-8 sack guy long term who can help out on special teams and give you all he has play in and play out, I think he warrants a second round type grade.
57. Denver Broncos: David Wilson RB, Virginia Tech
He's a compact kid who runs stronger/harder than you would expect from a guy his size. Has a dynamic quality to his game both inside and in the open field, and looks capable of maturing into a very good NFL running back early on in the NFL.
58. Houston Texans: Matt McCants OT, Alabama-Birmingham
McCants possesses a great looking frame that has the ability to get bigger and mature physically. Athletically, all the tools are there for this kid to play left tackle in the NFL, he just needs some time to make the jump in competition and mature physically.
59. Green Bay Packers: George Iloka SS, Boise State
Iloka is a tall kid with solid balance for his size and has some natural athleticism and pop. Has experience playing corner and being a physical press coverage man. However, he isn't a guy who can quickly re-direct and close on the football in the deep half. He needs to play with his hands on defenders, but is a more coordinated bigger safety than say Seahawks starter Kam Chancellor and he could start at the next level.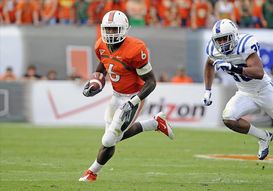 ICONMiller is a good value at the end of round two.
60. Baltimore Ravens: Lamar Miller RB, Miami
Possesses a good first step, a natural feel between the tackles and exhibits the cut back ability to slice his way up the field. However, looks more like an ideal fit for a zone-blocking scheme because he isn't a guy who is going to make a ton of NFL defenders miss or break many tackles inside.
61. San Francisco 49ers: Casey Hayward CB, Vanderbilt
A smart, productive corner who can consistently make plays on the football. He's not a guy who will consistently hold up in man on the outside in the NFL. However, he's shown the ability to routinely get early jumps on the football and come down with the catch. Looks like one of the safer prospects in the draft as a cover two type guy.
62. New England Patriots: Chase Minnifield CB, Virginia
A talented corner who can bend, re-direct, maintain balance out of his breaks and make plays on the football. However, had a tough go as a senior giving up a lot of plays and having a tough time maintaining balance when trying to locate the ball vs. bigger receivers. A potential starter only.
63. NY Giants: Chandler Jones DE, Syracuse
I love his size and length. But I worry about defensive lineman who play upright, lack a great get off burst and struggle to change directions. I don't see him as a big time pass rusher. But if he improves his pad level he could mature into a potential starting option.