October 12, 2012 -
National Football Post
Week Seven Prospect Match-Ups To Watch
Alabama Senior C Barrett Jones (6044, 300 & 5.41) –vs-
Missouri Senior DT Sheldon Richardson (6027, 290 & 4.95 E)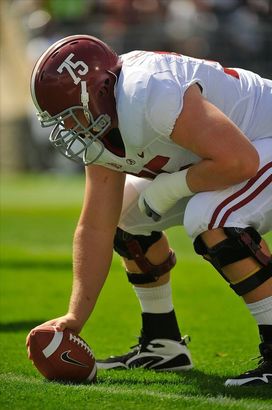 ICONAlabama center Barrett Jones about to snap ball.
After starting 35 straight games at guard or tackle entering the 2012 season, Jones took over at center for the Tide this season and has done an excellent job. However, against Missouri he faces his biggest test yet as defensive tackle Sheldon Richardson has been a dominating inside force in his first season as a full-time starter. This match-up is unique in that one player's strengths are the other's weaknesses. Jones is a smart and technically sound blocker who excels by setting up to block quickly, getting hands on defensive tackle first and staying over feet to maintain block. He is not however a top level athlete and can be defeated by quick pass rush moves. Richardson has been able to dominate this season because of his rare explosiveness off the ball, which enables him to shoot gaps to get backfield penetration. He has consistently been able to get into gap before blocker can get set and he has the strength to drive through contact to get into backfield to blow up the play before it begins. Additionally, Richardson has the feet and agility to change directions fast and combined with his strength will make him a challenge for Jones to block one on one. Not only will this match-up have a huge barring on the outcome of the game, but it will also affect each player's draft status because scouts get to evaluate them against an NFL caliber opponent.
Illinois Junior DE Michael Buchanan (6060 E, 250 E & 4.75 E) –vs-
Michigan Junior OT T. Lewan (6080 E, 309 E & 5.15 E)
The Big Ten may be down this year due to a lack of high end quarterback play, but that does not mean there is not a lot of talent in the conference. Buchanan is one of three Illinois defenders who are likely to be selected in the first two rounds of the 2013 Draft (If they all come out early) and has the talent to be the first one selected. While Buchanan is not the big, strong defensive end who can overpower the offensive tackle, he is quick off the ball, has the speed to threaten the corner and the quickness, agility and balance to change directions in a flash to beat pass blocker with quick secondary pass rush moves. This match-up will be a good challenge for both players as Lewan is a smooth athlete with the feet to slide out in time to cut-off explosive edge rushers and the foot agility to re-direct and slide easily to handle quick change of direction pass rush moves. Lewan is not however an aggressive, fire-off the ball run blocker, but he is very competitive, does an excellent job of staying over his feet and stays after block, which allows him to maintain contact to eliminate defender on in-line run blocks. Both Lewan and Buchanan have first round talent and if they finish the season strong, they could end up being drafted close to each other within the first 40 selections.
Boston College –vs- Florida State
Boston College Senior OT's John Wetzel (6070, 307 & 5.35 E) & Emmett Cleary (6065, 313 & 5.30 E) –vs-
Florida State DE's Junior Bjoern Werner (6040 E, 255 E & 4.65 E) & Senior Cornel Carradine (6044 E, 255 E & 4.75 E)
Pitting these two tall offensive tackles from Boston College against these two elite athletes playing defensive end for the Seminoles should make for an outstanding battle all game. Both Wetzel and Cleary have the height and long arms to keep pass rushers at bay and block with good base and aggressiveness, which helps them to overcome their lack of great foot quickness and athleticism. While Werner and Carradine are a little under-sized in terms of their weight, they both play significantly stronger than their weight because they play with leverage and use their hands excellently to deliver the first blow. As pass rushers their styles vary as Werner is a physical pass rusher with an excellent first step who tries to jolt pass blocker and then beats blocker with combination of technique and strength. On the other hand, Carradine relies on his outstanding hand quickness and strength to keep pass blockers' hands off him and has rare change of direction ability to beat pass blocker around corner and back inside. The match-up pitting Boston College's two tall, physical and aggressive pass blockers against Florida State's explosive and athletic pass rushers will be a great match-up and will likely also determine the outcome of the game.
Email Russ at Russelllande@yahoo.com and Follow Russ on Twitter @RUSSLANDE.