September 04, 2010 -
National Football Post
Weekend college primer
A breakdown of what NFL scouts will be looking for on opening weekend of the 2010 college football season.
Oregon State vs. TCU
Saturday, 7:45 p.m. EST, ESPN
What to watch for…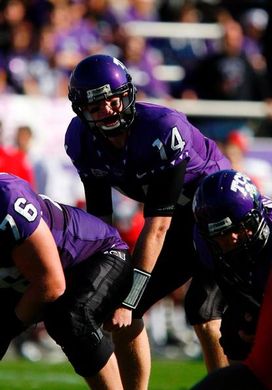 ICONDalton could rise up draft boards in a big way in 2010.
From everyone I have talked with this offseason concerning the TCU football team, the one thing that keeps coming up is the play of quarterback Andy Dalton. From sources close to the program, Dalton looks a lot stronger, is generating more power/torque from his lower half when asked to stride into throws and is simply a lot more comfortable and confident as a quarterback. He's a guy who showed flashes last season, but never seemed to really look the part of a big-time NFL prospect. Therefore, it will be interesting to see just how far he has come this offseason.
Protecting Dalton on the left side is massive offensive tackle prospect Marcus Cannon. The 6-5, 358-pound lineman is a pretty good athlete for his size who looks surprisingly comfortable on the move. However, he needs to continue to improve his initial burst off the football. He has struggled with speed off the edge during his career. Therefore, his ability to hold up one-on-one in the pass game will be the biggest determining factor in deciding if this guy can in fact play tackle at the next level or will be ultimately be forced to kick inside to guard. My money is on the latter.
Oregon State head coach Mike Riley has very quietly done a really impressive job of not only readying, but also sending a nice crop signal callers to the next level. And new starting quarterback Ryan Katz might be the most talented guy he has had to work with yet. Katz is a bit undersized at only 6-1 but is a good athlete with a really strong arm and is said to really have impressed the coaching staff with his cool and calm demeanor. Now, he is only a sophomore, but he could end up being the next Oregon State quarterback to make his way into the NFL.
LSU vs. North Carolina
Saturday, 8:00 p.m. EST, ABC
What to watch for…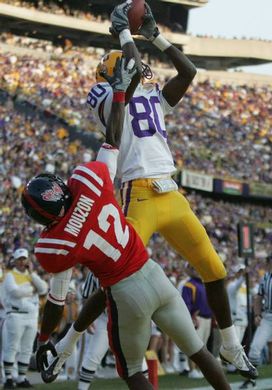 ICONToliver can be a threat in jump ball situations.
Even with both of UNC's starting corners out in this one, it will be interesting to see how LSU wideout Terrence Toliver is able to fair. He's a big kid who can go up and get the football and exhibits some decent shiftiness after the catch for his size. However, pay close attention to his ability to cleanly get out of his breaks and generate a burst for himself when asked to separate. He's a guy who consistently lacks balance when asked to snap off routes and is too often forced to gear down when trying to lose man coverage, something that I think will keep him from ever maturing into anything more than a sub-package receiver at the next level
Physically, I think LSU ILB Kelvin Sheppard has the ability to start on the inside at the next level. He's a powerful kid who can tackle with leverage and also runs well from the inside out. Plus, he plays with a real fire and passion for the game and is a guy who his teammates seam to really rally around. However, in order for him to take that next step he needs to become more instinctive. Too often in 2009 he struggled to properly read his run keys inside and simply took himself out of too many plays. Therefore, watching how quickly he can decipher information and put himself in position to make plays will be key in evaluating his game not only in this one, but all season long.
My Marvin Austin take:
All the tools are there for Austin to be as good as he wants to be at the next level. He's powerful, displays suddenness on contact and can be violent when asked to shed and track the football. However, he strikes me as a guy who not only thinks he doesn't have to work hard in order to be successful, but also as a guy who thinks he is above the rules because of his pure physical talents. I don't think he is ever going to live up to his phenomenal upside at the next level and there is no way I would recommend this guy to anyone as a potential first-round pick, as he possesses the kind of mental makeup that just screams he will pack it in once he gets a big paycheck.
Boise State vs. Virginia Tech
Monday 8:00 p.m. EST ESPN
What to watch for…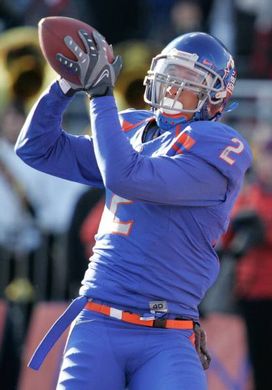 ICONPettis has the size and body control to give Carmichael fits on the outside.
Key prospect showdown
Virginia Tech CB Rashad Carmichael vs. Boise State WR Austin Pettis
This is a unique matchup for Carmichael because Pettis' strengths as a receiver — size, physicality, body control as a route runner and ability to box out corners — are all attributes that he has struggled with in the past. Carmichael is an undersized guy who is at his best in off man or zone where he can keep his eyes in the backfield and click and close underneath or turn and use his great speed to run down the field. However, he isn't real physical off the line and/or patient in his drop and could have a tough time keeping Pettis from moving the chains. Pettis isn't a guy who will run by Carmichael, but he has the short-area quickness, balance and size to sell a route, gain a step and use his length to go up and make a play. Therefore, how Carmichael handles the bigger, more physical Pettis will be a great indicator to tell if he does in fact have the ability to play on the outside as a starter at the next level or if he just a nickel/dime guy. Again, my bet is on the latter.
Can defensive end Steven Friday be the next NFL-caliber pass-rushing prospect to come out of Virginia Tech? The guy is long, lean and explosive off the edge and was one of the real bright sports of watching Hokie tape this offseason. Plus, he was downright un-blockable during the spring game and seems a lot more comfortable using his length to get into offensive tackles and then suddenly slipping their block. Obviously, I want to see how effective he is when the live bullets start flying Monday night, but he's one guy who I think is poised for a huge surge up draft boards as a senior.
How does former All-WAC left tackle Nate Potter make the transition to offensive guard this season at Boise State? Potter was a guy who was getting a lot of love toward the end of the year due to his play on the blindside and was considered by some as one of the nation's top junior tackle prospects. However, because of some injuries and depth issues, Potter was asked to make the move inside to guard for the spring. Now, he's a versatile kid who might still see some time at offensive tackle Monday night. But either way, having the versatility to play either inside or out at the drop of a hat can only help his chances at the next level.
Other one-liners…
I am still not buying the hype that Alabama RB Trent Richardson is a better NFL prospect over Mark Ingram. Better straight-line athlete? Yes. More instinctive runner? No.
Looking forward to seeing Notre Dame 's 6-6 and nearly 270-pound tight end Kyle Rudolph split out consistently on offense this year. The big guy runs extremely well for his size and is one of my favorite tight end prospects to come along in years. Has the makings of being something special at the next level.
It will be interesting to see how much more comfortable Michigan OG Stephen Schilling looks/feels in his second year playing inside at guard this season. He's a talented lineman, but has had to make the transition from not only changing positions, but also learning under a new staff and offensive line coach during his time at UM — both of which have stunted his growth a bit. However, I think this is the year he puts it all together and matures into one of the top offensive guard prospects come April.
NFL draft/college football questions? Get them answered at Wes.Bunting@nationalfootballpost.com
Follow me on Twitter: @WesBunting
Click here to purchase the Total Access Pass/ Fantasy Draft Guide from the NFP and receive a free Deuce Brand watch while supplies last.