March 13, 2014 -
Dr. David Chao
What happened in Oakland?
The big medical news to surface during the first three days of the 2014 NFL free agency period is without question the drama that unfolded in Oakland on Wednesday regarding offensive tackle Rodger Saffold.
The St. Louis Rams offensive lineman was lured away by the Oakland Raiders thanks to a five-year, $42.5 million contract. However, by Wednesday evening, Saffold's new contract had voided due to a failed physical, prompting his return to the Rams.
How could something like this happen? Is this incompetence on the part of the Raiders? Is it buyer's remorse? Is this a situation where the Rams mistreated a former player? Was this a case of Saffold and his agents hiding an injury?
In all likelihood, the answer is none of the above. This is just how business is conducted in the NFL. The Raiders, Rams and Saffold have committed no fault in this process.
I am not privy to any of the negotiations or Saffold's physical examination. Having served as a head NFL team physician, I have conducted hundreds of these free agent physical exams. I am aware of how medical exams play a role in these signings.
During the three-day window of negotiation prior to free agency, the current team has the distinct advantage of knowing the health of the player. Players cannot have contact with prospective teams until free agency starts, thus, a physical cannot be taken before that.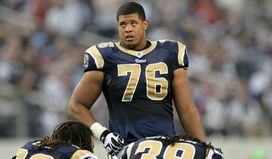 Saffold ended up back in St. Louis after failing his physical in Oakland.
Typically, clubs sign free agents to deals first. Subsequently, the player has to pass a physical. Deals happen so quickly that there is no chance to perform a physical first. This is what happened with the Raiders and it is routine for most free agent signings at the start of the new league year.
Essentially, obtaining a free agent is like buying a house. The free agent and team agree to a contract like a seller and buyer agree to a sales price for a home. Escrow is then opened. The team/buyer is then entitled to an inspection/physical. If the inspection/physical is failed, then escrow is cancelled and the deal is off. This is what happened with Saffold and the Raiders.
Why did the St. Louis doctors pass Saffold on their season-ending physical while the Oakland doctors failed him on their free agent physical? The main reasons would be: 1) Medicine is not absolute, 2) Familiarity changes the picture, and 3) One's perspective changes the opinion.
Contrary to popular belief, medicine is an art and not a science. Some medical conditions are absolute, while most are relative. A torn ACL is an absolute situation, but a degenerative knee is a relative one. Evaluating the medical status of players is similar to talent evaluation. Some general managers believe that quarterback Johnny Manziel is a high draft pick, while others have their doubts.
Familiarity with an injury can lead to more confidence. Repeat examination and witnessing performance with your own eyes gives one a different viewpoint than a single in-office medical examination. The St. Louis doctors have dealt with Saffold's shoulder injury for an entire year. The Oakland doctors have seen him one time in a medical setting and are focused on a physical exam and imaging results.
Finally, two clubs can look at the same player from different perspectives, yet have differing opinions. The Rams clearly see the glass as half full. The watched Saffold play all of last regular season without issue. The Raiders clearly see the glass as half empty. They feel Saffold has a labral tear that needs surgery or risks further re-injury.
What injury does Saffold really have? Based on media reports, the offensive tackle suffered a dislocated shoulder in the preseason opener at Cleveland. He missed the next preseason game, but participated in the final two as well as the entire 2013 regular season.
Medically, when a player dislocates his shoulder, the labrum is typically torn. The boney anatomy of the shoulder is like a golf ball on a tee. The ball (head of the humerus) doesn't tend to stay on the tee (in the socket/glenoid) when the edge of the tee (labrum) is chipped.
Assuming a player at the NFL Scouting Combine was presented with such a labral tear, I would fail him on his physical, but note that he has a correctable problem. I would advise my team that he could still be drafted, but would want them aware of potential surgery. Sometimes the team stays away in these instances, while other times the team chooses to draft and fix the player immediately. A third option would be to draft the prospect and have him play through the upcoming season with a brace before considering future surgery. Each case is unique.
I don't believe Oakland or their doctors botched this process. The Raiders just weren't willing to ignore the pre-existing condition. I also don't believe the Rams or Saffold were hiding anything. Clearly, the Rams believe in Saffold's shoulder enough to re-sign him. This is just how business is conducted in the NFL.
Follow David on Twitter: @profootballdoc
Dr. David Chao is a former NFL head team physician with 17 years of sideline, locker and training room experience. He currently has a successful orthopedic/sports medicine practice in San Diego.