May 14, 2012 -
National Football Post
What kind of a QB prospect is West Virginia's Geno Smith?
QB Geno Smith: West Virginia (6-3, 214)
What I like…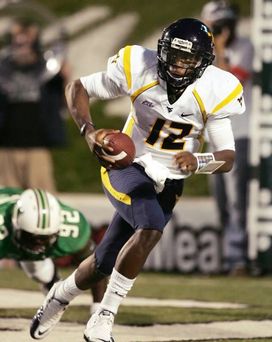 ICONSmith can buy time with his legs.
- Possesses an athletic looking frame with good overall height for the position.
- Has a high release point. Ball comes out from an over the top delivery and he can make throws over the line of scrimmage with ease.
- Is a solid athlete for the position. Showcases the ability to quickly re-set his feet in the pocket an align his frame with secondary receivers.
- Looks natural stepping up into the pocket, staying in rhythm and feeling defenders around.
- Consistently keeps his eye level down the field, can create with his legs when plays breakdown, but is a pass first option.
- Isn't afraid to sit in the pocket and try to work his progressions.
- Showcases good accuracy in the short passing game. Recognizes pressure in the pocket and displays the ability to throw receivers open underneath and let them run through the catch.
- Displays good arm strength, can spin the football on a line outside the numbers and when his feet are set, he looks natural sticking the deep comeback and out.
- Can stick the skinny post down the seam when his feet are under him. Exhibiting good zip and accuracy.
- Showcases a willingness to consistently try to work his progressions and find secondary targets across the field.
- Routinely understands where his check down target is.
- Looks coordinated on the move, generates good torque and can get his body around when throwing against the grain.
- Can make throws from a number of off balance angles and has the arm strength to get the football where it needs to go both in the short and intermediate pass game, despite not being set.
- Showcased vast improvement as the year went on in 2012 as he made the move from a run spread in 2011 to throw spread this past season.
- Keeps an even keel on the field, never gets too high or too low with his emotional state.
- First team all-conference selection in 2012.
- A competitor, never wined or thought about transferring after new head coach Dana Holgorsen was hired. Improved as his trade and took on the challenge of learning a new system.
What I didn't like…
- Because of his high, over the top deliver, doesn't have the quickest of releases and will struggle to get the ball out on time occasionally.
- Is a bit awkward with his footwork both in his drop and when asked to re-set his feet when finding secondary targets. His base gets inconsistent and accuracy suffers because of it.
- Can be a bit slow to decipher information at times, hangs in the pocket, but too often looks to be waiting for receivers to uncover instead of throwing them open.
- Accuracy deep on bucket throws is a bit inconsistent as well. Throws will hang on him at times and too often he turns bucket throws into jump ball situations.
- Is still maturing as a decision maker, will make his mind up pre snap or simply force the ball into coverage when a throw isn't there.
- Trust his arm too much at times causing him to force the issue down the field when his feet aren't set.
- Arm angle will drop down when throwing on the move, causing him some inconsistencies with accuracy.
- Doesn't trust consistency what he sees and has a tendency to hold onto the football too long, which causes passes to get knocked down and gives defensive backs to much time to jump routes.
The Breakdown…
Overall, West Virginia QB Geno Smith is an intriguing NFL prospect. He can make all the throws, shows a willingness to hang in the pocket and work his progressions, and has shown a lot of development in only one year under Dana Holgorsen.
However, this is a big year for Smith, as I want to see how he develops his overall feel for the offense and ability to decipher information from the pocket. Too often he's looking for receivers to run open, which in Holgorsen's offense does happen frequently. Nevertheless, being able to throw receivers open on all levels of the field will be a key in Smith's development if he hopes to be successful at the next level.
Therefore, as of now I like the potential and the development that has already taken place with Smith and I think he warrants a mid-round type grade as a developmental signal caller at the next level who has the talent to start. But needs to put it together from the shoulders up.