October 07, 2011 -
Barry Dorey
What kind of prospect is Western Kentucky RB Bobby Rainey?
When watching Western Kentucky RB Bobby Rainey last night vs. Middle Tennessee State and this morning on tape from last year, the one thing that instantly popped out to me was the amount of touches this guy gets during a game. He's used in the run game consistently, he's often the main target in the pass game and he really is the only threat opposing defenses need to stop week in and week out, which makes his overall production even more impressive.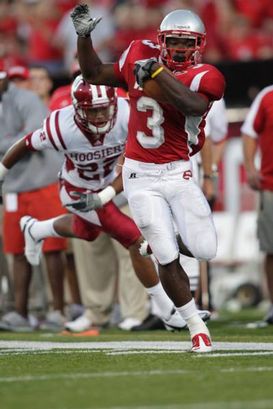 ICONRainey has some natrual girth, but isn't real powerful.
He's an undersized back who is listed at 5-7, 205. Now, watching him on tape and last night on TV, I don't think he's a 205-pound back. He possesses a compact frame with natural girth through the calves and lower half. However, he doesn't run as strong as a 205-pound back should and I wouldn't be surprised at all to hear he's really in the 190-pound range come Combine time.
He exhibits a good natural burst when asked to press the line of scrimmage, is patient inside and has a good feel of setting up his blocks in a pro style type run game. He displays good balance and short area quickness in order to create for himself inside and demonstrates a good burst on the edge when asked to get up to speed quickly. And he accelerates extremely well toward the corner when he doesn't have to run through contact.
Now, when watching him on tape from last year, he is quicker than fast. Rainey possesses a "plus" first step, but isn't an out and out burner once he gets going. He looks like a mid/high 4.4 guy who will get caught from behind vs. better competition.
And despite his impressive short area quickness, balance and burst, he seems to lack the same initial explosion in order to separate inside when fighting through any kind of contact. He lacks ideal power, doesn't create much when he has to fight for additional yardage and his initial burst once he slips a tackle is limited because he is routinely slowed through contact. When he can press the hole quickly without much contact he gets into the second level instantly. However, he doesn't have the same type of explosion when trying it run through would be tackles or any kind of contact inside because of his lacking ideal size/power.
He does catch the football well out of the backfield and looks natural snapping his head around, squaring up a defender and making a man miss.
The Deji Karim –RB Jacksonville Jaguars, 6th round pick- comparisons are out there because of his size. But when watching Rainey and comparing him to Karim as a back he's not quite as naturally powerful in my mind, which made Karim look like the more explosive back of the two both in space and through contact.
As for Rainey at the next level, I think he could get some looks as a situational type back who can be used in space effectively at times. However, despite his production, I think at best he's a later round pick –depending on exactly how big he really is- that is going to have a find a niche early on where he can make plays and be dynamic if he hopes to stick on an NFL roster. My guess would be either as a return guy, in the pass game or even on kick coverage.
Nevertheless, as of now, after watching him again last night, I don't think I would use a draft pick on him at this point.