December 24, 2012 -
Erik Oehler
What NFP is hearing – Draft Rumblings
Below is a look at four players that a number of scouts have told me about over the last few weeks.
1. Luke Marquardt, OT, Azusa Pacific, Senior (6087, 309 and 5.33): While there has been a lot of talk about other small school prospects, a few of scouts have told us how much Marquardt intrigues them. A mountain of a man who has started at left tackle for three seasons, he has improved dramatically during his career working with Azusa Pacific's offensive line coach NFL Hall of Fame Offensive Lineman Jackie Slater. Naturally athletic, Marquardt is still working to play up to that athleticism in games. Scouts told us that in practice he displays better technique, especially blocking with a wide base, staying over feet and using hands well to "get a good fit", than he does in games when he tends to bend at the waist, lean and reach to make blocks. Even though he is far from a finished product, linemen with his size, strength, natural athleticism and good character are hard to find and assure him of being drafted and given the chance to develop for a season or two as either a backup or practice squad player.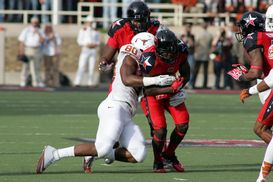 US PRESSWIRETexas DE Alex Okafor makes tackle against Texas Tech.
2. Alex Okafor, DE, Texas, Senior (6044, 260 and 4.95): For a player who has been hyped as a likely first round pick over the last year, our film evaluation told us a different story. After our disappointment we contacted a handful of scouts to see if we were on the right track and they agreed with our assessment. Despite his strong build and good initial quickness off the ball, he is not a good all-around athlete and is a "tweener" stuck between defensive end and outside linebacker. While he is consistently the first defensive linemen moving at the snap, he lacks the premier speed and flexibility to get to and turn the corner consistently. He lacks any real variety of pass rush moves and cannot change directions quickly enough to threaten the offensive tackle with quick secondary pass rush moves. Not natural dropping off the line into coverage, he looks upright and robotic in his movements. His tendency to allow blockers to get into his chest leads to him being tied up and kept out of the play way too often. Do not be surprised to see Okafor slide to the third day of the Draft as he is not viewed as an elite NFL prospect.
3. Akeem Spence, DT, Illinois, Junior (6010, 300 and 4.85): While Spence definitely could have helped his draft status by staying in school for his senior season to try and work his way into the first round, he is still a well thought of player with starting potential. After redshirting his first season at Illinois, Spence started 38 straight games his last three years before leaving early for the Draft, which he did after receiving his degree. Despite being shorter than ideal at an estimated 6-0 to 6-1, Spence consistently showed the playing strength to anchor at the point of attack against run blocks and was able to shed and make tackles on inside runs. Spence's initial quickness helps him to get hands on offensive lineman first, can jolt man and is able to lock-out, shed and make plays at / behind the line consistently. Coming out of school I view Spence as a step below Geno Atkins, whom I gave a first round grade to, and very similar to former LSU star Drake Nevis who is currently with the Colts. I believe Spence will be a second round pick and will either play defensive tackle in a 43 scheme or defensive end in a 34 scheme in the NFL. While Spence may get knocked by some for his lack of ideal measureables, I believe that his combination of good playing strength, explosive athleticism and outstanding character/intangibles will enable him to be as productive in the NFL as he was at Illinois.
4. Jesse Williams, DT, Alabama, Senior (6035, 335 and 5.15 E): Despite not playing football until he was 15 years old, Williams made an immediate impact at Alabama in 2011 and was one of the key components to their defense in 2012. A thick and powerful defensive tackle with rare natural strength, his ability to dominate run blockers at the point of attack is not only impressive, but difficult to find. Quick off the ball while still maintaining leverage, Williams consistently is able to jolt offensive linemen upright and backwards to blow up inside running plays. Not only able to hold ground vs. one blocker, he has shined anchoring against the double team to shut down the opponent's inside rushing attack. For a massive man, Williams initial quickness and explosiveness to drive through gaps to get backfield penetration is impressive. A powerful bull rusher, Williams' needs to develop more pass rush moves if he is going to be able to consistently pressure the quarterback in the NFL. Although Williams is not getting much publicity now, I believe he will be a first round draft pick because of his ability to physically dominate blockers, make big plays against the run and scheme versatility. He has the physical talent to develop into a starter at defensive end or nose tackle in a 34 defense or as a defensive tackle in a 43 scheme.
Email Russ at Russelllande@yahoo.com and Follow Russ on Twitter @RUSSLANDE