January 07, 2013 -
Erik Oehler
What NFP is hearing – Draft Rumblings.
Below is a look at four players that a number of scouts have told me about over the last few weeks.
1. Matt Barkley, QB, USC, Senior (6020, 228 and 4.95 E): To say that personnel people around the NFL are split on how good of an NFL quarterback will become is an understatement. Many scouts I have spoken with agree with my assessment that he has the tools to be a good, quality starting quarterback, but that he will not be an elite one. Fundamentally sound, Barkley has impressed with good footwork along with a quick and compact release. When he strides into his throws and maintains good knee bend in front leg, he is an accurate passer on quick hitting throws. While he lacks elite arm strength, he has consistently shown excellent touch on deep passes, dropping the ball into the receiver's hands. However, a number of scouts we spoke to think that Barkley's lack of arm strength and tendency to try and fit passes into tight spots will lead to significantly more interceptions in the NFL. Additionally, they view Barkley as limited athletically and believe he will have trouble sliding within the pocket to avoid sacks. Despite the debate about his potential, everyone agreed that he will still be a late first or second round pick because too many teams are desperate to find a quality starting quarterback.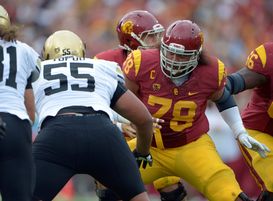 USC center Khaled Holmes adjusts to pass block defensive tackle.
2. Khaled Holmes, C, USC, Senior (6032, 308 and 5.25 E): Entering the 2012 season Holmes was viewed as an under-rated player who could challenge to be the first center drafted. However, after battling through a lingering knee injury during a disappointing senior season scouts no longer view him in the same light. No doubt smart and well-schooled in USC's pro-style offense, Khaled looks comfortable making all the protection calls and getting the linemen ready to block. Quick off the ball, Holmes gets through the line and to the second level fast enough to block linebackers well when he stays over feet and under control. The major issue scouts have with Holmes is his bad playing strength. He can be physically controlled and pushed around at the point of attack too easily. Lacking a powerful punch, defensive tackles are able to jolt him upright initially and then either drive him backwards to collapse the pocket or shed his block quickly to make the tackle vs the run. From everything we have heard from scouts and seen on film, Holmes is likely to be a third day draft pick due to his production and playing strength issues.
3. Leon McFadden, CB, San Diego State, Senior (5101, 187 and 4.55 E): Unlike many of the players I have discussed throughout the season, there is 100% agreement on what type of player McFadden is across the scouting community, but the question of where he will be drafted is a whole other story. While only possessing adequate height, McFadden's outstanding technique enables him to consistently produce at a high level. Smooth and quick in his pedal and possessing excellent agility, he can transition and close fast on passes in front of him. Able to change directions fast, McFadden has the tools to excel covering slot receivers as he can handle moves to the inside or outside. While he lacks the top end speed too consistently stay with the fastest receivers on deep routes, his ability to flip his hips to turn and run without losing a step helps him be more effective on deep routes than you would expect. Everyone we spoke to agreed that McFadden has what it takes to be a top end nickel cornerback, but that where he gets drafted will be greatly affected by his 40 time because there are so many questions about his playing speed.
4. Marquess Wilson, WR, EX – Washington State, Junior (6020 E, 190 E and 4.45 E): There has been a lot of speculation in the media that Wilson would come out early for the 2013 NFL Draft after being dismissed from the Washington State football team rather than transferring to another school. According to scouts we have spoken to, coming out for the 2013 Draft would be a terrible mistake for Wilson. Blessed with good height, long arms and rare hands, Wilson has routinely made great catches seem routine. Being a long strider hides Wilson speed, but once he gets to full speed he consistently is able to run by defenders and get separation downfield. The issue is that he is not a polished receiver and lacks the bulk/playing-strength necessary. He really throttles down and uses a lot of choppy steps to get in and out of his cuts, which makes it tough for him to get any separation against man coverage. Additionally, his routes are not sharp and he often gives away what route he is running. His lack of strength will make it tough for him to get off the line against press coverage and will allow physical cornerbacks to push him off his stem to throw off his route and the timing with the quarterback. Wilson would likely be a late round pick, at best, if he enters the 2013 Draft, so he should transfer to another school and try to improve with an eye on the 2014 Draft.
Email Russ at Russelllande@yahoo.com and Follow Russ on Twitter @RUSSLANDE