December 31, 2012 -
Erik Oehler
What NFP is hearing – Draft Rumblings.
Below is a look at four players that a number of NFL personnel have told me about over the last few weeks.
1. Terron Armstead, OT / OG, Arkansas-PineBluff, Senior (6044, 303 and 4.83): All fall NFL scouts were flocking to Pine Bluff to evaluate Armstead and nearly all of them have been impressed. At 6-4 with 34+ arms, Armstead has the length to stay at tackle or make the move inside to guard depending on the team that drafts him. A great athlete with rare explosiveness for an offensive lineman, Armstead makes it look easy getting outside to block in space. Blessed with the natural strength to control man once he locks on, he is able to do so despite not blocking with a nasty or aggressive attitude. In addition to being a dominant football player at Pine Bluff, Armstead has been one of the best track athletes in the SWAC and if he can continue developing that athleticism onto the football field he could become a star in the NFL. Do not be surprised if Armstead ends up being a third or fourth round pick in the 2013 Draft.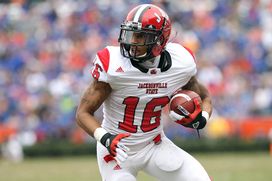 US PRESSWIREReceiver Alan Bonner makes play running after the catch.
2. Michael "Alan" Bonner, WR, Jacksonville State (Alabama), Senior (5102, 181 and 4.61): As Lance Moore has quietly developed into one of the Saints' clutch, big play receivers, NFL teams are beating the bushes trying to find similar receivers and Bonner is one scouts have been telling me about all season. His ability to run sharp, precise routes has enabled Bonner to get open with surprising ease. With soft hands, he catches the ball cleanly, tucks it away fast and gets started up the field quickly after the catch. Not a blazer who is going to out-run angles after the catch or get separation deep against NFL cornerbacks, Bonner is a quicker than fast receiver who consistently bursts out of cuts to get separation. Able to change directions fast, he can make tacklers miss to make plays running with the ball, both after the catch and as a returner. If Bonner runs under a 4.6 this spring he will likely be a late round pick, but if he runs slower than ideal he will turn out to be a great value when signed after the draft.
3. Kevin Milton, TE, Louisiana-Monroe, Senior (6040, 280 and 4.90 E): Despite the fact that receiving tight ends have become vital to the success of NFL passing attacks, there is still room for a tight end who is an excellent blocker. With excellent size and strength, Milton has consistently shown the ability to get movement on in-line run blocks to open up holes. While Milton is never going to run away from defenders and get separation deep, he is a smooth athlete with good hands. He catches the ball well with a defender on his back and is a strong and competitive runner after the catch. Because blocking tight ends have less value in today's NFL, Milton is not likely to be a high draft pick, if he is drafted at all, but has what it takes to stick as a backup tight end who contributes as a blocker and short area receiver.
4. Chip Reeves, WR, Troy University, Senior (5100 E, 176 E and 4.40 E): If fans are looking for a lesser known receiver who could make a name for himself this spring by running and working out extremely well this spring, then they need to remember the name Chip Reeves. While numerous scouts have told me that Reeves hands are not natural and will need work to make it in the NFL, there is little doubt that receivers with elite speed get drafted higher than their skill level often indicates they should. Lacking great size, Reeves showed the dynamic, explosive play-making ability to make big plays running after the catch at Troy. Quick getting started up the field Reeves has the speed to out-run angles and the elusiveness to make tacklers miss. He lacks the size and strength to consistently break tackles and will need to add some bulk to be a durable NFL player.
Email Russ at Russelllande@yahoo.com and Follow Russ on Twitter @RUSSLANDE