December 17, 2012 -
Erik Oehler
What NFP is hearing – Draft Rumblings.
Even though the college football regular season is over and NFL scouts are off the road we have not stopped evaluating players and talking to sources. The most interesting aspect of the Draft/evaluation process is how often excellent scouts disagree on a player's ability to become a productive NFL player. Below is a look at four players that a number of scouts have told me about over the last few weeks.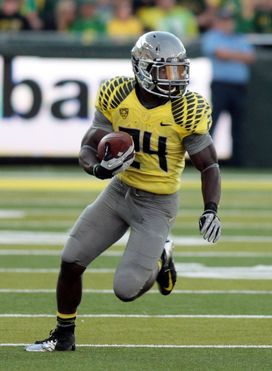 US PRESSWIREOregon RB K. Barner looks up field as he makes cut.
1. Kenjon Barner, RB, Oregon, Senior (5091, 186 and 4.45 E): Despite having made numerous big plays throughout the 2012 season, Barner's stock has not changed much in the eyes of NFL scouts. Having not broken 1,000 yards rushing previously, Barner received more touches in 2012 which led to him rushing for over 1,600 yards. Not a big back, Barner's explosive acceleration to get through holes/creases fast, elusiveness and open field running skills help him to make big plays consistently. However, a number of scouts do not believe that Barner can be a productive number one, feature back due to his lack of bulk/size, which raises concerns about his ability to be a durable NFL back if he touches the ball too often. Many that I have spoken with compare Barner's ability to make plays out in space with that of Darren Sproles, but the big concern is that Barner does not show the same aggressiveness, deceptive playing strength and balance to be effective on inside runs at the NFL level. Overall, despite Barner's athleticism and gaudy 2012 statistical production he is not likely to be drafted in the first two rounds and likely will be a third day draft pick and to make it in the NFL will have to contribute as a third down back, returner and possibly as a slot receiver.
2. Terry Hawthorne, CB, Illinois, Senior (6002, 193 and 4.50 E): Perhaps no defensive back has scouts split as much as Hawthorne and where he gets drafted will be largely determined by his performance at the All Star Games, Combine and the Illinois Pro Day. With a rare combination of 6-0+ size, top athleticism and good speed, Hawthorne looks the part of an NFL cornerback "on the hoof" and flashes the big play ability of one. However, while some scouts have told us they feel he is a raw prospect with unlimited upside and worthy of a second round pick, a number have told us that they feel he is lacking in football instincts/awareness and natural coverage skills and would not draft him until very late. Even though he has first round athleticism, his inconsistent production at Illinois where he allowed catches and did not dominate as an elite player should, Hawthorne is not likely to be drafted as highly as his physical talent warrants.
3. Alec Ogletree, LB, Georgia, Junior (6030 E, 232 E and 4.60 E): All the talk about linebacker prospects this year seems to begin and end with Notre Dame' Manti Te'o, but from what we have heard Ogletree has the physical talent to challenge Te'o to be the first inside linebacker drafted. Taller than Te'o with a physique usually reserved for muscle builders, Ogletree definitely looks the part of an NFL linebacker now. Blessed with elite playing speed, he has sideline range vs. the run and in coverage and flashes an explosive closing burst to finish/make plays. Surprisingly quick in pass drops, Ogletree can flip hips to change directions with ease, closes fast on passes and has the ball skills to consistently make a play on the ball. The one area scouts have told us they are concerned about are Ogletree's instincts as he will take a false step at times and is often the last linebacker moving towards the ball. Because of this, some scouts feel he may be best suited to playing outside linebacker as opposed to inside. In the end, despite questions/concerns, scouts all tell us that Ogletree will likely be a first round pick if he comes out early for the draft as long as his off-field issues, which led to him being suspended for the early part of the 2012 season, are a thing of the past.
4. Brandon Williams , DT, Missouri Southern, Senior (6017, 330 and 5.10 E): With the value of explosive, athletic, play-making defensive tackles constantly growing, Williams has a chance to really move up draft boards if he shines at the Senior Bowl. A dominant interior force at Missouri Southern, Williams has shown the quickness off the ball and strength to drive through gaps to get into the backfield to blow-up/make plays behind the line. Unlike many big defensive tackles, Williams competes hard on every snap and can chase down ball carriers along the line with surprising ease. The issue is that scouts are split as to Williams likely draft value. Based on talent level and dominant playmaking at Missouri Southern some scouts have told us he warrants being a second round pick. However, having played at a lower level of football and needing technique work a number of scouts feel he will likely be a fourth or fifth round pick unless he dominates at the Senior Bowl and works out like a star at the Combine.
Email Russ at Russelllande@yahoo.com and Follow Russ on Twitter @RUSSLANDE