May 09, 2014 -
Greg Gabriel
Wheeling and dealing
The first two picks of the 2014 NFL draft went pretty much as expected with Houston snagging South Carolina pass rusher Jadeveon Clowney and St. Louis selecting Auburn left tackle Greg Robinson. Clowney carries a degree of risk because of the way he played in 2013, but there is no questioning his talent.
Bortles to Jacksonville
The first surprise of the night came at the third pick when Jacksonville selected Central Florida quarterback Blake Bortles. Anyone who has read my work over the last few months knows that I feel Bortles is an overrated prospect. My feeling is that he is a developmental late first/early second round pick. Had he been taken there instead, Bortles would not have the pressure he's now set to encounter.
Being the third pick in the draft means that Bortles will be expected to come in a start right away. Personally, I don't think he is ready for that. This pick will end up defining Jacksonville general manager David Caldwell's career. You have to admire David in that he showed conviction in making this selection.
Buffalo trades up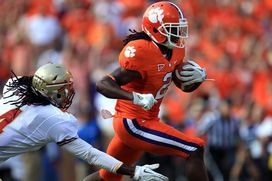 Did the Bills give up too much for Sammy Watkins?
Rumors regarding the Buffalo Bills' desire to move up in the first round go back at least a week. The word around the league was that the Bills wanted either Clemson wideout Sammy Watkins or Auburn offensive tackle Greg Robinson. When Jacksonville passed on Watkins, the Bills pulled the trigger.
From my perspective, this was not a good move. Buffalo gave up their first round pick in 2015 and a fourth round selection this year to complete the deal. You only make that type of trade when the player you are looking to acquire will put you over the top. As talented as Watkins is, he will not help the Bills overtake New England. They could have stayed put at No. 9 and selected LSU's Odell Beckham and still had next year's first round selection. They only way this trade makes sense is if the Bills make the playoffs this year and I don't think that will be the case.
Buffalo will be under new ownership in a few months and going into the 2015 draft without a first round pick may not sit well with the new owner. This was a very risky move.
Ray Farmer and Cleveland
There were a lot of eyes on Cleveland and Ray Farmer Thursday night, as many wanted to see how he would handle his first draft. Farmer finished the night looking like a seasoned veteran general manager. His trade down with Buffalo was an outstanding deal. He still kept a high first round pick and got an extra first for next year. That's a home run deal.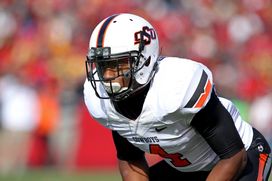 The addition of Gilbert gives Cleveland a formidable 1-2 punch at the cornerback position.
Drafting Oklahoma State cornerback Justin Gilbert with the ninth pick gives the Browns two very solid corners and definitely bolsters Mike Pettine's already strong defense.
Everyone thought the Browns would take a quarterback with their second first-round pick, but they didn't expect Cleveland to move up to get their guy. Trading up with the Eagles and not having to give up that much was a stroke of genius. While many thought that the Browns would take Texas A&M signal-caller Johnny Manziel at No. 4, getting him at 22 was a bargain. An overall great day for the Browns and Ray Farmer.
Some possible reaches
Having been involved with almost 30 NFL drafts, at this point, nothing surprises me. Clubs spend 12 months preparing for the event and they always take the player they feel will help them the most. In preparing for a draft, one of the things you have to do is try and figure out the value around the league of the players you like. The thinking is why take a player at the 20 slot when you can still get him at 30.
With that said, I thought that in the second half of the opening round there were some players who were taken higher than their value.
Miami had a strong need at offensive tackle. There is no question that Ju'Wuan James is a talented player, but the Dolphins might have been able to get him early in the second round. There are some clubs that had a medical concern with James.
Philadelphia had a need for an edge pass rusher. Marcus Smith of Louisville had 14 sacks last year. In talking to many personnel people around the league the last few weeks, I didn't once hear Smith's name as a potential first round pick. My grade was similar to many others and that was a mid-second round pick. Maybe Philly should have traded down again.
There is no question that when healthy, Florida defensive tackle Dominique Easley can be a dominate player. Still, he's had an ACL surgery in each knee and is not yet back to 100 percent. Could the Pats have gotten him ten picks later?
There were some people I talked to around the league who felt Washington State safety Deone Bucannon might be a late first round guy. Obviously, Arizona thought that when they took him. I thought he was more of a mid-second round type.
Safety Jimmie Ward from Northern Illinois had a very strong season in 2013. I had a second round grade on him, as did all the people I talked to around the league. Ward had foot surgery only a month ago, so he won't be able to partake in OTAs and may be questionable for the beginning of camp.
Follow Greg on Twitter: @greggabe