June 13, 2012 -
National Football Post
Where can Michigan QB Denard Robinson play in the NFL?
QB Denard Robinson: Michigan (6-0, 195)
What I like…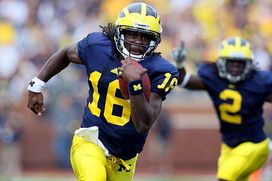 ICONRobinson is a dynamic open field runner.
- Is an elite athlete with excellent foot quickness and change of direction skills. Can consistently create/extend plays.
- Showcases natural pocket awareness, can routinely side step defenders while buying time in order to set to throw.
- Looks comfortable throwing from a number of awkward positions when asked to improvise.
- Displays more than enough arm strength to make all the throws both from the pocket and on the move.
- Looks natural generating torque from his lower half on the move and being accurate with the football in the boot action game.
- When he sees the throw, he has the ability to quickly set his feet and get the ball out on time.
- Showcases good touch down the field/seam.
- Seems to have tightened up his release up even from 2011, throws over the shoulder, holds the ball high and has taken away the little wind-up he has shown in the past.
- Is a dynamic open field runner with the ability to cleanly side step defenders in a phone booth and at full speed.
- Gets back up to speed quickly and looks like a legit 4.4 runner.
- Possesses a running back type skill set once he gets into space and can create big plays at the NFL level with his legs.
What I didn't like…
- Doesn't decipher information quickly from the pocket when trying to read a defense.
- Doesn't anticipate throws well, needs to see an open receiver before letting go of the football.
- At times looks to improvise when he doesn't have to, allowing plays to breakdown instead of going through his reads.
- Doesn't spin the cleanest of footballs as a passer. Too often throws come out wobbly affecting his accuracy and arm strength.
- Lacks ideal size from the pocket and will at times bounce upright on his toes in order to try to find throwing lanes.
- Is a better athlete than quarterback at this stage.
- Doesn't have much experience even at the high school level playing any other position than quarterback.
Overall…
The natural athletic ability and talent of Michigan quarterback Denard Robinson is obvious. He possesses the ability to create with his legs in the open field, make NFL caliber defenders miss and accelerate toward daylight.
He is developing as a quarterback. However, in my mind you let him play to his strengths, which are his legs.
Some argue he projects an NFL receiver, but with no/little experience catching the football, I see him more as a running back prospect who can create in the pass game out of the backfield and be dynamic running the football in space. Plus, he will also add a very intriguing element to an offense throwing in some packages as well when a trick play is needed.