July 26, 2011 -
Barry Dorey
Where did the top undrafted free agents land?
Breaking down the top ten rookie free agent signings.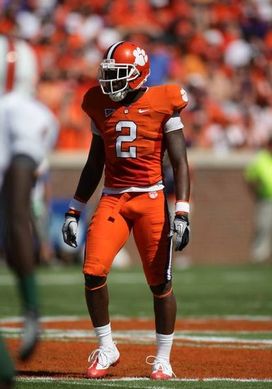 ICONMcDaniel went undrafted because of off the field issues.
1. SS DeAndre McDaniel, Clemson: New Orleans Saints
A smart, instinctive safety prospect who simply possesses that sixth sense to quickly decipher information and put himself around the football. Does a nice job not only reading the quarterback, but feels routes develop around him extremely well and has the type of fluidity to cleanly get out of his breaks and range on the throw. Possesses good ball skills in the secondary and knows how to go up, maintain concentration and come down with the tough grab. Lacks great straight-line speed, looks more like a low/mid 4.6 guy. However, consistently is able to get good jumps on the football and play faster because of his overall instincts. Exhibits solid balance and fluidity in his drop, opens up his hips well for a big man and isn't nearly as stiff as many make him out to be. However, needs to clean up his footwork a bit. Doesn't really sit into his back-pedal off the line and/or stay real compact, which at times will take away from his initial burst when trying to click and close.
Diagnoses the run very well from the deep half. Does a nice job reading his keys, staying patient and quickly attacking the line of scrimmage. Exhibits the ability to slip blocks well, even inside the box, and can generate some power on contact when asked to tackle downhill. Breaks down well in the open field and is a secure wrap-up guy. However, will occasionally overrun some plays in both the run and pass game, but for the most part is a solid open-field tackler.
Impression: His ability to consistently locate the football, open up his hips and has average range in the secondary. Lacks great speed, but plays fast because of his instincts. Possesses good ball skill, but isn't a guy I want to trust in the center field type role.
2. OT Willie Smith, East Carolina: Washington Redskins
A tall, long-armed kid with a thick, broad lower half and has the frame to add even more girth and strength without losing any athleticism. Displays impressive flexibility and bend in his lower half. Does a great job sitting into his stance, keeping his base down through the play and consistently gaining leverage on contact. Is a gifted athlete in all areas of the game. Exhibits good range off the edge, has the ability to fluidly slide his feet and mirror through contact and in space and is a tough guy to gain penetration on. Does a nice job keeping his hands up ready to strike, unleash a compact punch, displays good hand placement and works well to stay on blocks. Is still raw from a footwork standpoint. Displays compact, clean footing when asked to slide, but plays in the Texas Tech type offense and is asked to simply just back-pedal off the line and there is no real kick-slide on his drop. However, he's a naturally balanced individual who has great movement skills and grace and should be able to quickly pick up the nuances of a kick-slide with some NFL coaching. Possesses good anchor strength as well, has the ability to get a bit stronger in both the upper and lower body, but plays with proper leverage, extends his long arms making it tough for defenders to get into his frame and is tough to push off the snap.
Is a gifted run blocker as well. Has a good first step off the snap, looks fluid on the move and does a great job reaching and breaking down on contact in space. Is very clean when asked to get his feet around and reach block and has the coordination to stay with defenders on slide down blocks as well. Lacks ideal power in his upper body and will have a tough time holding off defenders if they have a step on him with his upper half. However, he does have strong hands as an in-line guy, can gain leverage on contact and works his legs well to turn defenders from the play. Isn't a dominant in-line blocker, but has the pad level and potential to add more strength and become very proficient in that area as well.
Impression: Is only starting to scratch the surface of his potential. Possesses an excellent frame, is a gifted athlete and bends extremely well for the position. Needs some time to develop, but I definitely see this guy with starting ability if he continues to improve.
3. OT David Mims, Virginia Union: Kansas City Chiefs
A massive offensive tackle prospect who possesses a long, good-looking frame. Carries his weight well, isn't fat by any stretch and actually looks a bit thin throughout his upper half. Showcases impressive power at the point of attack in the run game and can absolutely dominate defenders at his level of competition at the point. Is a pretty good bender for his size and is really heavy handed; once he gets his paws on you the battle is over. Now, obviously he gets a bit upright and isn't real technically sound maintaining leverage and using proper hand placement, but the skill set is most definitely there.
Possesses above-average range for his size in pass protection. Showcases good coordination and balance when asked to mirror and again likes to get his hands on defenders and anchor. Doesn't exhibit much of a kick-slide and is really raw and upright with his footwork. But talking with sources the guy doesn't even have an offensive line coach at his school.
Impression: Physically the guy has the size, strength and athleticism to play in the league and is dripping with upside. Is going to take some time, but is an ideal later-round developmental guy who could really catch fire with some time.
4. OC Tim Barnes, Missouri: Baltimore Ravens
Snaps and steps quickly off the line and has the type of initial burst to comfortably get into defenders off his frame, get his feet around and seal inside. But, isn't real powerful on contact and has a tendency to rock his arms/hands back and forth in order to stay on blocks through the play. However, exhibits good lower body coordination and footwork, moves well through contact and has the lateral agility to seal defenders from the ball in the run game. Looks natural pulling in space and displays the body control to reach the second level and blow up an opposing target. Nevertheless, he does struggle moving defenders off the ball in the run game and isn't built for an in-line scheme at the next level.
Looks natural in pass protection. Isn't overly physical initially at the point of attack when a defender lines up over his face. But exhibits the type of flexibility to sit into his stance, extend his arms and pick up stunting/slanting defenders inside. Looks natural keeping his base down, sliding his feet and can mirror in space. Possesses above average lateral range, can redirect cleanly and anchor with some consistency through the play. Does a nice job extending his hands into contact and looked a lot more balanced this year with his punch when trying to gain inside leverage. At times will still get his hands outside the target in the run game, but improved significantly in this area from 2008.
Impression: He's an above-average athlete who can bend and redirect. Looks like a potential draftabale center to me who should have a good shot at making an NFL roster and possibly contributing down the line.
5. CB Ryan Jones, Northwest Missouri State: Chicago Bears
A tall, well-built cornerback who possesses a strong-looking frame and good overall size. Showcases a willingness to attack the ball carrier in the run game and has some strength on contact. Doesn't take the most consistent of angles and too often shoots with his head down, but has the strength and willingness to mature in that area.
Is a gifted athlete for the position as well. Possesses good straight-line speed and initial burst when asked to click and close and exhibits good fluidity in the hips as well. Has the ability to cleanly open up when asked to turn and run and consistently is able to snap his head around and find the football. Exhibits good ball skills, locates the throw quickly, has good body control and knows how to create turnovers in the pass game. Has been very productive in that area ever since his freshman year. However, is a better athlete than corner at this stage. Is raw off the line in press, doesn't consistently do a great job moving his feet and getting his hands on defenders and too often gets overextended with his footwork and will open up the inside gate giving up separation. Also, looks more comfortable in his drop off coverage where he does a better job sitting into his stance and keeping his footwork compact and feet under him. But consistently gets upright when asked to redirect, which really takes away from his balance and ability to quickly close on the football. Exhibits good make-up speed, but needs to learn to transition lower at the next level.
Impression: A tall, strong, good-looking athlete with all the tools, just needs to learn to play the cornerback position. Plays in both man and zone at the college game and his range, ball skills, size and fluidity makes me think he can play in any scheme, just needs to learn to tighten up his footwork and learn to play lower. A nice developmental later- round cornerback prospect.
6. DL Adrian Taylor, Oklahoma: Houston Texans
A tall, well-built athlete with good body control and overall get-off burst inside. Has played the nose for the most part over the course of his career, but has a body type that looks conducive to playing the three/five technique at the next level as well. Does a nice job extending his arms and keeping his pad level down at the point of attack vs. the run game and displays a better anchor than his overall frame would indicate inside vs. the double team. Isn't dominant at the point, but has enough base strength to hold his ground vs. the double even when run at inside. Also displays the kind of initial get off to shoot gaps inside, maintain a low pad level while surging up the field and create plays behind the line. However, he struggles to consistently break down on contact once he makes his way into the backfield and is too often pushed past the play once he gains a step.
Doesn't work his hands nearly as well as a pass rusher and is at his best using his athleticism to stunt and change directions inside. Gets caught with his pad level too upright when trying to laterally slip blocks and looks most effective when simply asked to one-gap or stunt inside.
Impression: Versatility might be the biggest attribute he has going for him. He's a long, rangy athlete who can make plays away from his frame and be stout at the point of attack. I think he could end up being a solid/average interior lineman at the next level, but I think his real calling could be as an athletic 3-4 defensive end.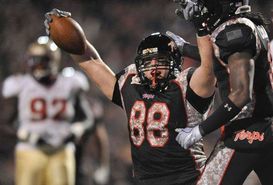 ICONYeatman is an intriguing TE/OT prospect.
7. OT/TE Will Yeatman, Maryland: New England Patriots
A dual-sport athlete — football and lacrosse — who transferred from Notre Dame to Maryland following the 2008 season. A U.S. National Team tryout pool selection for lacrosse in 2010 and is only really starting to scratch the surface of his potential on the football field. Plays tight end at Maryland and is a gifted athlete for his size. Displays the ability to sit into his stance, has a good initial burst for his size and is a smooth, natural athlete in the pass game. Showcases good body control and coordination when asked to quickly snap his head around and does a nice job consistently adjusting to the football.
Is a bit inconsistent with his hands at times, more so due to concentration. However, the guy has made some impressive one-handed stabs and has the ability to pluck the football away from his frame. Obviously isn't going to run by anyone, but he's a good enough athlete to use his big frame to box out a defender, gain a step and pluck. Is still developing as a route runner, but really came on during the second half of the season with five catches in his last two games.
Needs to do a better job getting off the snap count on time in the run game. Has a good initial snap off the football and can gain leverage into blocks, but needs to do a better job extending his arms and improving his overall hand placement. Is coordinated and smooth through contact and can create push from his lower half once he pumps his legs. But is limited from a technique standpoint and will begin to fall off blocks and lose balance easily when trying to finish. Doesn't really trust himself at this stage in the run game, but has the ability to dominate.
Impression: Is a work in progress, but if this guy wants to play in the NFL and devote his time and effort to the game he certainly can. Looks more like a number two, short yardage/goal line type guy, but he has a lot of upside as a potential developmental tackle. Obviously, he would need some time, but reminds me a lot physically of a guy like Steve Maneri from last season who the Pats have on their practice squad right now.
8. RB Noel Devine, West Virginia: Philadelphia Eagles
An explosive, undersized back who lacks ideal overall girth, but does possess a thick set of legs for someone his size. Is never going to be a guy who can carry the load for you in the NFL, has a tendency to get swallowed up at times by defenders inside and isn't a guy who can dish you much wear and tear on a defensive front seven. However, the guy possesses a rare combination of initial burst, lateral agility and patience when asked to press the line of scrimmage. He runs from the gun consistently, but displays a real feel for tight areas, quickly picking his way through traffic, setting up blocks and then absolutely hitting another gear toward daylight. Demonstrates the ability to routinely outpace angles in the secondary vs. even the most athletic of competition and is a big-play threat every time he gets his hands on the football. Displays impressive footwork and fluidity through his hips when asked to make a defender miss at full speed. Runs with a low pad level inside, does a nice job protecting his smaller frame and can bounce off contact at the line of scrimmage and remain on his feet. However, it's his ability to sink his hips and quickly accelerate around the bend when reaching the corner that really makes him dynamic on perimeter runs. Demonstrates impressive balance and body control in all areas of his game, which allows him to play so fast. Now, does have a tendency to dance behind the line at times and will run himself out of yards in search for the big play.
Exhibits the capability to catch the football out of the backfield and showcases a willingness to block in blitz pickup. Obviously isn't overly stout on contact, but can cleanly cut down defenders and reach targets on the edge. Was limited due to an ankle injury in 2010 which really took away from his ability to sharply make cuts and accurate quickly. Needs to check out medically.
Impression: A luxury guy for an NFL offense, but he can be dynamic with the ball in his hands and will find a way to generate big plays at the next level. You just need to find ways to get him the football.
9. CB Kendric Burney, North Carolina: Carolina Panthers
A smart, savvy defender who exhibits good overall fluidity and a real feel in zone coverage. Does a nice job of baiting quarterbacks, reading his pass keys and quickly clicking and closing on the football. Exhibits the ability to keep his feet under him, remain balanced and quickly click and close on the play, with the ball skills to come down with the pass. Deciphers information quickly and exhibits good range when asked to track the football. Also, possesses some power and willingness as a tackler. Isn't afraid to throw his body around and come up and hit someone both in run and pass support.
Showcases good fluidity when asked to turn and run down the field with receivers in man coverage, gets up to speed quickly, locates the football and makes it tough for wideouts to cleanly go up and try to make the catch. However, isn't as impressive when asked to quickly change directions and get out of his breaks. Isn't as smooth, balanced or compact in his back-pedal as you would like, and he gets overextended and high in his drop. And the further down the field he goes the more he struggles to quickly regain his balance and redirect. Gives up significant separation initially and tends to drift too much from receivers in his drop. Isn't real comfortable when asked to press off the line either. Will lose balance initially trying to get into his target's frame, allowing receivers to cleanly gain a step behind him.
Impression: He does have some holes in his game, but because of his natural athleticism, ball skills and savvy, he's a very good zone and off player who can find the football on plays in front of him. His 40-time killed him, but has a chance to make a roster as a slot guy.
10. OLB Mark Herzlich, Boston College: New York Giants
A tall, well-built outside linebacker who is the fiery, emotional leader on the defense. Exhibits above-average balance and fluidity in space for a guy his size. Does a nice job quickly getting out of his breaks and cleanly closing on the football in zone. Now, lacks an elite initial burst when asked to click and close on the throw and isn't a guy who can consistently make plays in man. But, possesses a good feel in coverage and consistently is able to get early jumps on the football.
Showcases good instincts at the line of scrimmage as well when asked to read his run keys. Routinely is able to diagnose the football quickly and attack downhill. Lacks great range, but runs well for the position and generates good power through his hips on contact. Possesses a long set of arms, which consistently allow him to wrap on contact. Now, isn't the most nimble of athletes and will struggle to break down on shifty ball carriers in space, but uses his length well and simply finds a way to get his man on the ground. Does a nice job when asked to set the edge and anchor on perimeter runs. However, he isn't a real consistent stack and shed guy. Doesn't possess a great punch/pop on contact when trying to shed and can be sealed at times from the play.
Impression: Is a good athlete for his size, but is able to play even faster at times due to his instincts. Never quite regained his form from 2008, but slowly improved as the year went on. His medical will be huge in determining his draft stock and if he can prove he's healthy, the guy can a player in the league.
Follow me on twitter: @WesBunting