January 06, 2011 -
National Football Post
Where do the Panthers go from here?
With the news breaking Thursday about Stanford quarterback Andrew Luck deciding to stay in school for his junior year, an interesting question arises: where do the Panthers go from here?
There are other quarterback options out there. Cam Newton from Auburn is as physically gifted as any QB to come along in years. Ryan Mallett has the kind of big-time arm to make NFL officials drool, while Blaine Gabbert and Jake Locker are also interesting options as well.
However, the Panthers already gave up a second-round pick in the 2010 draft for Notre Dame quarterback Jimmy Clausen, and if given a fair shake to compete with some talent around him, I still think the guy could very easily mature into a solid NFL starter.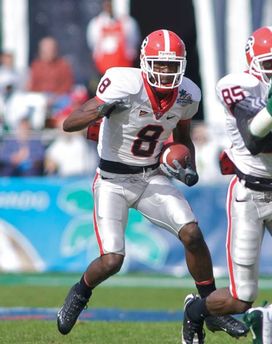 ICONGreen has the ability to improve everyone on the Carolina offense.
So where does that leave the Panthers with the first overall pick? Well, in my humble view you give Clausen every possible chance to be successful before kicking him to the curb and you use the 2011 draft to put weapons around him. And in my view one of those weapons should be Georgia wideout A.J. Green.
Green isn't your typical first overall type selection being a receiver. However, he's a dynamic playmaker who can give Clausen the type of legit No. 1 target he needs. Green also has the ability to quickly make that young receiving corps in Carolina a lot better and in my view is about as safe as a prospect can be in the 2011 draft.
Green possesses the skill set to quickly come into the NFL and not only make plays vertically down the field, but develop into one of the top overall receivers because of his coordination, jump ball ability and overall fluidity as a route runner in the intermediate pass game.
Some might argue that Clemson defensive lineman Da'Quan Bowers or Auburn DT Nick Fairley should be the pick. However, both have only had one real year of elite production, which might be a tough pill to swallow if drafting one of them first overall.
Overall, A.J. Green not only is the safest pick for the Panthers, but he has the ability to quickly mature into a blue-chip caliber wideout, which could ultimately make the QB situation in Carolina with Jimmy Clausen end up becoming a whole lot better.