January 13, 2012 -
National Football Post
Where does Clemson TE Dwayne Allen rank in the tight end class?
Breaking down the game and assigning a grade to Clemson TE Dwayne Allen.
TE Dwayne Allen: Clemson (6-4, 255)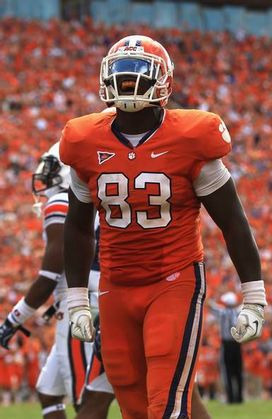 ICONAllen possesses a thick trunk for the position.
Possesses a thicker, compact frame with a strongly put together core and base. Doesn't long real long armed and seems a bit tightly wound, but has a big set of hands. Lined-up all over the Clemson offense this year (TE, H-back, slot) and has the versatility to do the same in the NFL. Is a naturally strong kid who has a heavy set of hands and can create a little pop on contact both in-line and on the move. However, doesn't do a great job keeping his base down into contact, which allows defenders to get under him initially in the run game in-line. However, he has the natural power to work his legs through contact and is graceful/power enough to work his legs around the target to seal or begin to get a push. Is a good move blocker who ha some range getting into the second level and takes solid angles into contact. However, gets upright and will get caught overextending at the point, allows himself to easily be rag dolled/ slipped through contact. Has the natural power to create a snap through the hips, gain leverage and seal on the edge. Has shown the natural power in the past to handle defensive ends through contact. However, needs to learn to play lower. Leverage might always be an issue though because he seems to lack ideal length. His lack of length is even more obvious in pass protection where he is consistently forced to lock his arms in order to try to stay on defenders through contact.
Possesses a slightly above-average get off for his size when lined-up with his hand on the ground. However, doesn't do a great job avoiding contact. Allows himself to get upright and isn't overly shifty when trying to avoid a bump. Also, has a tough time as a route runner with defenders who want to get physical with him. Doesn't use his hands well to be physical and leave a defender before getting out of his breaks. Either extends his arms and is called for pass interference or allows a defender to be draped all over him. Looks more explosive off the line when split out, showcasing the body control, foot quickness and fluidity to snap out of his breaks on sharply breaking routes and create separation. Builds speed as he goes down the field. Isn't a burner, looks like a 4.75 guy, but sells his routes well and looks natural with his first step burst to the post. Snaps his head around quickly and knows how to find the football. Extends his arms well down the field and can pluck off his frame. Possesses good hands, but will get caught being forced to double catch at times.
Impression: Is a solid, strong athlete with good hands and body control when asked to go get the football. Lacks ideal balance/leverage into contact as a blocker and would like to see him be more sudden in tighter areas with defenders who want to be physical. However, he's an NFL talent who can be used in a number of ways on an NFL offense.

Grade: 6.8 J
Follow me on twitter: @WesBunting
Check out the NFP draft page here...