January 11, 2012 -
National Football Post
Where does Iowa OT Riley Reiff rank in this year's draft class?
Breaking down the game and assigning a grade to Iowa OT Riley Reiff
OT Riley Reiff: Iowa (6-6, 300)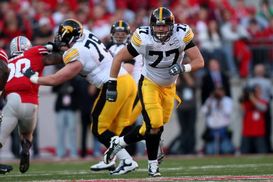 ICONReiff is athletic on the move.
A former tight end who made the move to defensive tackle, then to offensive guard and then stepped in for former All-American LT Bryan Bulaga in 2009. Is an athletic lineman with natural bend through the hips and knees. Has the ability to sit into his stance, keep his anchor down off the ball and really generate a snap through the hips in the run game. Is a "plus" run blocker who showcases the ability to keep his pad level down into contact, consistently gets under the pad level of defenders, extends his arms well and runs his legs through contact. Is quick footed and routinely is able to take the third step at the point of attack and dictate on contact. Showcases the natural power and leverage to create a push and seal off the edge. Is also nimble footed enough to get around quickly on reach blocks and stick through contact on slide down blocks. Tends to allow his back to get a bit straight through contact, which will cause him to fall off defenders eventually. However, exhibits the coordination to drop his pad level quickly and cut defenders down at the line of scrimmage, as well as pull and reach linemen off his frame. Showcases slightly above-average range in space, but at times will get overextended and whiff into contact, would like to see him break down a bit better.
Showcases the ability to pass protect from both a two and three point stance. Exhibits natural bend, a quick initial first step and sets quickly. Possesses natural foot quickness and athleticism toward the edge. Showcases the ability to reach speed to the corner and keep his hands loaded and elbows inside. However, doesn't uncoil a very sharp punch. Doesn't look real long-armed either and has a tough time gaining leverage into contact at times. Will give up leverage and can be uncoiled through his lower half and knocked off balance. Showcases the footwork to quickly catch himself and recover at times. However, will get overextended with his footwork as well and fail to recover. Gets a bit inconsistent on his kick slide at times. Can stay compact, keep his base down and stay balanced toward the edge. However, vs. speed, at times he will slide his feet and almost click his heels together, getting really overextended on his base when trying to anchor and will struggle to re-direct laterally.
Now, when he does stay balanced, he showcases natural change of direction skills and can stick and mirror through contact once he gets his hands on defenders. Exhibits the ability to mirror in space as well, keeping his pad level down. However, would like to see him continue to fill out through his lower half. Lacks great base strength at this stage, but has enough natural width to add girth and not lose much athleticism.
Impression: Showcases the ability to bend with good foot quickness and range in pass protection. Also displays an explosive element to his game as a run blocker. Needs to be more consistent with his footwork and would like to see him develop a bit more as a puncher in order to keep himself clean. Nevertheless, has the athleticism, flexibility and pedigree to mature into a solid starting left tackle in the NFL.
Follow me on twitter: @WesBunting
Check out the NFP Draft page here...