December 09, 2011 -
Barry Dorey
Where does Oklahoma DE Ronnell Lewis fit in the 2012 NFL Draft?
DE Ronnell Lewis: Oklahoma (6-2, 244)
What I like….
- The guy has a passion for the game. He will play special teams, loves contact and the game is important to him.
- Exhibits a good motor when working toward the football and doesn't take many plays off in any aspect of the game.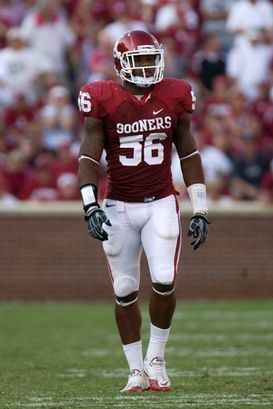 ICONLewis is an imposing striker.
- Exhibits an impressive first step, reaches top end speed quickly and his combination of speed, size and power makes him one of the most violent strikers in the country.
- Is a good wrap up guy as well when asked to close. Showcases "plus" range from the backside and uses his length well to wrap while bringing his legs through contact.
- Coils up into his stance well as a down defensive end. Keeps his base under him, takes a positive first step off the snap and eats up a lot of green quickly.
- Exhibits the first step to routinely threaten the edge and quickly gets on top of opposing tackles.
- Understands how to use his hands in order to gain leverage on the edge. Loves to work in inside rip and has the power and balance to fend off tackles trying to push him well past the play.
- Demonstrates "plus" closing speed when working back around the corner and creates a lot of his pressure off second effort.
- Has developed a better feel off the snap setting up his outside speed rush with an inside jab step and using his hands to stay clean and accelerate toward the corner.
- Is coordinated enough to stand-up from a two-point stance and rush off the edge as a 34 guy. Is versatile and will be on both 34 and 43 team's draft boards.
- Showcases the ability to keep his pad level down, maintain balance and shoot his way through the "C" gap initially off the snap, working his way through contact.
- Gets his hands up quickly vs. the run game, can sit into his stance and locates the ball well when trying to fend off contact.
- Is patient from the backside. Closes the back door well and showcases some suddenness when trying to keep himself clean with his footwork avoiding blocks.
What I don't like…
- He's never been that productive as a pass rusher, finishing 2011 with only 5.5 sacks.
- His pass-rushing arsenal is limited. Looks more like a linear athlete who doesn't understand how to use his hands to counter off his speed rush yet.
- Looks tighter when trying to turn the corner. Struggles to really dip his shoulder and bend with ease, gets upright and has a tough time taking a clean angle past opposing tackles.
- There isn't a ton of sudden lateral quickness to his game as a pass rusher when trying to side step blocks. Will extend his arms at times, but I don't a real naturally quick athlete.
- Looks a bit tight in his drop when asked to hold his own in coverage. Doesn't keep his base under him or sink his hips. Plays upright and needs a step to collect himself before changing directions.
- Isn't a great anchor player vs. the run, can be worked backward at the point vs. even college tight ends.
- Does have some character concerns off the field as he really struggled with academic eligibility during his time at Oklahoma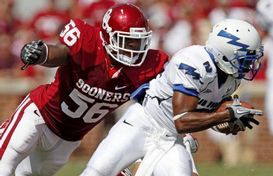 ICONLewis loves to lay the wood.
Overall, his game reminds me some of former 2010 second round pick Sergio Kindle and former 2011 third round pick Justin Houston. He's an explosive kid with a "plus" first step, generates a lot of natural explosion into contact and is a powerful striker. He's got the ability to threaten the edge, fend off blocks through contact and shoot gaps well inside.
However, I don't see a ton of savvy to his game as a pass rusher yet. Lewis isn't a real sudden kid when trying to slip blocks and counter off his speed rush and does look a bit tight when trying to think he warrants a second round type grade.
Follow me on twitter: @WesBunting
Check out the NFP Draft Page here...