December 09, 2011 -
National Football Post
Where does Oklahoma State WR Justin Blackmon rank in this year's draft?
The Breakdown.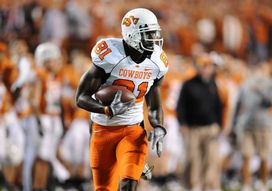 ICONBlackmon has an ideal frame.
- The overall physical make-up of his frame. He's a big kid who possesses good length, strong hands and a compact body. Nothing leggy about it.
- Showcases a savvy off the line vs. press coverage. Changes speeds, looks off corners and exhibits natural change of direction skills to quickly get into his route.
- Possesses a good first step out of his breaks and reaches top end speed quickly.
- Knows how to work the three-step game, puts the corner on his hip and does a nice job boxing out the defender away from the football.
- Uses his length well to pluck the football off his frame and secure the catch. Is a natural plucker who does a very good job of snatching the football
- Exhibits excellent body control and coordination when asked to adjust and go make a play on the throw. Balances himself well down the field, fends off contact and explodes well vertically in order to win at the highest point in jump ball situations.
- Displays a natural feel near the sideline. Exhibits good field awareness and knows how to walk a tight rope and get his feet down.
- Demonstrates a physical element to his game after the catch. Uses his stiff-arm to fend off would be tacklers and also has the short area quickness/power to slip/break a tackle and accelerate into daylight.
- Displays natural balance and fluidity as a route runner. Can cleanly get out of breaks in the three-step game or on sharply breaking routes at the second level. His balance also shows up well when he needs to run through breaks quickly and find a soft spot in zone.
- Showcases impressive footwork for a bigger receiver, cleanly changing directions with good foot quickness and balance on any kind of double move.
- Tightens his route well out of his breaks when working back toward the quarterback, cutting down the angle of the defender in the process.
- Possesses the skill set to run the entire route tree and exhibits the ability to be effective lining up both inside and out.
- Showcases a decent effort blocking in the run game and has the size/athleticism to dominate.
- Has been extremely productive over the past two seasons, winning two straight Biletnikoff awards in the process.
- Is very competitive, wants to catch the football and has an obvious passion for the game.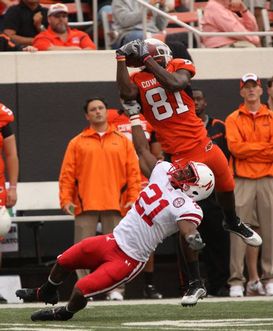 ICONBlackmon isn't ever going to simply outpace NFL defensive backs.
- There is no real second gear to his game. He doesn't have the ability to run away from defenders vertically.
- Concentration issues tend to pop up from time to time and he will put the football on the ground when working in traffic.
- Doesn't consistently extend his arms when working underneath game, lets the ball too often get into his frame and will give defenders the opportunity to get their hands on the football.
- Isn't going to run away from anyone in the open field. Runs some reverses at Oklahoma State and his lack of top-end speed shows up the way defenders quickly close down his angles.
- Gets a little gun shy at times working the middle of the field with defenders bearing down on him. Isn't afraid to work the middle, but I wouldn't say he's fearless either, as he will get caught peeking at defensive backs.
- Isn't the type of dominant downfield blocker his skill set says he should be at the college level. Can be shed at times too easily for my liking.
- There are some character concerns both on and off the field. Was suspended for one game in 2010 due to a mid-season DUI.
Overall, from a talent perspective I think Blackmon is one of the safest prospects in this year's draft. He's a strong kid with long arms, "plus" body control and knows how to go get the football. Plus, there is a savvy about his game as a route runner, he showcases the balance/fluidity to cleanly get out of his breaks and has the skill set to beat pressman at the next level.
The lack of straight-line speed will limit him however, and when comparing him to first round receivers A.J. Green and Julio Jones last year, I don't think he's in their class. Nevertheless, he's got the skill set to line-up all over an NFL offense and make plays on all levels of the field.
The character concerns aren't ideal, however the guy does have a passion for the game and the character/diva concerns almost come with the territory now of being a top end receiver prospect.
Follow me on twitter: @WesBunting
Check out the NFP Draft Page here...