January 12, 2012 -
National Football Post
Where does Rutgers WR Mohamed Sanu rank in this year's draft class?
Breaking down the game and assigning a grade to Rutgers wide out Mohamed Sanu…
WR Mohamed Sanu: Rutgers (6-2, 215)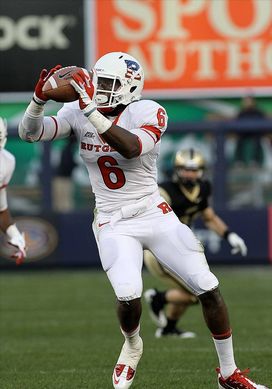 ICONSanu has the size to work the middle of the field.
An imposing physical specimen with a long set of arms, strong looking frame who certainly looks the part of a starting caliber wide out. Is still learning the position, but the natural talent is there. Isn't that clean off the line, has a tendency to take a negative initial step, chopping his back foot before sinking his hips and getting into his route. Needs to clean up his initial wasted motion. Is going to need to learn to beat press coverage with consistency at the next level. Wasn't pressed much in college but has the skill set to be effective in that area. Showcases a natural burst to his game out of his breaks, both in the three-step game and on sharply breaking routes. Possesses excellent foot quickness and coordination for a guy his size. Is able to quickly change directions, keep his feet under him and accelerate well. Uses his body well to put a corner on his hip and has the length and hands to consistently pluck off his frame. Showcases elite range when asked to go get the football. Has the length and leaping ability to go get the football when its located anywhere near him with the hand size and length to make some really impressive one handed plucks. However, his hands are a bit inconsistent. Will fight the football into his body too often and when he doesn't have to be isn't a real natural plucker and at times will put the ball on the ground.
Is still developing as a route runner as well. Showcases the ability to be effective in the three step game, is sharp and precise out of his breaks and can gain a step. However, gets lazy at times on sharply breaking routes rolling into his breaks prematurely and not creating the same type of burst. Now, he does have the foot quickness and fluidity to drop his pad level and cleanly separate on the shallow/intermediate out. Also, has some savvy setting up his routes, changing speed and looking off corners on the double move. Is quickly able to get out of his breaks, snap his head around and go get the throw. Finds soft spots well working the seam and possesses "plus" awareness vs. zone.
Looks like a 4.55/4.6 guy vertically. But plays faster because there is an initial first step burst to his game. Makes the game look very easy and has a lot of untapped potential to his game as a receiver. Showcases a willingness to be physical, will break tackles after the catch and a natural balance/suddenness to his game to make the initial man slip off him. Isn't overly explosive in the open field, but runs hard and can stiff arm/break tackles. Has the size to be effective blocking in the run game and do some damage on the strong side as the "Z".
Impression: Physically reminds me some of Hakeem Nicks. Isn't as NFL ready, but can go get the football, breakdown and separate on all levels of the field. Looks like a future NFL starter who might need some time, but the talent is most definitely there.
Follow me on twitter: @WesBunting
Check out the NFP Draft page here...