September 27, 2011 -
National Football Post
Where does San Diego State's Ryan Lindley stack up in this year's QB class?
When going back and watching some tape from Lindley last season and comparing those performances to this year the one thing that stands out is his improved touch outside the numbers. He possesses very good arm strength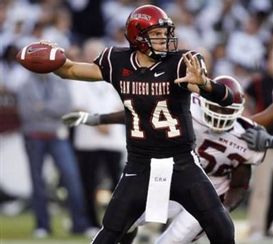 ICONLindley can make all the throws.
He also can get away from the line of scrimmage quickly when under center using his big frame/stride –which can also be a hindrance to his game- and when he collects himself properly and transfers his weight the guy showcases "plus" accuracy on all levels of the field. Plus, he showcases the ability to use his eyes to move defenders, work his way toward secondary options and will try to re-set his feet quickly and align himself up with the target.
He's a bit inconsistent vs. pressure though. Lindley does a better job maintaining his balance and keeping his eye level down the field when he feels the rush off the edge. He is capable of job sidestepping defenders, keeping his base once set and despite not being a very good athlete; he does showcase some subtleness in the pocket. However, when Lindley gets pressure in his face he gets skittish quickly and isn't the type of athlete to quickly collect his feet and get the ball out instantly to his hot man. Instead he has a tendency to drift from pressure, force the ball off his back foot and his accuracy goes way down because of it.
And a lot of that has to do with the aforementioned "stride" as he gets about as wide with his base in his drop as any quarterback I've seen. Even on his 5th and 7th step he still is taking massive steps, causing him to struggle to quickly settle his feet, regain balance and get the ball out vs. any kind of pressure. And even when he has a clean pocket, too often he's forced to hitch a number of times in order to settle himself before throwing the football. Therefore, when the ball needs to come out instantly once his back foot his the ground, too often he doesn't put himself in a proper throwing position out of his drop because of his overextended base.
In all honesty, when watching him on tape he played like an athlete who seemed closer to 6-5 or 6-6 compared to the 6035 -6-feet and 3 5/8-inches- he's listed at because he gets a bit clumsy in the pocket at times trying to get his feet under him and balance himself.
Overall, he's got a strong arm, showcases the ability to look off defenders, find a secondary option and when given time he can get his feet around toward his target. However, he doesn't possess the kind of coordination/balance from the waist down that you want to see from an NFL quarterback, especially in today's NFL where you need a QB who can escape pressure both inside and outside the pocket, settle himself quickly and burn a defense that wants to bring the blitz. Something I have a hard time seeing Lindley doing consistently at the next level.
Lindley is certainly worth a draft pick and has the skill set to go somewhere in the early/mid round range, depending on how well he performs the rest of the year/post-season. However, if he doesn't improve his overall footwork/coordination from the pocket, it's going to be tough for him to make plays in the NFL when he doesn't have a clean pocket.