November 10, 2011 -
National Football Post
Where does small school receiver Brian Quick stack up?
The rundown…
After watching film this week of 6-4, 216-pound small school standout Brian Quick, it's easy to see why the guy has been so productive over the course of the past four years. He's a big, coordinated athlete who builds speed as he goes and showcases some short area quickness as a route runner.
Quick is a former prep basketball stud who played only one year of football in high school before signing with Appalachian State. And his coordination on the hardwood certainly carries over to the gridiron. He does a nice job off the line setting up defenders, maintaining proper balance and using his long arms to keep himself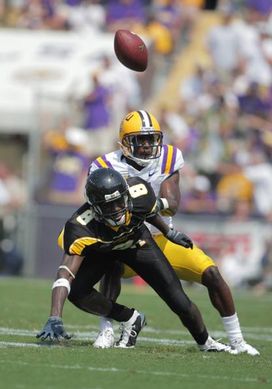 ICONQuick is going to have to get use to playing with corners in his back pocket.
clean. He's also natural extending his arms when attacking the football down the field and is the kind of big target quarterbacks love to throw at.
And most impressively about his game was the overall balance/body control he displayed as a route runner for a big receiver. He exhibits the fluidity to sink his hips and pretty cleanly get out of his breaks with a sudden snap to his game.
Now, he's still not the most explosive of straight-line targets and vertically he's never going to be a guy who will separate a ton. He does build speed as he goes, but plays like a high 4.5 guy and doesn't have the burst to simply run away from defenders. Therefore, he's always going to have to box out opposing corners and go pluck the football with a defender in his back pocket.
Where does he stack up as a prospect?
Looking over the senior wide out class, there is a large group of "bigger" receiver prospects who will be looked at to play the possession type role in the NFL.
I don't think Quick is quite in the league of Iowa's Marvin McNutt or Texas A&M's Jeff Fuller. Both have proven they can separate from top-tier corners and both look more explosive initially when asked to separate, fight off contact and adjust.
Therefore, looking at the third tier guys in the draft, I would say he's a better prospect than Arkansas WR Greg Childs even when he was healthy. Childs has been a shell of himself this year, but even as a junior he still had a tough time separating. And I think Quick is a shiftier route runner and bit more impressive athlete.
However, the biggest thing for Quick going forward is going to be his ability to handle the jump in competition during the All-Star game circuit and ultimately how fast he runs at the Combine. Wide receiver is a stopwatch position and if he hopes to get drafted much higher than the mid-round range; he's going to have to run fast, likely in the high 4.4, low 4.5 range.
Overall, I think Quick is a nice, big coordinated receiver who possesses some real upside and at worst can be a solid red-zone threat. And if he puts it all together could carve out a niche similar to the one of Chargers big wide out Malcom Floyd at the next level.
Follow me on twitter: @WesBunting
Check out the NEW 2012 NFP DRAFT PAGE!