December 03, 2012 -
National Football Post
Where will Tyrann Mathieu be drafted?
Tyrann Mathieu CB / RET Junior EX - LSU 5090 E 175 E 4.35 E
After Mathieu's initial dismissal from LSU for reportedly failing another drug test, rumors began to circulate that he would try to return to LSU for the 2013 season when he continued to attend classes despite no longer being a part of the football team. However, since then more off field trouble has led to Mathieu declaring that he will be entering the 2013 NFL Draft. So while I believe his decision to enter the 2013 Draft to be a mistake, below is a breakdown of Mathieu's skill set and likely draft situation.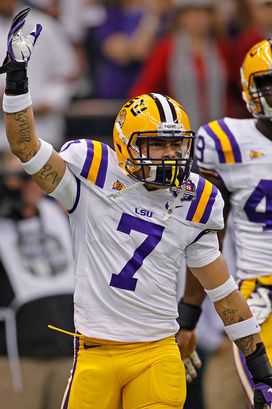 US PRESSWIREFormer LSU cornerback T. Mathieu celebrates.
Despite lacking the ideal size that NFL teams prefer, Mathieu made an immediate impact at LSU on defense. Able to combine his exceptional foot quickness, explosiveness and football instincts, he was able to close on passes in a flash in spite of bad footwork/technique. Unlike many cornerbacks who need their footwork to be sharp so that they can "click and close" fast, Mathieu was able to change directions and explode in the other direction without having a good pedal. This athleticism also serves him well as he can flip his hips to stay with the receiver when they pass/cross him and does not lose a step. His elite playing speed enables him to stay with any receiver on deep routes and to recover when he loses a step in man coverage.
The issue is that despite Mathieu's rare athleticism and flashes of play-making ability, he was far from a "shutdown cornerback," if there actually is such a thing, at LSU. His lack of size and strength allowed strong receivers to push-off and create separation. Receivers were also able to use their size to shield Mathieu from being able to make a play on the ball even when he was in good coverage position. Mathieu's desire to make the big play and aggressive playing style caused him to often bite on "double moves" and allowed too many catches. While Mathieu no doubt had an incredible season playing college football for LSU in 2011, he was far from a finished product when it comes to playing cornerback in the NFL.
Shorter cornerbacks historically need to be special players to overcome their lack of size to be as productive in the NFL as they were in college. This is where Mathieu needs to prove himself as NFL teams do not question his athleticism, toughness or willingness to come up and hit, but rather his technique and coverage skills/ability. His punt return ability not only adds value to Mathieu, but it will give him a way to contribute while he learns and develops as a cornerback where he will be a backup to start his career. Despite all the things I have mentioned above, the reality is that how Mathieu handles the questions about his past off-field issues will likely determine where he gets drafted.
NFL teams have long shown a willingness to gamble on elite cornerback talents with character questions, like the Ravens and Rams did with Jimmy Smith and Janoris Jenkins respectively. However, the big difference as I see it is that both Smith and Jenkins were premier all-around talents who likely would have been top ten picks if not for their off-field issues. On the other hand, based on film evaluation Mathieu is more of a nickel cornerback and special teams contributor, so even without character issues he likely would have been a second or third round pick. Although Mathieu was a better player in college, a good parallel can be drawn to the Chiefs selection of Javier Arenas in the second round of the 2010 NFL Draft. Arenas was an outstanding starting cornerback and special teams player at Alabama, but was viewed as a nickel cornerback at best by NFL teams and many teams told us they were shocked when the Chiefs selected him so highly.
In the end, Mathieu will likely not be drafted anywhere close to where he hoped and many expected after his outstanding 2011 season due to his size, bad technique and character concerns. I would expect him to be selected on the third day of the draft and will need to make sure his off-field issues are behind him if he is going to succeed in the NFL.
Email Russ at Russelllande@yahoo.com and Follow Russ on Twitter @RUSSLANDE