February 22, 2011 -
National Football Post
Which prospects have the most to gain at the Combine?
A look at which prospects could see the biggest spike in their stock with a solid week at the 2011 NFL Combine.
FS Rahim Moore: UCLA
When looking through the unimpressive safety class, Moore is the one guy who with a solid Combine could throw his name into the fold as a potential late first-round pick. He's a tall, lean center field type safety with good fluidity and change of direction skills in space. He possesses very good range when asked to close sideline-to-sideline and exhibits impressive ball skills when going up to make a play on the throw. Moore still lacks a great feel driving on throws in front of him and is a bit inconsistent as a tackler. However, if he runs well and showcases the kind of natural body control and change of directions skills we saw on tape, he could see a bit of a boost in his draft stock.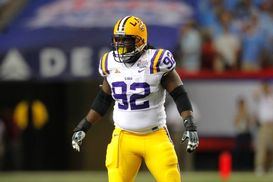 ICONNevis is an explosive athlete who can get off the football.
DT Drake Nevis: LSU
I have heard from scouts that there is a concern about Nevis' size and that some NFL personnel men might be turned off by how small-framed he is. However, watching him on tape I see the most explosive first step of any interior defensive lineman in the nation. He's a guy who can play with leverage in the run game, has a motor that works non-stop and plays the game with bad intentions. He's been said to be one of the top workout warriors at LSU over the past four years in the bench, jerk, squat and has a school record in the clean. I expect him to run well and show up around 290-plus pounds, giving himself a chance to get a look late in round one to a team searching for a one-gap type interior defender.
RB Ryan Williams: Virginia Tech
Ryan Williams was a shell of himself this past year, as a hamstring injury bothered him all season long, and he didn't have the same type of initial burst and overall explosiveness to his game that we saw from him as a RS freshman. However, with the hamstring finally having enough time to heal up, Williams could be ready to exhibit the kind of athleticism that made him one of the best backs in the country only two seasons ago. He's a violent, slashing type runner with good short-area quickness and initial burst out of his breaks. Plus, if he runs in the 4.4 range, it's going to be tough to not consider him late in round one.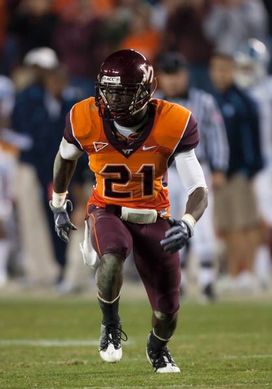 ICONCarmichael has the speed to turn and run.
CB Rashad Carmichael: Virginia Tech
If there's any position where straight-line speed can really catapult a prospect up draft boards, it's at cornerback, where the ability to quickly recover is critical. Carmichael is said to be timed as low as the high 4.2 range, has a great feel in off/zone coverage and at 5-11, could mature into a capable press-man as well. Size/speed combos at corner are always very intriguing on draft day and given Carmichael's skill set and ability to play the football, he could end up being one of the real risers from that second-tier grouping of cornerbacks in this draft.
DL Christian Ballard: Iowa
I don't know if there's a better sideline-to-sideline defensive lineman in the draft than Iowa's Christian Ballard. At 6-4, 297 pounds, he runs extremely well for his size in pursuit, has a good first step off the football and exhibits some natural power on his bull rush. Now, he's still a bit raw as a pass rusher and consistently allows his pad level to get too upright. However, if you're looking for an athletic five-technique who can hold the point of attack and make plays off his frame, Ballard is your guy. He's more of a second/third-round pick at this stage, but with the need for athletes at the five-technique, getting his name in the late first/early second round mix still isn't out of the possibility for Ballard with a very good showing at the NFL Combine.
Others worth noting…
WR Jerrel Jernigan: Troy
Missed the Senior Bowl because of an ankle injury. However. possesses impressive short-area quickness and body control with the straight-line speed to get a look as the first slot taken in 2011.
TE Jordan Cameron: USC
A former basketball player with a more polished skill set than given credit for and displays some impressive athleticism as well.
OL Jason Kelce: Cincinnati
A gifted athlete in space who gets out to the second level with ease. Is going to run extremely well at the Combine and could make his move up this weak center class with a strong showing.
DT Kenrick Ellis: Hampton
Moves really well for his size and might end up being one of the more athletic potential nose tackles we have seen in a couple years.
LB Colin McCarthy: Miami
He possesses good straight-line speed and an athletic skill set, might be enough to put himself toward the top of this weak MLB class with a good workout.