March 29, 2011 -
National Football Post
Who is the draft's 3rd best wideout?
So much has been made throughout the draft process about the overall talent of the top two receivers in the draft, Georgia's A.J. Green and Alabama's Julio Jones. Both have the making of maturing into potential blue-chip players in the NFL. However, that doesn't mean there aren't talented prospects behind them. With that in mind, the National Football Post breaks down the next top tier of prospects at receiver and gives you our pick as the draft's 3rd best wideout.
The possession man…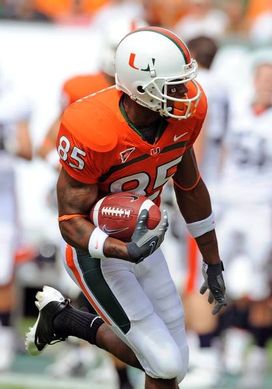 ICONHankerson's size/body control makes him a tough match-up.
Leonard Hankerson: Miami (6-2, 209)
A strong, well-put-together wideout with a long set of arms, big hands and the kind of frame to consistently box out corners and go get the football. He had a productive senior year, an impressive showing during Senior Bowl week and ran much better than expected at the NFL Combine (in the 4.4 range).
However, when watching tape of Hankerson I didn't think he was nearly as explosive of an athlete that his Combine times would lead you to believe and didn't generate a ton of burst out of his breaks. He does display some short-area quickness and body control, especially off the line vs. press, but I never saw a real dynamic athletic quality to his game. I do think he has the ability to line up on the outside, beat press, consistently win in the three-step game and give you some bigger plays down the field because of his slightly above-average jump ball ability. However, I don't think he's dynamic enough to consistently win for you as a legit number one threat in the NFL. The former Miami standout seems like more of a solid possession type guy who has the ability to win from the slot as well and consistently move the chains in 3rd down situations.
The speedsters…
Torrey Smith: Maryland (6-1, 204)
There is no denying that this guy has a real second gear to his game. Smith's the type of vertical threat that can consistently take the top off a defense and get behind opposing corners quickly. He tracks the ball well and has some cutback ability after the catch. However, Smith is a linear athlete who looks tight hipped when asked to get out of more sharply breaking routes and in my view is limited to more of the vertical route tree in the NFL (fade, post, corner). He's consistently forced to gear down before changing directions and isn't a real natural plucker of the football, consistently letting throws get into his frame. Now, there is definitely a spot in the league for the kid, he's just limited in my view to what he can offer a team outside of the vertical game.
Titus Young: Boise State (5-11, 175)
Unlike Smith, Young is a much more fluid and cleaner router who possesses the flexibility in his hips to sharply get out of his breaks. He offers the same type of vertical speed down the field, with the ability to consistently get behind defenses. However, he does a great job selling his vertical routes and has a real suddenness to his game when asked to snap out of his breaks as a short and intermediate route runner. He still has a tendency to round off his breaks at times, but athletically Young possesses the ability to mature in that area. He's also a much more natural plucker of the football and exhibits the shiftiness off the line to beat press coverage on the outside and quickly get into his routes. I prefer Young over Smith because I think he can give you more as an overall route runner at the next level and he'll give you more opportunities to be dynamic.
The winner…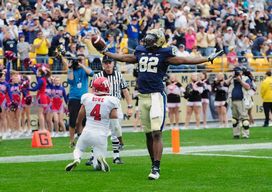 ICONBaldwin knows how to go up and makes plays on the football.
Jonathan Baldwin: Pittsburgh (6-4, 228)
When focused and motivated Baldwin is the only guy in the class who from a pure talent standpoint has the ability to be mentioned in the same class as Green and Jones. Physically, he's imposing. He demonstrates the ability to consistently track the football vertically and is a monster in jump ball situations. He's not nearly as fluid as a route runner as Green or savvy as Jones, but in my mind he's the better jump ball threat.
Plus, when he wants to, he's a monster as a blocker and a tough guy to bring down after the catch. Now, there are some character concerns with him being a "rougher" kid who doesn't always take responsibility for his actions on the field. However, he grew up in the same area of Darrelle Revis and Revis had some of those same concerns when he came out. I don't think Baldwin is a bad kid, I just think he needs to be put around some professionals and he will learn the ropes quickly. The former Pitt standout has the makings of a true number one wideout in the NFL and worse case a very good number two who can make plays down the field. Could end up being a steal for a team if he falls to round two.
The top five receivers as we see them…
1. A.J. Green: Georgia
2. Julio Jones: Alabama
3. Jonathan Baldwin: Pittsburgh
4. Titus Young: Boise State
5. Leonard Hankerson: Miami