February 16, 2012 -
National Football Post
Who needs a strong NFL Combine performance?
Who are the main offensive prospects that need a big Combine performance to really help push their draft stock…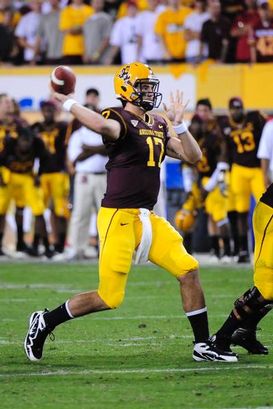 ICONOsweiler is impressive throwing the football.
QB Brock Osweiler: Arizona State (6-8, 240)
The guy has some talent and can sling the football. However, much like Ryan Mallett last season, he's going to need to play in an offense where he can throw the football down the field and isn't going to be forced to make many quick throws underneath, where he struggles with timing, footwork and ball placement. If everything falls into place for Osweiler, meaning he develops as a quarterback mentally, has time to work at his trade and falls into a perfect fit for him physically (Steelers, Patriots, Raiders) he does have the talent to eventually fight for a starting job in the NFL. However, this is a guy who is going to look great throwing against air at the NFL Combine and with a strong performance could rise up into the mid/late first round range.
RB Chris Polk: Washington (5-11, 222)
He's a big kid with a good feel inside, runs hard and will break some tackles. However, pad level, initial burst and lack of great change of direction skills make me think he's more of a potential NFL starter only. Didn't have a great Senior Bowl in Mobile and it will be interesting to see just how explosive he is both as a short area athlete and straight-line guy at the NFL Combine. Needs a big week to get some positive momentum going his way.
WR Alshon Jeffery: South Carolina (6-4, 229)<br /> A big wide out who lacks ideal top end speed and isn't a real explosive self-starter. He does display a little short area quickness for his size, however, not enough to consistently create legit separation off the line. Does a great job extending his long arms and adjusting to the football and the further down the field he can stride the tougher he is to cover. Nevertheless, Jeffery needs to prove he can run and in my mind anything in the 4.6 range is only going to add to the questions about his potential in the NFL.
WR Stephen Hill: Georgia Tech (6-5, 206)
Has a unique skill set, can pluck off his frame, track the football and is the next big time talent from the Georgia Tech program. Is going to need some time to develop, but can come in and track football vertically early on. Has a lot of upside to his game and skill set says he's an NFL starter. However, much like Jeffery these bigger receivers need to prove they have the straight-line speed to threaten corners vertically. If Hill can run in the 4.5 range or better, he could end up separating himself from the rest of the "big" wide receiver pack.
TE Orson Charles: Georgia (6-3, 241)
A gifted athlete who can create a lot of mismatches in the pass game. Should be able to improve as a route runner as well. Not quite as polished as Aaron Hernandez as an H-back coming out, but could end up playing a similar type role. Therefore, for a guy whose game is built on speed and athleticism, he needs to prove at the Combine that he is in fact the kind of dynamic threat his tape says he is, if he wants a shot at going in round one.
OT Andrew Datko: Florida State (6-6, 321)
He's a solid athlete who can bend, re-direct and block in space. However, he's had some struggles with power when trying to stay engaged and hasn't been able to stay healthy throughout his career. Nevertheless, in a weak offensive tackle class, he's one of the few prospects that possess the skill set to start in the NFL. But he needs to prove that his medical can be clean going forward, which is the biggest question mark I have about his game.
Follow me on twitter: @WesBunting
Check out the NFP Draft Page here...