January 28, 2012 -
National Football Post
Who needs a strong Senior Bowl performance?
Who needs a standout performance today?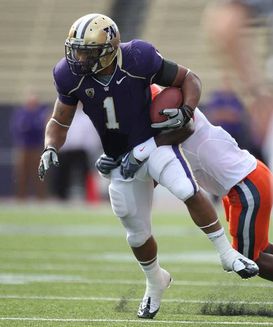 ICONPolk's skill set is best suited to shine during live action.
RB Chris Polk: Washington (5-11, 222)
If Polk is going to shine this week, during the game is where he has his best shot. He's not the most impressive of athletes. However, Polk showcases some short area quickness between the tackles, runs hard and can create through contact. We didn't really see his entire skill set on display this week during practice. Therefore, today is a big opportunity for him to gain some momentum as we head toward the NFL Combine.
WR Dwight Jones: North Carolina (6-4, 225)
Jones was washed out all week vs. press coverage and really had a tough time separating vs. man. Plus, he didn't look overly into practice throughout. Therefore, he needs to prove he's a guy who can still make plays down the field when going up to get the football, especially vs. a very average North cornerback group.
CB Josh Norman: Coastal Carolina (6-0, 190)
The standout at last week's East-West Shrine game was Coastal Carolina's Josh Norman, who turned his good performance into a call up to the Senior Bowl. However, he hasn't had any opportunities in practice this week to make any plays since he only arrived on Thursday. Therefore, this is a chance for him to hold his own vs. the top senior wide outs in the nation and prove he warrants a top-60 selection come April.
DT Billy Winn: Boise State (6-4, 295)
When he's able to win off the snap with his first step and quick hands, Winn can be very effective. However, too often this week he struggled to disengage from blocks through contact and wasn't a real naturally sudden athlete laterally. You can tell the skill set is there. However, can he create some negative plays inside today vs. a talented group of senior offensive linemen? That's the big question I'll be trying to answer this afternoon.
QB Kellen Moore: Boise State (6-0, 191)
He's undersized, isn't a great athlete and lacks ideal arm strength. However, Moore is simply a gamer. Therefore, it will be interesting to see how he's able to handle the talent of the South defensive line up front and if he can fit the football into some tight areas vs. an athletic secondary. Two areas that are both major concerns for him as a prospect going forward.
Follow me on twitter: @WesBunting
Check out the NFP Draft page here...