February 21, 2011 -
National Football Post
Who really are the best quarterback prospects in the draft?
So much has been made this draft about Washington's Jake Locker and the top three junior quarterback prospects — Cam Newton, Blaine Gabbert and Ryan Mallett — as all four possess the physical skill set to make all the throws at the next level. However, what I find a bit amusing is that whenever you talk about evaluating quarterback prospects with any kind of talent evaluator, one of the first attributes that always seem to come up is the "it" factor, as most will say it holds precedent over pure physical skill set.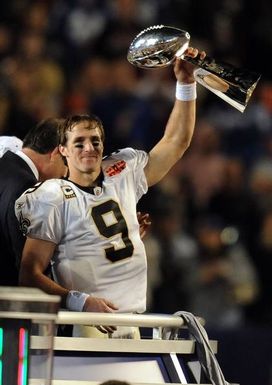 ICONYou want the "it" factor, look no further than Drew Brees.
In my view, the "it" factor is a combination of leadership, poise, intelligence, football instincts, work ethic, passion for the game, drive, winning attitude, willingness to compete and mental toughness.
However, at times, it seems like that's just talk when concerning the "it" factor, because when looking at Locker, Auburn's Newton, Arkansas' Mallett and Missouri's Gabbert — the four potential first-round QB's — all four have huge physical skill sets but also possess very questionable intangibles either on or off the field, which ultimately leads to questions concerning their "it" factor.
The concerns with the top four…
When speaking with scouts about Mallett, questionable character is the one concern that keeps popping up. One told me he had dirt on him that no one knows about — back in September — and that he doesn't trust the guy as a person off the field.
And from his overall demeanor and vibe I get from him on and off the field, I simply don't feel like he's the kind of quarterback I would trust leading my franchise.
Gabbert, on the other hand, is much cleaner off the field and I have not heard any concerns with his off the field character. However, when looking into his ability to lead on the field, I have heard from several sources he's not a real mentally tough kid at this stage, doesn't seem emotionally ready for the NFL game and in order to have a real chance he needs to be brought along slowly. A strong personality and tough skin are two musts for the QB position in the NFL and when I heard there is some "meekness" to Gabbert's game it was a quick turn off in determining if this guy could be an elite franchise quarterback in my view.
When dealing with Locker you have a clean prospect off the field as well. However, he also displays a questionable feel in the pocket and an inability to consistently quickly decipher information in the pass game. I have questions concerning his overall feel for the game and he doesn't strike me as a guy who with time will be able to develop into a real natural/instinctive passer in the NFL. Plus, add in the fact he's only 15-25 as a starter and those intangibles in my mind don't add up to warranting a first-round pick.
As for Newton and his off the field character, as I stated last week, some scouts I have spoken with say he comes off as a mature and well-spoken kid in the media, but it's all an act. In reality, he's a selfish, "me first" guy who eventually would have worn out his welcome at Auburn. On the other side, a lesser number of scout's have told me they think he's a smart, well-spoken kid who loves to compete and should not be lumped into the same categories as quarterbacks like JaMarcus Russell and Vince Young.
Therefore, when I get answers back like this and I myself don't have convictions in the guy as a franchise quarterback in the NFL, I can't rationalize giving him a first-round grade and see him more as a simply boom or bust prospect.
So with the concerns about the intangibles of each of the "top" four quarterbacks, all of whom could go in round one, where does that leave us?
Well, in my view, it leaves us where the strength of this quarterback crop really lies…the senior class.
The 2011 NFL draft features a number of instinctive, tough winners who have been through the battles, grown as leaders and as quarterbacks on and off the field. And despite not having the same top-tier physical skill sets as the aforementioned quarterbacks, in my view all seem like much better values later in the draft who ultimately could end up developing into better NFL quarterbacks.
The senior rundown…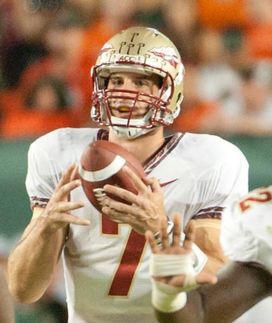 ICONIf Ponder can stay healthy, he's got a chance to be a very capable starting NFL QB.
Christian Ponder: Florida State
This is the one guy who I would go to bat for on draft day, as I think you can get a really good value on him following the first round QB shakedown. Ponder has battled adversity his entire career, but has shown the mental toughness and overall moxie to still come out ahead. When healthy, he's got a good enough arm to make all the throws at the next level, is an underrated athlete and simply gets it from the shoulders up. His tape in 2010 wasn't very good because of injuries and staying healthy in the NFL is the one major concern I have with him. But, he played better at the end of the year, has some very good tape as a junior and showed well at this year's Senior Bowl. He's one of the few quarterbacks in this year's draft who I have real convictions about concerning his chances in the NFL.
Ricky Stanzi: Iowa
At 6-4, 221 pounds, Stanzi has the frame to continue to fill out as he matures. He's going to get bigger, he's going to get stronger and because of that, his arm is going to naturally continue to get stronger as well. He possesses your prototypical Big Ten over-the-top throwing motion, is a better athlete than given credit for and really seemed to be in control of the offense in 2010. He cut down dramatically on his interceptions from 2009, is a real gym/film rat and with further development with his footwork and balance in the pocket, he could end up fighting for a starting gig down the line. He's an interesting guy to take a look at in rounds 3-4 because he has some upside with his physical skill set and you know he's going to do everything it takes Monday-Saturday in order to win for you on Sunday.
Andy Dalton: TCU
Dalton is another tough, gritty winner who possesses the ability to make all the throws and also is a sneaky athlete for the position. He led TCU to an undefeated season, has a good feel in the pocket, exhibiting the ability to keep plays alive and is a guy who his teammates really seemed to rally around. Even more impressive is the velocity he's able to generate outside the numbers when he drives off his back foot toward his target, displaying consistently on tape and at the Senior Bowl the ability to stick the deep out. Now, he does have some bad habits, especially with his footwork playing in the spread. However, he's certainly a gifted enough athlete to overcome them wi th time and is another hard-working kid who just "gets it" and will find a way to will himself into a successful NFL QB.
Colin Kaepernick: Nevada
I'm not nearly as high on Kaepernick as most and don't think I would draft him much before the mid/later portions of the draft. However, when comparing him to the "top" crop of quarterbacks, he's the one guy who physically has the skill set to match up. Plus, he's a winner, is clean off the field, possesses top-notch intangibles and I do think he has that "it" factor to his game. Now, he needs a lot of work from a mechanics standpoint, both concerning his throwing motion and footwork, which is the real reason I have such reservations about him. But again, investing in a guy like Kaepernick in rounds 2-4 is a much better value than getting a guy with a similar skill set in round one who doesn't possess Kaepernick's intangibles on or off the field.
Greg McElroy: Alabama
McElroy is the least physically talented of the senior bunch we're discussing, but he makes up for it with his poise, anticipation, instincts in the pocket and ball placement. I don't know if he has the kind of physical skill set you want in a starting NFL QB. However, he gets it. He's going to work hard for you, always be prepared and despite the fact I see him more as a very good reserve in the NFL, if he gets into the right system, I could see him fighting for time down the line. Nevertheless, I like him as a solid late round/ reserve type QB in the Jason Garrett mold.
Overall, I agree that Ryan Mallett, Cam Newton, Jake Locker and Blaine Gabbert are as physically talented as any quarterback in the class and if team wants to take a shot on an elite physically gifted quarterback early those are the four men to target.
However, I feel like the group of five seniors we discussed not only are better values and safer picks, but ultimately because they are winners, have a real poise about their game and in my view have that coveted "it" factor that so many talent evaluators "value", they will be better served in the long run and eventually turn out to be better NFL quarterbacks overall than the more physically gifted "top tier" prospects discussed earlier.