February 22, 2012 -
National Football Post
Who will light up the NFL Combine?
Looking at which prospects have the physical and athletic skill set to create a major buzz during the 2012 NFL Combine.

QB Brock Osweiler: Arizona State (6-8, 240)
Osweiler has the combination of size, athleticism and overall arm strength to really impress this week. He looks the part, can make all the throws and I expect him to be exceptional throwing vs. air. Now, his tape is inconsistent. However, with a number of the top quarterback prospects not throwing in Indy this week, Osweiler is the guy who has the skill set to steal the show and catapult his draft stock.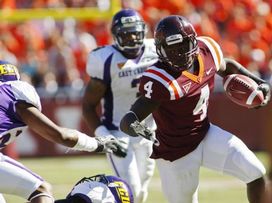 Wilson has "plus" top-end speed.
RB David Wilson: Virginia Tech (5-10, 205)
He's a former track guy with an explosive first step and "plus" top-end speed. Wilson should be able to put down one of the fastest 40 times at Combine and should be the fastest among the top five running back prospects, which would only boost his draft stock.

WR Joe Adams: Arkansas (5-11, 190)
In a wide receiver class starved for speed, Adams is the one guy who has the ability to really put down a fast time. Plus, he isn't just a linear guy and should test out well when asked to change directions. However, the guy has the ability to run sub 4.3 range and at a stopwatch position that is only going to help his cause.

WR Chris Rainey: Florida (5-9, 174)
We know Rainey is fast, but it will be interesting to see how fast. He was the one guy at the Senior Bowl who effortlessly was able to get behind defenders vertically down the field. Now, he's an undersized athlete who looks more like a situational guy only. However, he's got the speed to create big plays once he gets the football in his hands.

TE Orson Charles: Georgia (6-3, 241)
Charles is a former four-star wide receiver recruit who bulked up, maintained his athleticism and has the ability to really get down the seam. He looks like a high 4.5/low 4.6 guy and if he can prove he's got the straight-line speed to threaten NFL secondaries down the seam consistently, I think he could make a run at the back end of round one.

DT Dontari Poe: Memphis (6-5, 350)
To be blunt, Poe is simply a freak of nature. He's a massive man who carries his weight extremely well. He also showcases natural fluidity, coordination and power, and should be able to "wow" in just about every phase of his workout. You don't see linemen often with his size and overall athleticism, and ultimately I think this workout is what really starts to get his buzz going as we approach April.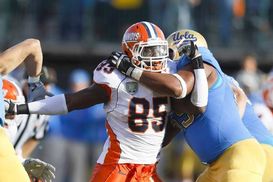 ICONMercilus is an impressive looking athlete.
DE Whitney Mercilus: Illinois (6-4, 265)
I have some concerns about his game. However, he's a tall, long, well-built defensive end who is going to run fast, jump high and exhibit an impressive combination of explosion and power. There is some tightness to his game, which will likely cause him to struggle when asked to change directions. But the guy is going to be impressive during the explosion and linear tests.

OLB Bruce Irvin: West Virginia (6-3, 245)
This will be the first time talent evaluators are going to see Irvin during the postseason process and I don't think he's going to disappoint. Irvin is an explosive kid who likely is going to run really well. And with the additional time to train for this event, I could see him looking very clean during linebacker drills and have his weight up in the 235-240 pound range.

CB Janoris Jenkins: North Alabama (5-10, 182)
Jenkins has the ability to run fast and keep his feet under him when asked to cleanly get out of his breaks. I expect him to look very natural during position drills and put up a "plus" 40 time, which should only further boost his draft stock.
Follow me on twitter: @WesBunting