January 12, 2011 -
National Football Post
Why all the Blaine Gabbert hype?
Over the past two weeks the one name you can't stop hearing come out of the mouth of just about any media source is Missouri QB Blaine Gabbert. He's now being discussed as a potential top-10 pick for the 2011 NFL Draft, and according to some could end up being the top quarterback off the board.
Now this happens from time to time, when a potential blue-chip caliber position player, like Stanford QB Andrew Luck, decides to stay in school. There is an automatic uproar about who is the next-best player at that position and he kind of just shoots all the way up particular draft boards because he's now considered one of the top quarterbacks in the country.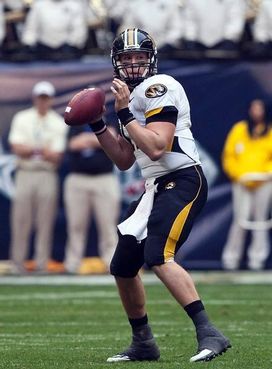 ICONGabbert still has a lot of developing to do.
Well, I wanted to see what all the fuss was about concerning Gabbert so I have taken the past two days to break down his 2010 season, watching closely his Illinois, Iowa and Oklahoma performances and here are my impressions…
QB Blaine Gabbert: Missouri, No. 11 (6-3, 235)
<p> A tall, well-put-together quarterback prospect who possesses good size and won't have any trouble seeing over the line of scrimmage at the next level. Is also a pretty smooth athlete for his size on the move, looks coordinated when flushed outside the pocket, can pick up yards with his feet from time to time and Missouri even ran some option football with him.
However, isn't nearly as coordinated in the pocket with his footwork. Struggles to keep a real compact and balanced base and too often gets too overextended with his footwork when trying to quickly get the ball out of his hands and transfer his weight from his back foot to his front. Doesn't look real comfortable getting the ball out on time from the gun in the underneath passing game and will have a major learning curve taking snaps and dropping from center. Also, has some wasted motion in his delivery, displays a slight wind up, which really takes away from his ball placement in the short passing game because of his lack of ideal timing. But, possesses a good mental clock and knows when the ball needs to come out.
Is limited to reading more of just one side of the field, isn't a guy who routinely is able to scan his way across the entire field and find his secondary options. Has a tendency to drop his eye level far too quickly if there is nothing on with his initial read and will flush himself easily from the pocket backward and toward the opposite side, instead of remaining balanced and stepping up into the pocket, which really takes away from his throwing options.
Possesses a strong arm, spins a clean football and has the ability to make all the throws. Looks a lot more comfortable in the intermediate pass game where he has time to get into his drop, hitch toward his target and get the ball out of his hands. Displays good anticipation skills when he knows where he wants to go with the football, exhibiting really good ball placement, especially throwing outside the numbers on some tough NFL-caliber throws.
Showcases natural arm strength on the move and has the kind of touch to drop bucket throws into the outstretched hands of receivers vertically. Also, does a nice job getting his eyes down the field once he breaks contain and can throw accurately on the run. However, he does get lethargic/sloppy with his footwork when he has to quickly set his feet in order to throw, consistently throws off balance and doesn't have a real compact throwing motion, which again takes away from his balance, causing passes to sail on him.
Overall, I see a big, strong-armed passer who can make all the throws and possesses above-average athletic ability for his size. He looks confident throwing on the move as well and can buy time with his feet if need be. However, he still has a lot of maturing to do mentally. He's only really asked to read one side of the field at this stage, will stare down initial reads and drop his eye level too quickly when nothing is there and doesn't have a great feel in the pocket when asked to step up. Plus, he isn't a real balanced or compact individual with his footwork and his overall throwing motion in any area of the game, causing him to struggle with his timing and overall accuracy, especially in the short-area pass game. Now, he does look much better making throws at the second level when he has more time to deliver the football and possesses good touch down the field, both on the move and from the pocket.
However, I think Gabbert would have been much better served to stay in school for his senior year and continue to mature. He's going to need time before he can develop into a consistent passer on all areas of the field in the NFL and as of now he earns nothing more than a potential dirty starter grade to me who is going to need time to learn the NFL game.
And for that reason I can't say I would feel comfortable taking this guy with a first-round pick mostly because he isn't a real balanced passer, drops his eye level too quickly and doesn't have a great feel in the pocket. Therefore, after watching him at length the past two days, he isn't a guy who I really have convictions on becoming a big-time NFL starter and think he's more of a boom or bust guy at this time.
Follow me on twitter: @WesBunting