January 09, 2013 -
Erik Oehler
Why All-Star Games can lead to mistakes in scouting
At this time of year while the NFL playoffs are going full speed ahead, the scouting community turns its attention to the numerous All Star Games around the country. While the Senior Bowl in Mobile, Alabama is clearly the most attended game and has the best prospects, every game has a number of interesting prospects that teams want to look at. There no doubt are many benefits to seeing players practice against the best, but these games also lead to a number of players being over-drafted. One of the lesser known aspects of the All Star Games is that NFL teams put more value in the padded practices that usually take place on the first three days of the week. Nearly all the NFL personnel leave the All Star Games after those three days of practice, so the practices actually carry more weight than the game.
Other than the Senior Bowl where nearly every team sends all their coaches and scouts, most All Star Games are attended by one or two scouts from each organization. Interestingly, there are usually three of four General Managers who attend practice for two or three additional. The weigh-in at these games gives teams a chance to get accurate measureables (Height, Weight, Hand, Arm and Reach) and body types for all the prospects, which is valuable because a number of colleges do not allow the Combine (National Football Scouting and Blesto) Scouts to measure players in the spring leading up to their senior seasons and players often gain/lose weight during the year since they have been measured. Additionally, teams use the time they have at these games to interview prospects and have them fill out paperwork/questionnaires/tests, so that they have all the background information necessary. While all of these things carry weight, watching the players practice gives NFL teams a chance to thoroughly evaluate a player's athleticism.
The first practices are usually a day or two after players arrive, so teams get a chance to identify how quickly a player can pick things up and practice without looking hesitant. At nearly every game there are a handful of players who stand out from the first practice and those that struggle from the get go. It is always interesting to see how small school prospects handle being thrown into the mix with all the players from big schools because they no longer are the big fish in a small pond and how they handle this is a great indicator of a player's confidence and ability to deal with uncomfortable situations. Since I began attending two or three All Star Games each January over a decade ago there have been numerous players who had great weeks of practice to help their draft stock and then never were able to replicate that success in the NFL. This also happens the other way when highly regarded prospects struggle during the week of practice and then come into the NFL and produce at the high level they did in college. Below are some examples of players whose play during week at the Senior Bowl influenced their draft stock and how they have produced in the NFL.
Andre Caldwell, WR, Florida: After flashing big play ability and elite speed at Florida, Caldwell came to Mobile viewed as a player with potential who had not been consistent enough to warrant a high pick. However, after a great week of practice where he caught every pass thrown his way, ran sharp routes and beat every cornerback over and over throughout the week, he made a move up draft boards. Unfortunately, while he has carved out a career as a backup receiver, he has never developed into the top end, big play receiver that his performance in Mobile had many people expecting.
Cordy Glenn, OT, Georgia: Having played guard and tackle at Georgia, Glenn was generally viewed as a high end guard prospect who would not be able to handle playing tackle in the NFL. He changed that belief almost immediately when he displayed the excellent foot quickness and athleticism, in the first practice, to prove he could handle playing left tackle. After three strong practices Glenn convinced most that he could play left tackle and did a good job as a rookie with Buffalo in 2012.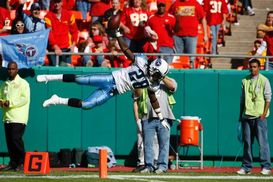 Titans' RB Chris Johnons launches himself into endzone.
Chris Johnson, RB, East Carolina: Dominating at East Carolina, many NFL scouts were excited to see if he would step up at the Senior Bowl. Oddly, he did not do badly or shine, but basically had just a "blah" week where he did not show the explosiveness and speed that had made him a big play back at ECU. Speaking to a scout on the flight out of Mobile we were both shocked at how he did not stand out, good or bad, all week. Obviously, the rest is history as he has become one of the best running backs in the NFL.
Alphonso Smith, CB, Wake Forest: Viewed a quick, play-making cornerback whose lack of size would limit him at the next level, Smith smashed the Senior Bowl. He was not only the best defensive back in every practice, but many felt he had the best week of practice of any player at the Senior Bowl that year. Clearly, things did not exactly work out for Smith as he was a second round pick and has struggled to become more than a backup cornerback so far in his career.
Chris Williams, OT, Vanderbilt: After making big strides during his senior season at Vanderbilt, Williams was viewed as a star athlete with great upside and potential. However, despite having first round athleticism, his play at Vanderbilt warranted a second or third round pick due to a lack of aggressiveness and consistency. Someone clearly got in Williams' ear before the Senior Bowl because he played with a nasty streak the entire week and looked like a definite star left tackle in the making. Now the Bears can only look back and think what if Chris had been able to play up to his Senior Bowl performance as they have been struggling to find a quality left tackle forever.

Email Russ at Russelllande@yahoo.com and Follow Russ on Twitter @RUSSLANDE