March 18, 2011 -
National Football Post
Why Blaine Gabbert's pro day doesn't mean anything
I feel like this happens every year. We get a big, strong, good looking quarterback prospect, put him in a pair of shorts, let him work on a throwing routine for weeks and than all come away thinking that he's the next big time franchise quarterback in the NFL.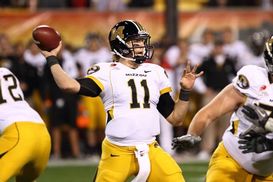 ICONWe know Gabbert can spin the football.
I'm not saying Missouri QB Blaine Gabbert is or isn't, but how does a pro day workout really get everyone so excited on a quarterback prospect? All you had to do was turn on the tape of Gabbert and it was obvious that the big signal caller was a strong-armed kid who could make all the throws and had the ability to spin a really clean football. You could tell on tape he was a good athlete for his size who can make throws on the move and create with his legs. And you could also tell on tape when asked to accurately deliver the football in the intermediate pass game he had the ability to do so. Physically, the guy certainly has the traits of a franchise quarterback.
So why is it a shock that Gabbert was so impressive during his pro day workout Thursday? This is the kind of environment where he is supposed to shine.
In my view the key to determining how good of a quarterback Gabbert can be in the NFL has nothing to do with his physical talents, but everything to do with his mental capabilities.
We know he's a good athlete and is coordinated enough to develop his footwork from under center, balance himself and get the football out of his hands quickly if he wants to put in the work, which honestly I think he will.
However, the biggest concern I have watching him on tape is his overall feel and instincts in the pocket. He's a guy who doesn't look real comfortable any time he feels a rush and fails to consistently step up and buy time for himself in the pocket. He also prematurely drops his eye level and will flush himself backward out of the pocket.
Now, he did come from a spread and it was more of a one-side of the field, two read offense and if those two guys weren't on he wasn't really asked to work his way back across the field. Nevertheless, he just doesn't seem to possess a real natural, instinctive feel in the pocket and that's something as a quarterback typically you either have or you don't
Consequently, his success in the NFL is in direct correlation with his ability to mature into an NFL offense and develop a better feel inside the pocket when he feels pressure. It has nothing to do with his physical skill set or ability to throw the football because we already know the guy has more than the necessary tools in the shed needed to do so.
So, in my mind hearing how Gabbert's pro day is going to really help his draft stock just doesn't make much sense because we already knew that the kid was physically gifted and that he's willing to work at his trade.
Therefore, until he exhibits that his instincts in the pocket improved, I still don't think he's much more than a potential dirty starter with some upside. But he's going to need to be brought along slowly and in my mind is more of a second round type value.