November 18, 2011 -
Barry Dorey
Why breaking down small school prospects is so tough
I got a chance this morning to breakdown some tape on Furman CB Ryan Steed. The 5-11, 190-pound defensive back is one of the top small-school prospects -according to some evaluators- in the entire draft and stock falls anywhere from the 3rd/6th round range depending on who you talk to.

When watching him on tape the first thing that stuck out to me about his game was the overall fluidity he possessed. He's got the ability to cleanly open up his hips, collect himself and change directions. Plus, he exhibits quick footwork, the ability to stay low when he doesn't have to turn and run and generates a solid burst initially toward the throw.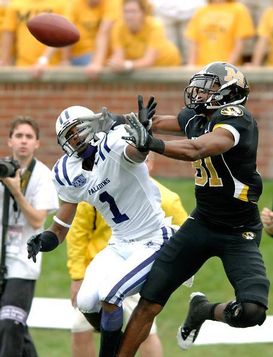 ICONSteed is consistently forced to play from behind.
On top of all that he locates the football well, exhibits "plus" balance and ball skills when asked to go make a play on the throw and will tackle in the run game.

However, this is where the concerns of Steed kick in and why evaluating a small-school corner is so tough, because there is so much room for projection that goes into the grade.

Steed isn't a real polished corner off the line. He isn't patient in his back-pedal, likes to prematurely open up his hips and side saddle his way into his drop. This forces him to routinely get upright when asked to turn and run, which takes away from his initial burst and ability to reach top end speed quickly down the field.

Now to his credit Steed does a nice job tracking the play. However, it's vs. quarterbacks who can't drive the football down the field and against receivers who don't run overly well. Therefore, even if he gives up a step vertically, typically the competition can't get the ball out there anyway. However, at the next level this is an area where he could instantly be exposed. One top of that, despite his solid initial burst, Steed doesn't look like a burner, even at the I-AA, level. He plays faster in tight areas, but looks more like a low 4.5 guy to me.

Therefore, we have a raw corner who struggles with pad level when asked to turn and run, and doesn't have elite make-up speed. Now, can you play corner in the NFL as a 4.5 guy? Absolutely. However, he's going to need to put a lot of work into his back-pedal and become a more technically sound corner as soon as possible. And when looking at his athleticism, flexibility and fluidity he obviously has the skill set to do so. However, this is where the projection comes in, as you have to determine just how hard this guy is willing to work and just how naturally he will he pick up the nuances of becoming a technically sound NFL corner.

The skill set, natural ball skills and production says he shouldn't have that much trouble. However, when you watch him on tape give up a number of steps vertically down the field vs. I-AA receivers, it makes giving him much more than a later round grade tough, because you're banking on him to significantly improve in an area that is a must for his success at the next level. Something he has yet to show on tape.
Follow me on twitter: @WesBunting
Check out the NFP Draft Page here...