December 22, 2011 -
National Football Post
Will Boise State have the most prospects drafted in 2012?
Taking a look at all the potential draftable prospects from the Boise State senior class…
Kellen Moore: Quarterback (6-0 191)
I see him more as a later round type pick/reserve only whose playing career will end up being closer to say a Koy Detmer type quarterback than a Drew Brees.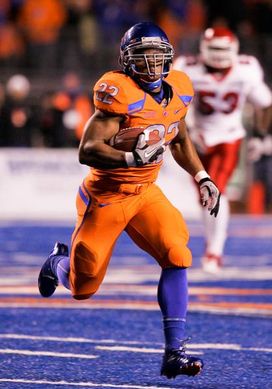 ICONMartin is like trying to tackle a bowling ball in the open field.
Doug Martin: Running Back (5-9, 215)
Martin isn't a dynamic size/speed back, but there aren't many negatives to his game as a back. He plays fast, runs low, is natural through the line of scrimmage and has a skill set somewhat similar to former Alabama RB Mark Ingram last year. He might fall a bit because he doesn't run overly well, but he has the skill set to start in the league.
Billy Winn: Defensive Tackle (6-4 295)
Winn is a bit of a tweener who will get looks as a 43 DE, a 34 DE and a 43 one gapping DT. I think he's best suited to play 34 DE as he has the power to anchor on the edge and offers some pass rush ability as well. Either way, the guy looks like a starting caliber defensive lineman in any number of schemes.
Shea McClellin: Defensive End/Outside Linebacker (6-3 258)
McClellin is a productive pass rusher with a big motor, good skill set and can get after the QB in a number of ways. Looks like a potential starter at the next level.
Nate Potter: Offensive Tackle (6-6 295)
Potter, in my book, is a poor man's version of former Boston College LT Anthony Castonzo, as he has the talent to earn a starting job in more of a zone scheme, but is going to need a year or two before he's ready physically to mature into the player he's capable of becoming.
George Iloka: Strong Safety (6-3 216)
Iloka is a tall kid with solid balance for his size and has some natural athleticism and pop. However, he isn't a guy who can quickly re-direct and close on the football in the deep half. He needs to play with his hands on defenders, but is a more coordinated strong safety than say Seahawks starter Kam Chancellor and he could start at the next level.
Tyrone Crawford: Defensive End (6-4 276)
I like his skill set. I think he's going to get better as the year goes on and he has the ability to be a solid three down lineman with some time. He isn't there yet, but as a prospect Crawford has some real upside and the blue collar pass rushing mentality that I like.
Follow me on twitter: @WesBunting
Check out the NFP Draft page here...