October 09, 2013 -
Jason Cole
Worthy of Canton?
There is one person on the Pro Football Hall of Fame ballot that always troubles me. Every time I read his name, I stop for a second to consider it and I'm left with this troubled feeling. I had the same reaction before I was a voter and it continues now. It got worse on Tuesday night as I watched Frontline's "League of Denial" special on the NFL and concussions.
That person is former NFL Commissioner Paul Tagliabue, who is on the ballot again this year as the Pro Football Hall of Fame cuts its list from 125 to 25 eligible candidates by Nov. 1.
Tagliabue's legacy is complicated. From 1989 to 2006, he presided over unparalleled growth in the league. He negotiated the Collective Bargaining Agreement that has served as the blueprint for melding free agency for players with financial growth for the owners. The league went from 28 to 32 teams and is the most powerful sports enterprise in the country, if not the world.
From a social standpoint, Tagliabue took a stand in 1993 against Arizona after the state refused to recognize the Martin Luther King holiday. He took the Super Bowl away from Arizona. He also made the wise decision not to play after the Sept. 11 attacks and later helped keep the Saints in New Orleans.
But there is also a side to Tagliabue that makes you wonder. It's a combination of his dismissive style, his sometimes questionable strategy and his seeming ability to borrow on the worst ideas of John Stuart Mill.
That comes across in the brief comments Frontline used in the documentary. In 1994, Tagliabue tried to downplay emerging concerns about concussions.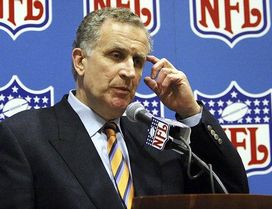 Does Paul Tagliabue deserve a spot in the Hall of Fame?
"Concussions, I think, is one of these pack journalism issues, frankly," Tagliabue said. "There's no increase in concussions and the number is relatively small."
From there, Tagliabue set in motion the course of the NFL's strategy for the better part of the next two decades. He established a medical committee, led primarily by doctors who tried to affirm what Tagliabue was saying rather than take an open-minded approach to the issue.
In the process, what you have is a problem that has lingered and ultimately made the league look like, in the words of U.S. Congresswoman Linda Sanchez, "Big Tobacco."
Or, as the saying goes, the cover up is always worse than the original crime.
What Tagliabue did was classic lawyering, but it wasn't good governing. It wasn't the type of leadership that creates trust between management and labor. It wasn't caring for the men who put their bodies on the line to entertain fans and fill the pockets of owners and coaches.
Yes, players get great economic return, as well. But that doesn't justify the idea of suppressing information.
And yes, the information might have hurt the game. The point is repeatedly made that mothers might see this information and keep their children from playing. Maybe, but that seems unlikely in the grand scheme of this country. Football is king in this country. It is a wonderful sport that, like many activities, has risk.
If the point in all of this is to eliminate risk, there are lots of activities that should fall by the wayside. From rock climbing to skydiving to boxing.
However, like those other activities, football has value. It can teach courage, determination and teamwork, qualities that are vital to society.
Moreover, if Tagliabue had taken a more open approach to getting information on concussions, it might have created faster progress. Maybe it would have led to quicker implementation of the ideas current Commissioner Roger Goodell is trying, such as the league's Heads Up program and many rule changes.
Instead of trying to protect his workers and others who played the game at the risk of losing a few dollars, Tagliabue sought to squelch information and discussion. His attitude was despotic and narrow-minded.
Is that worthy of being in the Hall of Fame? Should Tagliabue be celebrated with a bronze bust in the same room with men who threw caution to the wind to play a game they loved when he was unwilling to risk himself?
Should Tagliabue take his place next to a man like Mike Webster, whose tragic story of mental deterioration is the launching point for Frontline's special? Webster's life fell apart at the same time that Tagliabue played out his strategy.
As you might imagine, the question has become rhetorical.
Follow Jason on Twitter: @JasonPhilCole