January 21, 2014 -
Dan Pompei
A different blueprint
It is probably not the optimum way to assemble an NFL roster. But if you're looking for a reason why the Seattle Seahawks are arguably the toughest collection of SOBs in the league, consider this: Of the 53 players on the roster for Sunday's conference championship game victory, 21 originally entered the NFL as undrafted free agents.
That's a lot of players who came into the league hungry, desperate and motivated to prove themselves.
And, judging from the way the Seahawks play the game, they've pretty much stayed that way.
"There are a lot of guys here who had to battle for every inch, at every step of the way, to even have an NFL career," acknowledged wide receiver Doug Baldwin, an undrafted free agent from Stanford in 2011 and a guy who has authored more than his share of big plays for the Seahawks (including on Sunday) in three seasons. "You don't forget that; it sticks with you, OK? You take nothing for granted."
It would be unseemly to suggest that the NFC champions, who will contend for the franchise's first Super Bowl title in two weeks, are just a collection of spare parts and retreads and players no one else wanted. You know, a pack of mutts. But the Seahawks seem to take some satisfaction, perhaps even pride, in the reality that their roster does not possess the highest-level of collective pedigree. Maybe it's not exactly a badge of honor for the Seattle players and coaches, but they certainly wear the mantle of underappreciated with a borderline swagger, even a chip on their shoulder pads.
And while the us-against-the-world (and against the odds) mentality can be brusque and overbearing and unrefined at times – witness the barely coherent ramblings of star cornerback Richard Sherman after Sunday's victory over the 49ers – it's who the Seahawks are. They are, as personified by Sherman, rapid and rabid at the same time. No one dare ever call them dogs. But underdogs who have risen above mongrel status? Well, it doesn't seem the Seattle players mind that very much at all.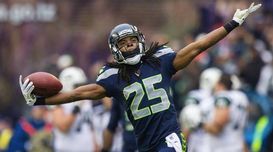 153 players were selected before All-Pro cornerback Richard Sherman during the 2011 draft.
Said defensive end Chris Clemons, whose itinerant resume in the NFL belies what a good player he has been, but who entered the NFL undrafted in 2003: "It's like so many of us have been through all the other (stuff), pressure doesn't really get to us very much. We have a lot of players who were kind of unwanted. Not drafted, traded and cut, or whatever. You always feel like you have to prove yourself, no matter how long you've been around."
Purposely or not, head coach Pete Carroll and general manager John Schneider, whose roster includes just a handful of players who were employed by the franchise before they arrived together in 2010, have made the club a kind of daily proving ground. Their shared blueprint for success four years ago might not have been to take a wrecking ball to the former model but, wittingly or otherwise, they have. They not only expect competition, it's almost as if they demand it. "They make you earn your keep," Sherman told NFP earlier this season.
The popular term in foreign policy is nation-building. The popular notion with the Seahawks is roster-building. And that comes from building character. And that really is derived from not making things easy. It's also notable that the Schneider-Carroll regime has utilized virtually every manner of personnel acquisition at its disposal. Under the tandem, the Seahawks have made big trades and little trades; claimed guys, including a few starters, on waivers; signed veteran free agents, and, of course, attempted to draft well.
In fact, since arriving in 2010, Schneider has made over 900 personnel moves.
Some of the gambits have worked beyond expectations. Others, like the additions of wide receivers Sidney Rice and Percy Harvin, have been busts. "But the thing you have to admire most about them," said one rival NFC personnel chief, "is that they just keep trying. They're not afraid to put their hands over the stove again, even if they got burned a little the last time. Give them credit for their conviction. They don't worry a lot about what other people think."
That was evident when Carroll turned the starting quarterback spot over to Russell Wilson, the undersized (not even 6 feet tall) third-round rookie in 2012. Despite all the concerns about Wilson, he's been a winner and answered back the critics. And he is hardly the only one on the Seattle roster.
Besides the 21 undrafted guys, there are 16 players who originally were drafted after the third round. That means nearly 70 percent of the players who were on the roster Sunday were taken with what now would be the equivalent of third-day picks or not chosen at all in the draft.
Just consider the secondary, the self-styled "Legion of Boom," and probably the most conspicuous (in part because of Sherman's verbosity) unit on the team: There were eight secondary players who dressed for and participated in Sunday's game, and just one of them, first-round free safety Earl Thomas, was chosen before the fourth round. Two of them came into the NFL as undrafted free agents.
Of the 13 defensive backs employed by the Seahawks, counting all of the league's various reserve lists, six were undrafted free agents. It has created a tough-minded, scrape-for-everything paradigm, one that extends throughout the roster.
Truth be told, the Seahawks are kind of like the Frankenstein monster of football teams: a piece from here, another from there, a jerry-rigged contraption of sorts. And just like Frankenstein, they're pretty scary, which is how they like it.