October 20, 2010 -
Dan Pompei
A tale of two GMs
The trade of Marshawn Lynch told a story of two general managers.
John Schneider, the new Seahawks general manager, first expressed interest in Lynch around draft time. The Bills weren't interested in moving him then. But Schneider never stopped calling. "I just kind of kept bugging the crap out of them," is how Schneider put it. Finally, two weeks ago, the Bills relented and shipped Lynch to Seattle for a fourth-round pick and a sixth-round pick that could become a fifth rounder.
Ted Thompson, the Packers general manager, meanwhile, had been under pressure to acquire a running back who could help offset the loss of Ryan Grant. Lynch seemed like a natural solution. Aaron Rodgers even called for the team to acquire his former college teammate. But Thompson resisted the temptation to give the Bills more than what he thought Lynch was worth.
The Seahawks shook up their offense. The Packers stayed the course. And their actions were very much in line with their organizational philosophies.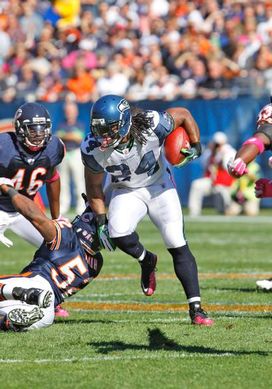 ICONNew acquisitions like Lynch have made the Seahawks more competitive both internally and externally.
What's interesting is not only did Schneider and Thompson work together for a decade, but they also both are disciples of Ron Wolf.
Schneider may be more like Wolf philosophically, as Wolf was known as one of the only GMs who was willing to wheel and deal during his time with the Packers. "When I got started in Green Bay, the framework of the system was very different from what it is today," Wolf told me. "But my approach in Green Bay was always try to get better. If player X couldn't play, I'd get player Q. If he couldn't do it, it was on to player U."
Since taking over the Seahawks in January, Schneider has made a staggering 215 roster moves. Among those moves have been 13 trades. Only 24 Seahawks remain from the pre-Schneider era. There are 11 players on the roster now who weren't with the team before the season began.
"John was always a go-getter," said Wolf, who is enjoying retirement in Green Bay and Florida. "Ted has been very successful the way he's done it. He built a team that went to the Super Bowl in Seattle. He has a track record. John doesn't have a track record yet."
Indeed, Thompson was named the George Young executive of the year after the 2007 season. He has built one of the most talented rosters in the league, mostly through the draft.
Schneider has made moves at a breakneck pace in part because he is just starting. He's trying to get pieces to fit Pete Carroll's offensive and defensive systems. He acknowledges he's not going to be making moves like this for long.
"Early on when Ron Wolf got to Green Bay, we did a lot of things until we got that core of guys going," Schneider said. "Then it was a little here, little there. You want to get to the position where you can show the patience Ted has when you have a good core of players."
Really, the actions of Schneider and Thompson reflect where their organizations are as much as they reflect the histories of philosophies of the two men.
Schneider was thrilled to have acquired Lynch, who helped the Seahawks win a game Sunday in Chicago. Thompson probably would have liked to have had him too, but he's more content to have his draft picks in place for next April.
Dan Pompei covers pro football for the Chicago Tribune at chicagotribune.com.