May 09, 2012 -
Dan Pompei
All-undrafted players team
Editor's note: This column originally appeared in Dan Pompei's "Sunday Blitz."
Not every NFL prospect with potential gets his name called during the draft. Here are my best players who did not get drafted.
Quarterback—Kellen Moore, Boise State. The two gifted but undersized quarterbacks in this draft were Moore and Russell Wilson. One was undrafted, the other was a third round pick. Moore is an outstanding quarterback with a great feel for the game and spot-on accuracy—he's just small, and he lacks arm strength. There is a chance he could develop in Detroit under Scott Linehan and at least become a serviceable NFL backup.
Running back—Chris Polk, Washington. He is a good fit for the Eagles offense and should be a fine backup to Shady McCoy. Polk was a third round talent according to scouts I talked with. He slipped because of injury concerns.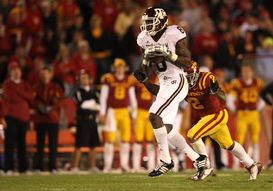 ICONJeff Fuller should find a role with the Dolphins.
Wide receiver—Jeff Fuller, Texas A&M. He was one of the higher ranked players coming into the 2011 season. Two front office men told me last fall Fuller was a first round talent. He didn't play as well as a senior as he did as a junior. He had a poor senior Bowl. Everybody got down on him. But it's still crazy that he was undrafted. It will be a surprise if he does not stick with the receiver-poor Dolphins.
Wide receiver—Dwight Jones, North Carolina. His size and ability would have merited a day three pick without a doubt. Jones went undrafted in part because he doesn't play with a lot of urgency and runs sloppy routes. If he turns it up, he can make the Texans.
Tight end—Emil Igwenagu, Massachusetts. Igwenagu's workout hurt his stock, so he went undrafted and signed with the Eagles. He isn't much different from a number of the hybrid H-back/tight end/fullbacks who were drafted.
Offensive tackle—Matt Reynolds, Brigham Young. He went undrafted in part because he will be 26 soon, but being old didn't hurt Brandon Weeden. NFL teams were split on if Reynolds, a left tackle in college, is a tackle or guard in the pros. The Panthers may move him inside.
Offensive tackle--Josh Oglesby, Wisconsin. His injury history hurt his draft stock, as did his lack of athleticism. But Oglesby has great size and plays very aggressively, so he could develop for the Redskins.
Guard—James Brown, Troy. The Bears will move this college left tackle to guard. Brown was considered a fourth round talent by some teams, but he is raw and has some off field issues.
Guard--Markus Zusevics, Iowa. He might have gone in the fifth or sixth round had he not torn his pec muscle at the combine. Once he gets healthy, Zusevics can become a decent blocker in New England.
Center—Michael Brewster, Ohio State. He was probably the most surprising player who did not get drafted. Brewster had a solid third round grade and played a position at which only four players were drafted. It would not be surprising to see Brewster become a starter for the Jaguars.
Defensive end—Brandon Lindsey, Pittsburgh. He will be a 3-4 outside linebacker for the Steelers, but 4-3 teams considered him a D-end. Lindsey is a talented but inconsistent pass rusher. He didn't play very physically, and that scared off some teams.
Defensive end—Donte Paige Moss, North Carolina. Almost all of the defensive ends with potential were drafted. Paige Moss is a good athlete with NFL talent. The final straw for Paige Moss was acting the fool at the combine. But the combination of character concerns and a blown out ACL did him in. His decision to leave school early was baffling.
Defensive tackle—Tydreke Powell, North Carolina. He is big enough and plays hard enough to make it as a wave tackle for the Vikings. He won't give them much in the pass rush department though.
Defensive tackle--DaJohn Harris, Southern California. A heart defect that was discovered at the combine might have cost Harris, who signed with the Titans. His size, hand usage and get-off all would have suggested he would have been worthy of a fifth or sixth round pick.
Middle linebacker—Jerry Franklin, Arkansas. He gets the nod over Vontaze Burflict. Franklin is a pretty good lateral player who makes plays outside the box. He is not the most physical player, so he was undrafted. He signed with Denver.
Outside linebacker—Sammy Brown, Houston. His sack production and high motor would suggest he should have been drafted. His struggles with diagnosing and shedding left him undrafted, but signed by the Rams.
Outside linebacker—Tyler Nielsen, Iowa. The Vikings might not have gotten a future starter on defense, but they might have signed a player who can give them a shot of adrenalin on special teams.
Safety—Aaron Henry, Wisconsin. In a weak safety class, it's puzzling how he didn't get drafted. Henry, who signed with the Raiders, is a physical box safety who could make it if he is allowed to play to his strengths.
Safety--Janzen Jackson, McNeese State. The Giants rolled the dice on this gifted problem child. Jackson can play center field or cover in zone effectively, and he has ball skills. If there were no concerns about his behavior, he easily would have been picked before the third day.
Cornerback—Chase Minniefield, Virginia. He is a fourth round talent as a zone corner, but the Redskins were able to sign him as a free agent because he had a knee problem.
Cornerback--Ryan Steed, Furman. This Jets signee could make it as a fourth corner. The problem with him is teams couldn't decide if he was a corner or safety, and he did not help himself at the combine.
Kicker—Carson Wiggs, Purdue. The Seahawks picked up a kicker with a big leg who could have been drafted late.
Punter—Drew Butler, Georgia. Some rated him as the best punter in the draft, but he signed with the Steelers as an undrafted free agent.
Follow me on Twitter: @danpompei