December 01, 2010 -
Dan Pompei
An early look at the Hall of Fame candidates
We are down to 26 semifinalists for the Pro Football Hall of Fame. At most, seven will be inducted. But before we find out who the seven are on Feb. 5, the list of 26 will be pared to 15 in the coming months by a secret ballot.
Going from 26 to 15 (not including senior candidates Chris Hanburger and Les Richter) isn't as easy as it may appear for myself and the other 43 people on the board of selectors.
A primary concern is there remains a terrible imbalance of offensive inductees to defensive inductees that needs to be pecked away at. Not including pre-modern era performers, there are 113 offensive players in the hall compared with 69 defensive players.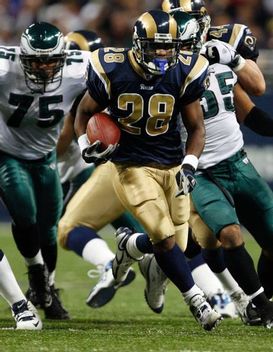 ICONThis man could be a first ballot Hall of Fame inductee.
And there is a threat of the imbalance becoming more pronounced this year. Many people seem to consider running back Marshall Faulk a rubber stamp inductee as a first time eligible. Either running back Curtis Martin and running back Jerome Bettis, or even offensive tackle Willie Roaf also are possibilities as first time eligibles.
Plus, there are five offensive players who are returning finalists—receivers Tim Brown, Cris Carter and Andre Reed, tight end Shannon Sharpe and center Dermontti Dawson. There is a strong case to be made for each player. It would be shocking if any of the five didn't make it to the final 15.
The presence of another first time eligible, Deion Sanders, makes it likely that at least one defensive player will be inducted. But Sanders may not be a slam dunk even though he probably was the best pure cover corner in modern history. He certainly has had his detractors through the years, and he has been criticized for his disinterest in tackling and his showboating.
Aside from Sanders, the best hope for more defensive inductees probably is with a strong group of pass rushers. Returning finalists Richard Dent, Charles Haley and Cortez Kennedy, as well as Chris Doleman and Kevin Greene all are worthy of making it to the final 15. The problem is they could take votes away from one another if a number of them make it that far.
Two other cornerbacks also made it the semifinalist group, but if either Lester Hayes or Aeneas Williams makes it to Canton this time around, it will be a surprise.
Both could be casualties of the cutdown to 15, as could punter Ray Guy, mostly by virtue of the position he played, and running back Terrell Davis, by virtue of the shortness of his career. There is a case to be made for both, however, as Guy is commonly thought of as the greatest punter ever and Davis was as good as you can be for three years.
Five contributors made the list of semifinalists, and it is unlikely five will make it to the finalists. It's always difficult to compare contributors to candidates who played, and with this group, it's even difficult to compare most of them to each other. There is one commissioner (Paul Tagliabue), one general manager (George Young), one founder of NFL Films (Ed Sabol) and two owners (Art Modell and Eddie DeBartolo). What's more, there also is a former coach in Don Coryell.
It won't be surprising if three or four from that group does not make it to the final 15, though there seems to be some momentum for Sabol and DeBartolo, and Coryell was a finalist last year.
The road leading to Canton is going to be an interesting one.
Dan Pompei covers pro football for the Chicago Tribune at chicagotribune.com.