October 03, 2013 -
Dan Pompei
Another candidate enters the discussion
Raise the subject of the NFL's best cornerback, and the names of the usual suspects – Darrelle Revis of Tampa Bay, Seattle's Richard Sherman, Antonio Cromartie from the New York Jets, perhaps Johnathan Joseph of Houston, among them – typically are mentioned. But with the way Aqib Talib has played through the first four outings of the 2013 season, the New England corner could be in the discussion as well.
Coaches, teammates and even some opponents certainly agree that he belongs on the short list right now.
"He's played great," Patriots' nickel cornerback Kyle Arrington assessed of Talib's performance at the quarter-pole of the Super Bowl race. "Everything is coming together for him. When he came in (last season), we knew he was good. But he's taken it up another level right now. Lately, he's been something else."
That "lately" includes the Patriots' 30-23 victory at Atlanta on Sunday night, a win in which Talib registered two tackles, four passes defensed and an interception. To culminate an otherwise brilliant outing, Talib knocked away a potential game-tying fourth-down pass intended for Falcons' wide receiver Roddy White in the end zone with 35 seconds remaining.
On the play, with White running a shallow crossing route from the right side of the formation, the New England coverage bracketed tight end Tony Gonzalez (who had 12 receptions and seemed the most logical target for Matt Ryan) and also double-teamed wideout Julio Jones. That left Talib alone on White, who has been hampered by a high ankle sprain this season but remains a solid option, and the sixth-year vet answered the challenge.
"Those kinds of situations are what you want," said Talib, who was flagged for a dubious, 38-yard pass interference call while covering White, afterwards. "It's just you and him and let's find out who the better guy is on that play."
Through the first four games of a season in which he is tied for the NFL lead with four interceptions, including thefts in each of the past three games, Talib mostly has been the better man -- on and off the field.
A first-round choice of Tampa Bay in 2008, Talib has experienced his share of off-field problems and legal entanglements since the Bucs made the former Kansas standout the 20th overall selection that year. In 2012, he was suspended by the league for a violation of the substance abuse policy. The suspension likely prompted the Nov. 1, 2012 trade to the Patriots in which he and a seventh-round pick were dealt for a fourth-round pick. At this point at least, the deal definitely would be considered a monumental heist for the Pats.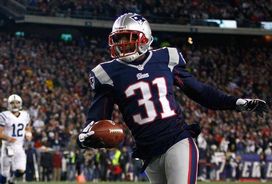 Talib is currently tied for the NFL lead in interceptions, with four.
Talib, 27, has stayed away from trouble, by all reports been a model citizen, and worked hard in New England. Coach Bill Belichick has lauded his practice and study habits – not coincidentally, his last name translates from Arabic to "the student" – and acknowledged the cornerback has "done a good job for us since he's been here." Quarterback Tom Brady has termed him a "positive influence." Said Belichick: "This year, beginning in camp, he's been very good right from the start."
Strong starts are nothing new for Talib, who notched the first of his 23 career pickoffs in only his second NFL game. In his first season with the Bucs, he had four interceptions, then five in 2009, and then six a season later. In his first start for the Pats, last Nov. 18, he turned an interception of Indianapolis quarterback Andrew Luck into his fourth career touchdown, with a 59-yard return.
In his first 11 starts in New England (counting two playoff games last year), the Patriots' defense has surrendered 263.0 passing yards per game. If that doesn't seem particularly impressive, consider this: Over the same stretch, without Talib in the starting lineup, the Patriots allowed roughly 25 more yards per game. On his first man-coverage assignment on Sunday night, Talib exploded to the ball and deftly flicked a pass away from Atlanta star Julio Jones on a third-down play.
Said Jones, who at one point complained to officials about Talib's physical play: "He's got good size (6-feet-1, 205 pounds), and he uses it, and he gets his hands on you and uses them well, too." Talib allowed that the early play, on which Jones seemed open for a first down, "gave (him) a lot of confidence."
It's a quality he hasn't lacked this season.
There were some concerns about durability in Tampa, where thigh and hip injuries sidelined Talib for 25 games in five seasons there. But he has played all but one of the Patriots' 269 defensive snaps in 2013, and the physical issues seem behind him.
The New England coaches generally don't flip Talib from side to side to match him up with the opponent's top receiver. More often than not, though, Talib and Jones battled one another on Sunday evening. Jones' stats for the game, six catches for 108 yards, clearly were misleading. He totaled nearly half the yardage on an acrobatic, 49-yard reception against New England right cornerback Alfonzo Dennard on a grab that led to Talib's last-minute heroics. In the first three quarters, working primarily against Talib, Jones, who entered the game tied for the NFL lead in receptions, had just three catches for 22 yards. His longest reception against Talib in the first three quarters was for 16 yards, and two of his catches were for five yards or fewer.
"Against those (Atlanta) guys, as big and physical as they are, you've got to use your hands," said Talib, who is physical enough to have once collected 64 tackles in a season. "You push and they pull. And they push and you pull. You have to be as physical with them as they are with you. And part of that is legally getting your hands on them."
Chances are that some team will want to gets its hands on Talib next spring if he makes it to unrestricted free agency. He is playing on just a one-year contract worth about $5 million, a bargain price anymore for a cornerback with his skills-set. There is a suspicion that New England could attempt to sign him to an extension before he gets to the open market -- even though the Patriots seem a little more wary about such extensions in the wake of the Aaron Hernandez fiasc0,--but Talib hasn't really thought much about that, he said.
The Pats haven't thought about life without Talib, either, but no less an authority than Brady suggested he should be a priority.
"I love having Aqib on the team," Brady told a Boston-area radio station this week. "I go against him every day. I know how hard it is. He's got a unique combination of size and speed and ability to play the ball in the air. His length is such that, I know when I throw the ball in practice, he's just so hard to throw over the top of, because of his reach, his wingspan, his ability to play the ball at its highest point. And when you make a mistake, he makes you pay."
Indeed, whether it's New England or another team, someone is probably going to pay big for Talib next spring if he continues to play at his current level.