October 13, 2010 -
Dan Pompei
Big Ben brings balance
Last season, the Steelers offense was out of balance.
Too much pass, not enough run.
This season, the Steelers offense has been out of balance.
Too much run, not enough pass.
Ben Roethlisberger's return on Sunday in Pittsburgh should bring equilibrium to the Steelers universe.
Last year, the Steelers offense was too reliant on the pass because the Steelers couldn't run. Now they can run. They haven't been able to pass in the first four games because they have been missing Roethlisberger.
"Ben can give us a lot more balance on offense," Steelers running back Rashard Mendenhall told me. "When you have a dynamic player like Ben, there is a lot more the defense has to account for. We'll be able to do a lot more on offense. It will help the pass obviously, and it will help the run. You can catch them off balance more easily now if you have two dimensions. You can back off the safety too."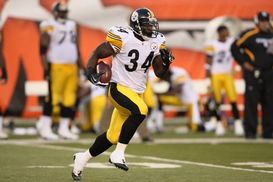 ICONThe return of Roethlisberger should make Mendenhall an even better runner.
It might take Roethlisberger a game or two to get into the flow after serving his suspension. It helps that he's had two weeks to practice before his first game. Even if he is rusty, Roethlisberger's presence alone should make the Steelers offense more potent than it was with Charlie Batch and Dennis Dixon.
That Roethlisberger will perform well eventually is almost a given considering he had a 91.7 career passer rating, two Super Bowl victories and 22 fourth quarter comebacks on his resume. How could he not improve a passing game that ranks 32nd in the NFL with 136 yards per game?
Defensive coordinators, starting with Cleveland's Rob Ryan Sunday, will have some interesting choices to make. Will he game plan for the Steelers as if they are a running team? Or will he take his chances on Mendenhall beating him and keep two safeties back?
If Ryan is more concerned with the passing game, Mendenhall appears ready to make him pay. He has averaged 4.6 yards per carry and 102.8 rushing yards through four games. Mendenhall came into his own last year, his second out of the University of Illinois. But this year he appears to have taken his game to another level.
"I think I'm running better, naturally, having some experience," he said. "I'm feeling more comfortable. It's coming more naturally. There is a comfort level, you get a feel for things. There is less thinking, more reacting. Moves come easier, cuts, things like that."
Mendenhall has given the Steelers a nice blend of power and speed. He has 13 carries of 10 yards or more, which is sixth best in the NFL according to Stats. And he also has broken seven tackles, more than any player except Chris Johnson of the Titans.
"The power game is coming, and I always want to make big plays too," Mendenhall said. "That's something I take pride in."
The Steelers need Mendenhall to play like this. They were never comfortable being a pass-first team. It's not in their DNA. They want to run the ball, play good defense and pass when necessary.
With Roethlisberger back, and with Mendenhall firing on all cylinders, and with a 3-1 record, this team should be very capable and very confident.
Dan Pompei covers the NFL and Chicago Bears for the Chicago Tribune at chicagotribune.com