February 09, 2011 -
Dan Pompei
Breaking down the Hall of Fame voting
The 44 board of selectors for the Pro Football Hall of Fame had a meeting Saturday in Dallas that pushed eight hours and was both grueling and invigorating. Veterans on the committee were saying it was the most difficult vote anyone could remember.
I think we came up with a strong Hall of Fame class, though we undoubtedly left some worthy candidates and future Hall of Famers on the outside. Among the tough cuts were Dermontti Dawson, Cortez Kennedy, Curtis Martin, Andre Reed,Willie Roaf -- all of whom made the final 10. I think there is a good chance each of these men will be inducted, and soon.
That's the most difficult part of being a selector. It's easy to say Player X should be a Hall of Famer. It's a lot more difficult to say Player X belongs ahead of Player Y. Or in this year's case, we had to say Player X may be a Hall of Famer, but he shouldn't go in before Contributor X.
Contributor X was Ed Sabol. We spent more time discussing the merits of the NFL Films pioneer than we did discussing anyone else. The discussion, to my interpretation, wasn't about Sabol's contributions to the NFL. There is no question the man has left large footprints all over the league. The discussion, both directly and indirectly, was about whether it made sense to induct a contributor with unique qualifications ahead of a player.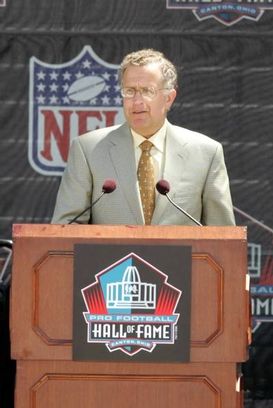 Contributors such as Paul Tagliabue have a difficult road to the Hall of Fame under the current rules.
The contributor versus player debate is always a difficult one. But usually the contributor we are talking about falls into categories where there is precedent. Either he is a coach, such as Marv Levy (in) or Don Coryell (out), a commissioner, such as Pete Rozelle (in) or Paul Tagliabue (out), a general manager such as Jim Finks (in) or George Young (out), or a team owner such as Ralph Wilson (in) or Art Modell (out). The board of selectors never before had the conundrum of whether or not an Ed Sabol should be inducted because there isn't another Ed Sabol. Never has been. Never will be another, I don't suspect.
But how can Sabol's impact on the NFL be measured compared to, say, Andre Reed's impact on the NFL? The answer is: it can't be. And really, we as selectors are put in an unfair position to have to try. I think, to some degree or another, almost all of the selectors were conflicted about Sabol. Most thought he belonged in Canton. But did he belong at the expense of Cortez Kennedy, for example?
What many of us would like to see is for the Hall to set up a separate category for contributors. The argument against a separate category is the Hall does not want to dilute the quality of inductees by adding more. It's a good argument, and it has been made by the fine stewards in Canton who run the Hall of Fame. Let me just say these men do nothing without thorough thought and debate. Changing how contributors are inducted will not happen unless they are convinced it should.
So maybe every other year, instead of having two nominees from the seniors category, you could have one senior nominee and one contributor nominee. I'm not crazy about taking away a senior candidate every other year, but this would keep the total number of inductees the same while keeping each of the Hall candidates in their own lane. It's probably a tradeoff worth making.
There are other contributors coming down the pike we will have to deal with, though none like Sabol. Among them are Tabgliabue, Eddie DeBartolo, George Young, Ron Wolf, Bobby Beathard, Bill Parcells and Jimmy Johnson.
Voting in Sabol may have been a signal that under the current system, the board of selectors intends to give contributors their due, even if it comes at the expense of players.
Fewer players inducted would not be a good thing. Then again, ignoring contributors is not a good thing either.
Interested in knowing more about the business of sports? Check this out.
Dan Pompei covers pro football for the Chicago Tribune at chicagotribune.com.