August 14, 2010 -
Dan Pompei
Building a head coach
If I could create the perfect head coach, I would borrow from these Super Bowl coaches (limiting it to those I have been around).
I would want the ability to oversee from Bill Belichick. Nobody understands all aspects of the game better. He is rare in that he has experience as an assistant in all phases of coaching — offense, defense and special teams. "I kind of feel with my experience as a coach, I can go in an area and not feel lost," he once told me. "So if there is something that needs to be said, I can do that. Or I can tell a coach to say it or we can have a meeting and I can say it. I don't feel out of my element." He also is an astute talent evaluator who projects players well and is very good at marrying players to schemes. What's more, he understands the salary cap.
I would take the organizational ability of the late Bill Walsh. He was a pioneer in the area of organization. His "West Coast Offense" really was as much an operational plan for running a football team as much as it was a scheme. It has been copied liberally by every head coach who has come after him.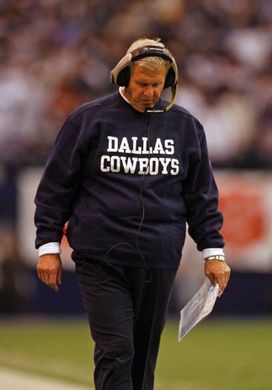 ICONLove him or hate him, Bill Parcells could motivate his players.
I would use the motivational skills of Bill Parcells. He understands the psychology of football as well as anyone, and he worked the players hard. Confrontation admittedly has been part of his game, and he admits players have taken swings at him. Some players hated Parcells. Some loved him. But they all wanted to perform well for him.
I would borrow the leadership skills of Tony Dungy. There is no better person to lead a group through a storm than Dungy. Nothing about him is affected. It's all natural and pure.
I would want the spirit of Marv Levy. He is a realistic optimist, a man whose will could not be affected by four Super Bowl losses. I'm not sure I can create a picture in my mind's eye of Levy without a smile on his face.
I would rely on the nerve of Jimmy Johnson. This was a gambler, a man who was not afraid of failure. He would take any risk if he thought the reward could be greater. As a trader, a drafter or game strategist, Johnson rolled the dice with extraordinary cunning. He never worried about losing.
I would take the consistency of Andy Reid. Who gets his team in position to compete for a Super Bowl every year better than he? Reid is consistent in everything he does, and his team reflects his management.
I would use the ability to spot trends of Dick Vermeil. He had a penchant for studying statistics and looking at things in a different way. I once spent a whole afternoon with him in his office looking at his huge binders full of studies. Vermeil is a great thinker.
I would want the offensive acumen of Jon Gruden or Sean Payton. These two coaches worked together in Philadelphia and have very similar philosophies. Both put pressure on defenses with multiple personnel packages and formations.
And I would want the defensive acumen of Belichick, whose unpredictability and flexibility as a strategist puts pressure on opposing offenses. Part of Belichick's success as a defensive coach is his understanding of offensive football.
Now, who would you borrow from?
Email Dan your questions at dan.pompei@nationalfootballpost.com
Click here to purchase the Total Access Pass/ Fantasy Draft Guide from the NFP and receive a free Deuce Brand watch while supplies last.