January 05, 2011 -
Dan Pompei
Coaching changes aren't always the answer
Change almost always is overrated in the NFL. It seems as if a number of NFL team owners have come to that conclusion this year.
If those owners were to look at the field of playoff teams, they would see that many established programs are the ones that bore fruit this year. The longest tenured coach in the NFC, Andy Reid, got his team to the playoffs despite some significant organizational and roster changes. The second longest tenured coach in the AFC, Bill Belichick, managed to reinvent the Patriots once again and secure the No. 1 playoff seed.
The only first-year coach in the playoffs is Pete Carroll, and his Seahawks got in with a 7-9 record.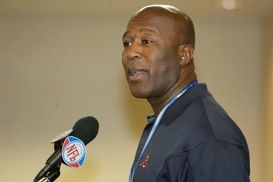 ICONKeeping Lovie Smith turned out to be a good move for the Bears.
In Chicago, a coach who was supposed to be fired one year ago made some smart staff changes and has shown that the same basic formula that brought his team to the Super Bowl in 2006 still works. In fact, Lovie Smith is a good argument not to fire your head coach this year. Where would the Bears have been if they had caved in to public pressure and launched Smith? Probably not holding the No. 2 seed in the NFC playoffs.
Gary Kubiak was in a very similar situation this year. Texans owner Bob McNair is electing to keep his head coach and change some of his assistants. McNair likes the head coach, and he likes the program. He just didn't like the results.
"If you believe in the people you hired, it makes sense to give them a chance to see things through," said one NFC front office executive who has seen many coaches come and go. "You hired them for a reason. So unless it's been an inordinate amount of time, you need to let their plans come to fruition and not succumb to pressure from media and fans."
After firing Tom Cable, the Raiders will now hire their seventh coach in 11 years. That's no way to just win, baby.
There had been some talk in New York that Tom Coughlin could be in trouble this year. As it turns out, the talk wasn't coming from the people in charge of making the decisions. Coughlin will be retained, and the Giants likely will be better for it. Since he was hired in 2004, the only coaches with more victories than Coughlin are Belichick and Reid.
Who could the Giants have hired who they know without a doubt would have been better than Coughlin? Probably no one. And who could they have hired who would have put them in better position to win in 2011? Definitely no one. There aren't many head coaches in the National Football League who aren't very good at what they do. How they fare, however, can sometimes be out of their control.
And just because a coach has won before doesn't mean he can do it on a new team, with different owners, a different personnel staff, different players and different circumstances.
When an owner or general manager decides to make a change, the reason isn't always that he's sure he can find someone who can do the job better.
One of the benefits in making a change is change can satiate and excite the public. That's one of the reasons many suspected Dolphins owner Stephen Ross would replace Tony Sparano with a splashier front man. A new coach can mean more ticket sales, more sponsorship deals and an enhanced brand. But those benefits are temporary. Nothing is better for business than a winning program.
Sometimes power struggles are an issue. The Bengals decided to retain Marvin Lewis, but only after Lewis and team owner Mike Brown mutually decided to make some changes in how the Bengals will do business going forward. It's a little like the Lovie Smith situation one year ago — keep the coach, change some of the issues that were impediments to success.
If Smith had a losing record this season, it would have been easier for the Bears to fire him this season because he has only one year remaining on his contract, and their financial obligations would have been eased. Contract status is another factor in why coaches are let go or maintained. In Jacksonville, team owner Wayne Weaver said the fact that he owed Jack Del Rio $10 million had no impact in his decision to keep Del Rio. Hardly anyone believed him.
A quarterback threatens to come between the Titans and their head coach. In Tennessee, everyone in the organization with a strong voice wanted Bud Adams to choose Jeff Fisher over Vince Young. Adams has proven to be an owner who values continuity and appreciates Fisher. The benefits of maintaining a successful program at this point outweigh the risks of firing a proven head coach.
Continuity isn't necessarily a prerequisite for success. But too much change almost certainly is a recipe for failure.
Consider the case of the Cleveland Browns. Regardless of your opinion on Eric Mangini and the job he did, we all should be able to agree he never had a chance with the way team owner Al Lerner kept changing gears. In a little more than two years, Lerner allowed five different men to have significant say over the Browns' roster — Phil Savage, George Kokinis, Mangini, Mike Holmgren and Tom Heckert.
"It wasn't long ago that people talked about five-year plans," the front office executive said. "Now you can't even talk about a three-year plan. But it's beneficial to the team to let a program take root."
In hindsight, the Browns would have been better off firing Mangini a year ago and starting fresh. Maybe more than any organization in the league, the Browns could benefit from stability. Really, every team could.
Dan Pompei covers pro football for the Chicago Tribune at chicagotribune.com.